Here we go again: The Port Authority of Allegheny County has proposed yet another round of service cuts.
This time, though, the agency is serious.
In recent years the show(down) went like this: Officials threatened to cut routes and raise fares unless the state provided more money. Riders on affected routes hollered until the white knights in Harrisburg found a pot of money and bailed out the agency. Transit riders breathed a collective sigh of relief. Until the next time.
Now, though, it's far less likely that the transit system will live happily ever after.
Port Authority officials say the agency is facing a projected $80 million hole in its fiscal 2008 budget. To plug it, the agency is proposing that 121 weekday routes, and 55 weekend routes, be cut. That represents more than half the routes currently operating.
Under the plan, most of the routes serving Pittsburgh's urban core will remain intact, and the light-rail system will continue to operate. But many routes serving outlying towns and boroughs are on the chopping block, along with the 28X, which serves the Pittsburgh International Airport. Several suburban communities are left without any convenient public-transit option.
Over the past month, the transit agency has conducted several hearings on the proposed cuts, which are to be finalized at a Port Authority board meeting in March.
"We're taking another look at the proposal, as we said we would, and we're in the process of revising our proposal. We'll be paying attention to the areas in the county that will be left without service," says Port Authority spokesman Bob Grove. "We'll take into account the public's comments."
Agency officials say the decision to keep or cut a route was the result of a standardized process: Each route was ranked according to its effectiveness and efficiency, with low-ranking routes slated for termination. Officials point out that while the number of routes to be cut is large, total service hours provided by the transit system would be curtailed by only 25 percent.
"You can't confuse the number of routes with the amount of service that is being provided," Grove adds. "Not all routes are created equal."
Even so, those who depend on bus service are individuals whose names and voices often go unheard in discussions about efficiency and funding streams. Some are newcomers from other countries, just learning a new way of life. Others have lived in Pittsburgh all their lives, and say it's too late to learn to drive. Some are students, others are getting by on minimum wage. And some are people like Ellen Fox, who grew up thinking that wherever they went, the bus would be there. "The bus, as far as I'm concerned, is a necessity," she says. "It's my lifeline."
Fox's story -- and those of others whose daily lives may be upended by the Port Authority's cuts -- are told below.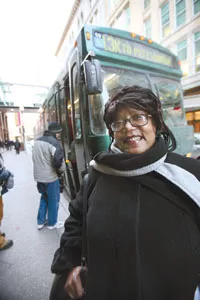 Name: Ellen L. Fox
Age: 52
Hometown: North Versailles
Profession: Commercial lending
administrator with GMAC
Bus route(s): 13K, 61A, EBA


Ellen Fox leaves home for work at 4:30 a.m. She walks 20 minutes across the Westinghouse Bridge to catch the 61A leaving East Pittsburgh at 4:55 a.m. She gets off in Swissvale, taking the East Busway from there Downtown. After that, she gets off at Liberty Avenue and catches the 13K express at 5:45 a.m. From her Cranberry stop, it's another two-mile walk to her office, where she arrives at 7:25 a.m. -- nearly three hours after she went out her front door, and five minutes before work starts.
Despite her lengthy commute, Fox says, "My supervisor can count on one hand how many times I am late" over the six years she's worked in Cranberry. Even in bad weather, she says, "I get the bus, I get it early. I get to work. That tells you how punctual Port Authority is."
But both of the routes joining Downtown to Cranberry -- the 12A and 13K -- are facing cuts. "I'm in limbo," Fox says. "I'm worried about getting to work. I have no way of getting to work if they eliminate the routes. I never learned to drive. I'm still afraid. I have a fear of driving."
To her, the bus is "everything, because I don't travel anywhere without the bus."
"It's not like I haven't tried other means" -- but carpooling and jitney service have both proven unreliable. "Port Authority has been the best solution for me."
On Saturdays, Fox takes the 60M to Wal-Mart to do grocery shopping, and other routes to see the doctor and dentist in the East End. (The 60M is also on the chopping block.) On Sundays, she takes the 61A to church in Swissvale.
"People would say to me: 'You turn up anywhere.' Before, the last thing I worr[ied] about was public transportation. I [didn't] worry about having a ride."
---
Name:
Mohamed Aden
Age:
42
Hometown:
Whitehall
Profession:
Housekeeper at Westin Hotel Downtown
Bus route(s):
35A, 46F
A refugee from war-torn Somalia, Aden was resettled in the United States last August after living in a refugee camp in Kenya. Aden lives in Prospect Park, a sprawling South Hills housing complex that shelters many new refugees to the region.
Twice a week, Aden takes the 46F Downtown, where he works on his English with the Greater Pittsburgh Literacy Council. His family -- he and his wife have four children ranging from 6 to 12 years old -- also relies on the 35A, which connects Prospect Park to the Century III mall.
"Because I'm a newcomer I was happy to be able to use the bus," says Aden. "My wife [goes] to the market, to buy food and clothes for the children."
Aden says he can't picture life without the bus.
"I don't know how to get to school. If I find work, I don't know how to get to work," he says. "Because of this problem, I'll lose my life."
Aden says he'd like to get a car in a year or so. He's been talking about his predicament with friends in Ohio. They invited him to move there, and said they would shuttle him around in their car. He is tempted to move because he says he feels so helpless without the bus.
"I want to move because life is difficult," he says.
---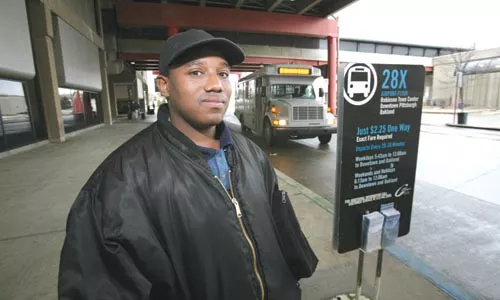 Name:
James Strickland
Age:
28
Hometown:
McKees Rocks
Profession:
Cook at McDonald's,
Pittsburgh International Airport
Bus route(s):
16B, 21F, 28X,
For many people, the Port Authority's 28X airport service is the first step in a journey beyond the everyday. For James Strickland, it's a key part of his daily commute.
Every Monday through Saturday morning, at 4:17 a.m., Strickland catches the 16B to town. He then grabs the 28X, which pulls up at Seventh and Penn at 5:13 a.m., riding it to his shift at the airport. To get home, he hops the 28X by 2:45 p.m. and then catches the 21F in town. The 21F drops him right in front of his house.
Strickland says he can get a ride to town with neighbors, but it'd be cost-prohibitive to get to work if the 28X is no longer running.
"I probably will have to find another job because the cab fare is too high," he says. "It's $30 [one way]." Driving is not an option, Strickland says, because airport "parking will cost too much."
Strickland says he's already started to look for another job -- one closer to home. But "it's going to be tough because they don't pay as much," he says. "That's why so many people work there."
Strickland says he would very much love to keep his airport job: It's a steady gig in a safe environment that he's held for five years. There is some talk that the airport authority might step in to pay for the route, but Strickland's co-workers aren't holding their breath. "They're wondering what is the next step to take," he says. "Some of them are waiting it out; some of them are thinking of other options."
But there are few ways around the 28X, in Strickland's view. Many airport employees "depend on that bus." He says. And if it ceases operation, "You might as well close down the airport."
---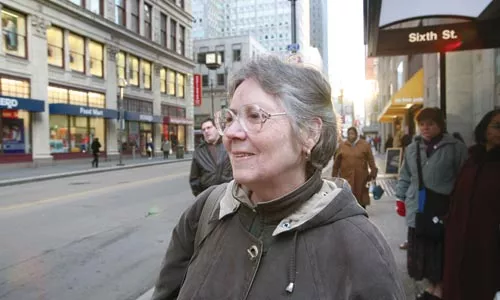 Name:
Marjorie DeAngelis
Age:
60
Hometown:
Clairton
Profession:
Accounting secretary at ACTION-Housing
Bus route(s):
16A, 46G, CL
DeAngelis takes the 46G at 7:22 a.m. to get to her office at Downtown's Regional Enterprise Tower. At the end of her workday, she boards the CL (Clairton Flyer) for an hour-long ride home. Every Saturday, she takes two buses, the 46G and 16A, across the county line to visit her mother in Beaver Falls.
Under the Port Authority's plan, the CL route will be cut, and service along the 46 will be curtailed. DeAngelis could still commute using the 46G, but "In the evening, the buses [serving Clairton] are already very crowded," she observes. "It's a long time to be standing" --the average length of the ride is more than an hour. With the CL and a slew of 46s slated for cuts, "inevitably, some people would be left behind," says DeAngelis. "All those people would also be catching the 46G. It would be impossible for the commuters to get on the bus."
And, she worries, "If one of the buses breaks down, then what would we do?"
With weekend service on the 46G curtailed and the 16A eliminated, it will be even harder for DeAngelis to visit her mother, an 81-year-old nursing-home resident with Parkinson's disease.
"There will be no way to get from Allegheny County to Beaver County on a Saturday," says DeAngelis. Though she may try to take time off during the work week, she says, without weekend service, "I won't be able to go every week."
Five years ago, DeAngelis joined the advocacy group Save Our Transit to fight for better bus routing for her housing development and more-affordable school-bus options for students in her town. In face of the cuts, "I'm still going to make a lot of noise until [Port Authority officials] hear. I'm happy that [state Transportation Secretary] Allen Biehler said these cuts are not realistic, so I hope they hear."
---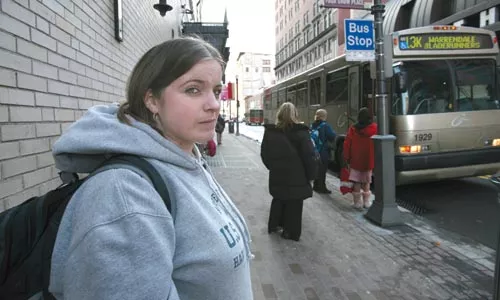 Name:
Melissa Yuhas
Age:
23
Hometown:
Cranberry
Profession:
Student, International Academy of Design and Technology/cook at Panera
Bus route(s):
13K
From Monday to Thursday, Yuhas's mother gives her a lift to bus stop, where she hops onto the 13K at 6:54 a.m. to class Downtown. After school, Yuhas takes the 13K back to Cranberry to work.
But with all the routes serving Cranberry slated for cuts, Yuhas says she'd have little choice but to quit school.
Yuhas had expected to graduate with an associate's degree in criminal justice; she hoped to find work as a police officer or juvenile-probation office. But her outlook has dimmed. "How do they suppose we go to school?" she asks. "There would be absolutely no way. I have no way to finish school. I can't transfer out. I'm losing my 10 grand.
"I'm completely screwed. They cut my route, I'm done. Everything I've working for is gone, because of the bus."
If she could afford to, Yuhas would uproot herself and move closer to school. But, she says, "I don't have the money to live out in Pittsburgh. I work 25 hours a week for $7 an hour. There is no way I can keep myself afloat by myself and go to school."
Yuhas says that if Port Authority officials believe few people in Cranberry need public transit, they couldn't be more wrong. "Not everyone in Cranberry can drive down to Pittsburgh every day and pay for everything, and not all of us have parents that will buy us everything. Not all of us are rich," says Yuhas. "If they want Pittsburgh to thrive, they need to think about what they're doing -- taking the economy away."
---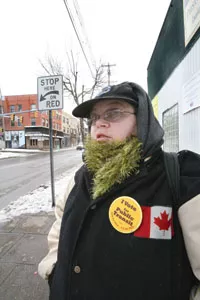 Name:
Linda Warman
Age:
42
Hometown:
Hazelwood
Profession:
McDonald's grill worker, Oakland
Bus route(s):
56B, 56C, 60K
Linda Warman takes the 56B or 56C to get to work in Oakland. On weekends she takes those same buses all the way to McKeesport, to see her sister, Karen. Once there, Warman grabs the 60K, which brings her to the personal-care home where her sister lives.
The 56B will not go as far as McKeesport. And many of the routes serving the city, including the 60K, will also be decimated. (Though service on one route, the 60S will be expanded to partially offset the cuts.) "Without the bus, I can't go see my sister. She relies on that bus to get down to [social-service] programs. [Otherwise,] she'd be walking about five miles."
Although her commute to work won't be affected, Warman wonders whether she can continue relying on the bus lines to maintain her family ties. She takes the 31D and 46G buses on the weekend to visit her other sisters, in Bridgeville and Elizabeth; those routes are also facing cuts.
"I'll be stuck more to Hazelwood. I'll be having to call [for a ride]. I'm fairly independent; I don't like my relatives to pick me up."
---
Name:
Roy Faloskey
Age:
58
Hometown:
McKeesport
Profession:
Retired steelworker, mental-health advocate, college student
Bus route(s):
60E
Faloskey maintains a busy civic and social life in retirement. He volunteers his time at many mental-health organizations across the region. He's active in church, and he's taking classes at the University of Pittsburgh to become a social worker. When the weather was nice, Faloskey would bike as far as McKeesport to Pittsburgh. Still, he needs various buses to take him around most of the time.
"I've never driven a car," Faloskey says. "I've been taking [the bus] since I was 7 years old." But now, the Port Authority is preparing to cut service along the number 60 routes serving McKeesport and nearby communities. That includes the 60E, which Faloskey relies on to get to church for Bible studies, basketball games and evening services throughout the week. Though some of the route will be covered by a re-routed 56C, cutting the route, he says, "would really kill me."
And cuts to other lines, he says, would hurt the entire community. "They can't take all the 60s out. They might as well shut McKeesport down," he says. "Everybody has to come down the hill. I wouldn't walk up the hill at nighttime, because of the crime in McKeesport."
If push comes to shove, Faloskey may get back on his bike, which he hasn't done since suffering a stroke in November. And even then, he says, there is one activity he can't pull off on two wheels.
"If I have to go on a date," says Faloskey, "we have to go on a bus."
---
Name:
Rina Bruno
Age:
75
Hometown:
Brookline
Profession:
Retired seamstress
Bus route(s):
41D
Rina Bruno stands to lose her lifeline to Downtown Pittsburgh, and she's not alone.
Bruno relies on the 41D-Devonshire for just about everything: "I go shopping, go to [the] food store, get prescription drugs, everything. Everything I do I need the bus." She also travels by bus, via Downtown, to see her doctor at Allegheny General Hospital. And though she retired from Kaufmann's department store several years ago, she still heads Downtown to shop.
But Brookline's bus routes -- which include the 41B and 41G along with her own route -- are earmarked for elimination. If those cuts go through, Bruno and other Brookline residents will have to trek uphill to West Liberty or Pioneer avenues. And that, she says, would be "very difficult. I can't walk. Too many hills, especially when it's cold."
Without the bus, she wonders, "Who can go Downtown?" The cuts are harmful "not just to me, but to the entire city. They're ruining the city."
Bruno says she's never learned to drive and has counted on public transportation ever since she emigrated from her native Italy 49 years ago. The proximity to the bus line was one of the things she and her husband considered when buying a house on Eben Street 35 years ago, after they moved from East Liberty.
Bruno is now widowed, though she has a son in Hampton Township. Couldn't she just move there to solve her transportation woes?
"Oh, no, no, no, no, no, I love my home I want to stay in my house," says Bruno. "I'm an independent lady. I don't want to bother nobody." But with "no transportation, I can't go nowhere. I'm in jail."
---
Name:
Anne Nalepa
Age:
48
Hometown:
Shaler
Profession:
Life-skills specialist, Three Rivers Center for Independent Living
Bus route(s):
1A, 1D, 1F, 63A, 68D, 68G
Nalepa counsels disabled residents throughout the county on how to live active, independent lives. Wheelchair-bound herself because of cerebral palsy, she typically relies on the 1A, 1D or 1F to go Downtown. From there she takes the 63A, 68G or 68D to her office in Wilkinsburg. Under the Port Authority's proposals, all but the 1A and 68D will be eliminated. Nalepa's work as a counselor also requires her to crisscross the county, which she also does by bus; she has about 80 clients to visit, most of whom she sees at least twice a month.
"I can't drive because of my disability," she says. "For me, everything is a two-bus ride" -- and many times, she has to make a few stops along the way, requiring her to wait for yet another bus to come along. "When you start monkeying with the bus service, I can't make two trips in one day any more. ... I can't make that second run [to see the clients]. I'll become 40 percent less productive than I am now."
Like many county residents with handicaps, Nalepa qualifies for ACCESS, a paid door-to-door shuttle for seniors and the disabled. But she says that for her, the option simply isn't economically viable. By her calculations, if she is forced to take ACCESS to all her counseling appointments, she will have to fork out $750 more a year for commuting expenses. That's the equivalent of a full paycheck, she says.
Her loss of mobility aside, service cuts present a bitter irony for Nalepa: A big part of her job involves coaxing her clients to break out of their isolation -- by utilizing public transit.
"When you lose the ability to take the bus," says Nalepa, "you lose the spontaneity in life."