We know: In Pittsburgh, weatherwise, it's not reliably summer until -- well, until summer officially begins. That's still a month away. But frankly, hot and sunny are overrated. Sunburn, heat fatigue and mosquitoes are merely three of the annoyances you'll better avoid by leaving the house in time for Great Outdoors Week. This eighth annual 10-day roundup of paddling, pedaling, hiking, climbing and more kicks off Fri., May 15. Outdoors Week (sponsored by a panoply of civic groups) launches with May 15's evening "Learn to Row" session, at the Three Rivers Rowing Association's indoor facilities, in Millvale (412-231-8772), and continues through next Sunday's Rachel's Sustainable Feast, a food fest at the Rachel Carson Homestead, in Springdale (724-274-5459). In between, there's everything from the citywide bicycle fun rides of Pedal Pittsburgh (Sun., May 17; 412-391-4144) to fishing lessons, nature walks and backpacking overnighters. As usual, Outdoors Week coincides with Venture Outdoors' day-long Venture Outdoors Festival, on Sat., May 16. The group commandeers the Point for lessons, demonstrations and hands-on fun with kayaks, bikes, dragon boats, climbing walls, license-free fishing -- even yoga and capoeira, the latter being that Brazilian martial art that looks like dancing. Most of this stuff's available year-round, true -- but it's seldom this much of a community party. Bill O'Driscoll Great Outdoors Week: Fri., May 15-Sun., May 24 (most events are free; www.wallsarebad.com). Venture Outdoors Festival: 11 a.m.-6 p.m. Sat., May 16 (Point State Park, Downtown; free; 412-255-0564 or www.ventureoutdoors.org).
Thu., May 14 -- Talk
Rising stars in the alt-comics world visit the Carnegie Library in Oakland to talk to teens. The library's Behind the Books series hosts artist Jim Rugg and young-adult novelist Cecil Castellucci. They're co-creators of Plain Janes and Janes in Love, comics series about a group of arty teen-age girls (both subsequently published as books, by DC Comics). Pittsburgh native Rugg's credits include the Street Angel comic, New York Magazine and VH1; Castellucci is the author of three novels, including The Queen of Cool. Meet them tonight. Bill O'Driscoll 7 p.m. Multipurpose Room A, 4400 Forbes Ave., Oakland. Free. Register at 412-578-2599 or www.carnegielibrary.org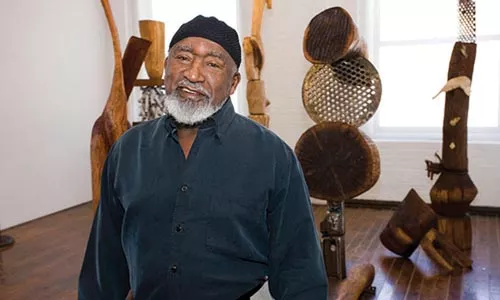 Fri., May 15 -- Art
Talking about art is one thing; seeing it is quite another. But why stop there? At tonight's Mattress Factory event, Thaddeus Mosley discusses his work -- and to illustrate, he's got 10 years' worth of his sculptures themselves, displayed en masse on two floors of the museum. Moreover, two of Mosley's sources of inspiration come to life, too, with jazz from renowned drummer Roger Humphries and friends, and a poetry reading by Ed Roberson. With Art, Jazz & Poetry, who needs PowerPoint? BO 6:30 p.m. 500 Sampsonia Way, North Side. $10. 412-231-3169
Friday May 15 -- Music
The Pittsburgh Cultural Trust's Radical Riffs series has been a boon to the avant-garde scene, bringing name artists into an intimate theater at Downtown's Wood Street Galleries. Tonight is, sadly, the last installment for the foreseeable future: Jozef Van Wissem, a lutenist (that's a person who plays a lute) from the Netherlands via New York City. Drawing on both Renaissance compositional elements and contemporary theory, he couches much of his work in terms copped from Baudrillard and Deleuze. Mike Tamburo opens the show, co-promoted by CP contributor Manny Theiner. Andy Mulkerin 7:30 p.m. 601 Wood St., Downtown. $10 (students $8). All ages. 412-471-5605
Fri., May 15 -- Art
A storefront gallery that solicits 250 artworks from 250 contemporary local artists to mark Pittsburgh's 250th birthday -- and make that exhibit sing -- deserves a little attention. Lawrenceville's Fe Gallery did just that last fall. Now the venue whose name is drawn from the periodical table of the elements symbol for iron (say "ef-ee") marks an anniversary of its own. Fete Fe for its fifth at a birthday party and auction tonight. BO 8 p.m.-midnight. 4102 Butler St., Lawrenceville. $5. 412-860-6028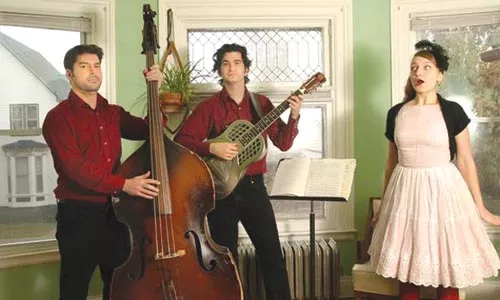 Saturday, May 16 -- Old-Timey
Jennie Knaggs and the Sure Shots' old-timey revival music is distinctive in that, rather than providing a contemporary twist on music using throwback instrumentation, the band's sound is straight out of early Americana. Knaggs provides warbling vocals and yodels, and her backing band -- Nick Shillace and Joel Peterson, both well-known musicians in their own right -- holds down a startlingly authentic old-time country sound. They play tonight at Morning Glory Coffeehouse with local scene banjo queen Jenn Gooch; bring your best two-step. AM 7:30 p.m. 1806 Chislett St., Morningside. $5. 412-450-1050.
Sat., May 16 -- Folk-Rock
Over the band's long history -- since 1981 -- The Horse Flies have developed a weirdly hypnotic, eerie brand of folk-rock, most recently with 2008's Until the Ocean album. Expect traditional instruments like fiddle, accordion and banjo; vocal harmonies; and stark, modern atmospheric touches and percussion. As Melody Maker wrote, their sound is "a blend of the ancient and the ultra modern. Realism coexists with surrealism, and synthetics and acoustics are interwoven." Count me in. AJ 8 p.m. Thunderbird Café, 4023 Butler St., Lawrenceville. $12 ($14 at the door). 412-682-0177 or www.thunderbirdcafe.net
Saturday May 16 -- Bluegrass
Deep in Bloomfield may seem like the last place for a bluegrass revival, but Howler's Coyote Café has hosted its share of shows by the Mon River Ramblers, one of the city's finest new-bluegrass outfits. That's where they go tonight to release their first album, 27, featuring their signature mix of bluegrass, outlaw country and rock. From there, their schedule is as blazingly fast as their banjo-pickin', including local venues and such national gigs as the Telluride Bluegrass Festival, in June. AM 9 p.m. 4509 Liberty Ave., Bloomfield. $5. 412-682-0320
Sunday May 17 -- Vinyl
It's the 13th year for Tony Medwid's Pittsburgh Record Convention -- the 28th occurrence of the semi-annual event. Dealers in the currency of vinyl will swoop in from all over the tri-state area and beyond and set up tables to entice audiophiles into dropping a few bucks on that 45 for which they've quested for so long. The big attraction today is legendary DJ Porky Chedwick, whose retirement to Florida last year, at age 90, was apparently greatly exaggerated, as he continues to make regular appearances in the 'Burgh. AM 10 a.m.–4 p.m. Radisson Hotel, Mansfield Avenue, Green Tree. Free for buyers. 412-331-5021
Sun., May 17 -- Music
The Music in a Great Space season wraps with a rare performance of Mendelssohn's St. Paul, the first of two oratorios he wrote. The Shadyside Choral Society & Chancel Choir, with conductor Curt Scheib and organist J. Christopher Pardini, continue marking the bicentennial of the German composer's birth with this account of the religious conversion of Saul of Tarsus. The work is sung at Shadyside Presbyterian Church. BO 7 p.m. 5121 Westminster Place, Shadyside. $10 ($5 seniors; free for students and children). 412-682-4300 or www.shadysidepres.org
Tue., May 19 -- Rock
At the dawn of the nü-metal era, a friend of mine pointed out the irony that, as bands push for increasingly dark, brutal, terrifying sounds, they often tip over the edge into unintended hilarity -- the guttural bark is worse than the bite. While Static-X has largely avoided the costumed pageantry of some of its peers, Wayne Static's trademark vertical hairstyle and the band's video-game robot-riffs suggest the industrial-metal band's not entirely lacking in humor. Static-X plays for the faithful tonight at the Rex Theatre with Bury Your Dead and Seventh Void. AJ 7 p.m. 1602 E. Carson St., South Side. $20. All ages. 412-381-6811 or www.rextheatre.com
Wed., May 20 -- Reading
An especially promising evening of local talent beckons at the New Yinzer's TNY Presents series. Busy writer and journalist Matthew Newton takes a break from laboring for Spin, Swindle and the like (and even for CP) to read from his nonfiction. Margaret Bashaar, co-editor of Weave Magazine and co-host of the Typewriter Girls performance series, reads her poetry, as does Mark Possanza. And there's live music by Karl Hendricks. It's all that and BYOB at ModernFormations. BO 8 p.m. 4919 Penn Ave., Garfield. $5 (free with pot-luck contribution). 412-362-0274 or tnypresents.blogspot.com

Thu., May 21 -- Film
Building New Hope is a group based in Pittsburgh and Granada, Nicaragua, that helps build communities in Central America by coordinating the sale of fairly traded organic coffee, doing job-training and educating street kids. Two such youths, Oscar Lopez and Juan Carlos Mejía, join Building New Hope's Donna Tabor tonight at a benefit screening of Café Chavalos: Overcoming the Streets, a documentary focusing on the group. Proceeds from this Melwood Screening Room event support scholarship and education programs. BO 7 p.m. 477 Melwood St., N. Oakland. $12 ($6 students). 412-682-4111 or www.buildingnewhope.org
Thu., May 21 -- Reading
Area poets Lori Wilson and Rick St. John visit the Té Café Reading Series. St. John is executive director of Pittsburgh-based Autumn House Press, and has to his credit the fine collection The Pure Inconstancy of Grace. Wilson, of Morgantown, W.Va., last year saw publication of House Where a Woman, her own collection on Autumn House. "He may be lying, he may be not," goes one of her verses. "It's like trying to crack this rock with my hand." BO 7 p.m. 2000 Murray Ave., Squirrel Hill. Free. 412-422-8888