Thu., May 13 -- Art
It's one of those good-things-in-small-packages deals: The Frick Art Museum launches Small But Sublime: Intimate 19th-Century American Landscapes. The works encompass everything from the romance of the Hudson River School to the impressionism that was the late 1800s' avant-garde. Landscape paintings needn't be large -- some of these works, by nearly 20 American artists, are just a few inches square. The opening reception is tonight. Bill O'Driscoll 6-8 p.m. 7227 Reynolds St., Point Breeze. $12. 412-371-0600 or www.thefrickpittsburgh.org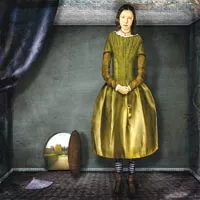 Thu., May 13 -- Art
If your idea of digital art involves MS Paint, Internet memes and sideways smileys, open your eyes to Maggie Taylor, an innovative artist working in the digital medium. Her exhibit, These Strange Adventures: The Art of Maggie Taylor, turns found web photos into intricate storybook art. Silver Eye Center for Photography holds an opening reception tomorrow, but tonight there's a discussion and signing of Taylor's book, Almost Alice: New Illustrations of Wonderland, at the Carnegie Museum of Art. Anna Reilly 6:30 p.m. (4400 Forbes Ave., Oakland; free; 412-622-3131). Opening reception: 6:30 p.m. Fri., May 14 (1015 E. Carson St., South Side; $6; 412-431-1810).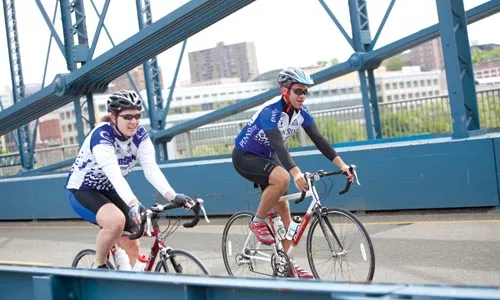 Fri., May 14 -- Outdoors
Yes, Forbes, we do have decent housing and employment rates, but what makes Pittsburgh "livable" is outdoors, too. Sustainable Pittsburgh's Ninth Annual Great Outdoors Week encourages Pittsburgh to embrace its outdoor resources with a cornucopia of events. Today, paddle the rivers with Three Rivers Rowing; on Sun., May 16, join the citywide bike party known as Pedal Pittsburgh. Next week, embrace bike culture with Bike to Work Day (May 21) or try your hand at kayaking, yoga, rock-climbing and more at Downtown's Venture Outdoors Festival (May 22). AR Continues through May 23. Various venues. Most events are free (Pedal Pittsburgh: $23-60). 412-258-6642 or www.wallsarebad.com
Fri., May 14 -- Words
"I have a job / with the PLCB / And I am grateful to them / for the employment of me." Over the past four years, Billy Nardozzi has published dozens of poems in the Pittsburgh Post-Gazette's "Celebrations" section. (Many of them include his home phone number.) Meet the 52-year-old Green Tree family man tonight, at a Downtown signing for the new book collecting his verses that cheerfully celebrate life, love, gratitude and professional sporting franchises. The book's designed by local artist Brett Yasko, with earnest appreciation and perhaps a touch of irony. BO 7 p.m. Shaw Galleries, 805 Liberty Ave., Downtown. Free. 412-281-4884 or www.shawgalleries.com
Fri., May 14 -- Stage
Michele Pawk is back in town, and she's making septuply sure you can't miss her. The Tony-winning actress, a Butler native, plays all seven roles in The Blonde, the Brunette and the Vengeful Redhead, Robert Hewett's popular one-performer show centering on a housewife who loses it one day at the mall. Pawk, who nabbed her Tony in 2003 for Hollywood Arms, has a résumé in Broadway, TV and the movies. The Blonde, in its Pittsburgh premiere, opens tonight at City Theatre. BO 8 p.m. Continues through May 30. 1300 Bingham St., South Side. $10-48. 412-431-2489 or www.citytheatrecompany.org
Fri., May 14 -- Acoustic
Led by singing sisters Kiki and Jesse Young, local band Rising Regina has a sound built from rich vocal harmonies, a funky rhythm section and driving mandolin and guitar. "Acoustic rock" too often means tripping billies, but Rising Regina instead incorporates elements of Celtic, blues and country and ranges from upbeat jams to ballads; the release show for the band's debut album, Travel Lightly, is tonight at Hard Rock Café with Bob Banerjee & Bad Strad. Aaron Jentzen 9:30 p.m. Station Square, South Side. $5. 21 and over. 412-481-7625 or www.hardrock.com
Sat., May 15 -- Libraries
The Carnegie Library of Pittsburgh weathered one funding storm, but more loom. Now the library wants your input on how it can both best serve the community and keep healthy financially. Six months of community workshops citywide begin today, with sessions on the South Side and in Sheraden. You can attend as many workshops as you like; they're all free, no registration required. You can also comment remotely, at www.carnegielibrary.org/future. BO 10 a.m.-noon (Serbian Club, 2524 Sarah St., South Side) and 2-4 p.m. (Sheraden Senior Center, 720 Sherwood Ave.). Also 2-4 p.m. Sun., May 16 (Carnegie Library -- Allegheny, 1230 Federal St., North Side) and 6:30-8:30 p.m. Mon., May 17 (St. Nicholas Church, 419 Dithridge St., Oakland). 412-622-8877 or feedback@carnegielibrary.org
Sat., May 15 -- Rock
Growing is sort of a borderline band: electronic-ish, ambient-esque, drone-y. After releases on labels like Kranky and Social Registry, the band put out its latest, Pumps!, on Vice Records this year. While Growing's older material more aptly aped its name, creating swells of enveloping sound, its newer material provides more grooves -- even if they're somewhat ephemeral and not quite danceable. Droneheads who are longtime fans will still likely enjoy, but devotees of current indie synth-pop and electro outfits might appreciate Growing as well. Tonight at Garfield Artworks, in a show put on by frequent CP contributor Manny Theiner, Expensive Shit, Grasso Electronica and Forest Dweller open. Andy Mulkerin 8 p.m. 4931 Penn Ave., Garfield. All ages. $8. 412-361-2262 or www.garfieldartworks.com
Mon., May 17 -- Rights
While Arizona's SB1070 is one of the hottest political topics in the nation right now, Pennsylvania has the dubious distinction of hosting a similar controversy in 2006, when the city of Hazleton made it illegal to rent to or employ undocumented immigrants. Now a couple of Western Pennsylvania legislators are crafting a law approximating Arizona's -- calling on state police to check documents of people they suspect are in the country illegally. Tonight, the local ACLU hosts a forum called What Happens in Arizona Stops in Arizona; Vic Walczak, Pittsburgh ACLU's director and the lead attorney in the suit challenging Hazleton's ordinance, heads a panel of attorneys and advocates. AM 7 p.m. Friends Meeting House, 4836 Ellsworth Ave., Oakland. Free. 412-681-7736 or aclupgh.org
Tue., May 18 -- Exhibits
Today is officially International Museum Day, but it's only the start of the related events locally. The Frick Art & Historical Center today offers free tours of Clayton, while, later this week, the Carnegie institutions and the Westmoreland Museum of American Art follow suit. Reservations are recommended for the free tours of Henry Clay Frick's historic family home. The Carnegie Museums of Art and Natural History are free on Thu., May 20, and the Westmoreland, in Greensburg, offers free admission on Sat. May 22. AM Clayton tours: 9 a.m.–5 p.m. 7227 Reynolds St., Point Breeze. 412-371-0600 or thefrickpittsburgh.org
Tue., May 18 -- Words
In The Last Lecture, Randy Pausch captivated readers with his humanity, sincerity and joie de vivre despite his terminal illness. His friend and Carnegie Mellon colleague, Don Marinelli, expands on Pausch's pre- and post-mortem influence in a new book, The Comet and the Tornado. Marinelli worked alongside Pausch creating CMU's Entertainment Technology Center, as a fellow professor, and as a companion through life's greatest challenges. Marinelli discusses and signs his book tonight at Joseph-Beth Booksellers. AR 6:30 p.m. 510 S. 27th St., South Side. Free. 412-381-3600 or www.josephbeth.com
Tue., May 18 -- Words
The annual institution that is Hemingway's Summer Poetry Series is underway in the heart of Oakland. Tonight's free reading features yet another institution, the Madwomen in the Attic poetry collective. Ringleader Jan Beatty brings her own edgy, bracing verse; other readers include Kait Burrier, Dorothy Holley, Liane Ellison Norman, Dorina Pena and Gayle Reed Carroll. Jimmy Cvetic hosts; readings continue every Tuesday through July. BO 8 p.m. 3911 Forbes Ave., Oakland. Free. 412-621-4100
Tue., May 18 -- Rock
Screaming Females have been on a tear since last we checked in: Fresh off a tour opening for Ted Leo and Obits, the Jersey punk band with the shredding Marissa Paternoster on guitar is headlining tonight at ModernFormations. The band's latest, the six-song Singles EP, retains the updated Slits feel of its older output, but shows signs of further maturity in extended, developed jams like "Cortez the Killer" and "Pretty Okay." Paternoster's guitar skills have gotten the band, still DIY to the core, some national press in Spin and Guitar World Magazine. The Ceiling Stares open. AM 8 p.m. 4919 Penn Ave., Garfield. $6. 412-362-0274.
Wed., May 19 -- Rock
After eight years of recording, the time and energy Peter Wolf spent on his new album, Midnight Souvenirs, is starting to pay off. With its soulful duets with singers like Neko Case, Shelby Lynne and Merle Haggard, the bluesy, Dylanesque album is a huge comeback for Wolf, earning rave reviews and launching a new tour that brings Wolf to Mr. Small's Theatre tonight. As the former lead singer of the J. Geils Band, Wolf was popular through the '70s and released six solo albums previous to Midnight Souvenirs. Kelsey Shea 8 p.m. 400 Lincoln Ave., Millvale. $25. 21 and over. 412-821-4447 or www.mrsmalls.com