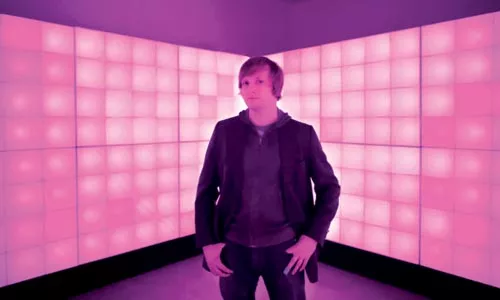 Artist Ian Brill's Transmission 1 is among the works and performances at nearly 20 Downtown venues during the Pittsburgh Cultural Trust's next Gallery Crawl (5:30-9 p.m. Fri., Jan. 28). The room-sized installation at 707 Gallery places viewers between four walls of racing and flickering squares of colored lights, with an electronic soundtrack. Brill, 33, based in Lawrenceville, attends grad school at Penn State. Transmission 1, he says, explores "synesthetic relationships": "like when people hear a color or taste a sound. Like a crossing over of the brain."
How does Transmission 1 work?
When I programmed the visual program, I treated it as though it was a synthesizer. I have a series of algorithms -- behind-the-scenes operators that just generate all of the content. And the content just comes across as little bits of data, and the bits of data go simultaneously both to the customized visuals generator and the audio generator.
What do you hope people get from it?
Within the composition itself, I really did explore a series of different things that had different emotional impacts. For example, there's a period when [the visuals] will sort of go through a phase of hard contrast between stark black and occasional bursts of red. For me that's a very emotional experience.
-- Bill O'Driscoll
From 1-6 p.m. Sat., Jan. 29, Brill conducts a free workshop on the technical aspects of Transmission 1 at 707 Penn Ave., Downtown. www.pgharts.org
Thu., Jan. 27 -- Opera
It's a night at the Crusades as Pittsburgh Opera presents Handel's 1711 classic Rinaldo. The story mixes an 11th-century siege of Jerusalem with romance and magic. The opera's resident artists star in this production staged at CAPA Theater, including mezzo-soprano Stephanie Lauricella in the title role and Shannon K. Dooley as Almirena. The conductor is baroque specialist Michael Beattie. A specially added preview performance is tonight. Bill O'Driscoll 6:30 p.m. Show continues through Feb. 6. 111 Ninth St., Downtown. $24.50-49. 412-456-6666 or www.pittsburghopera.org
Thu., Jan. 27 -- Words
Pittsburgh Shakespeare in the Parks is a warm-weather thing, of course -- no one's taming any shrews outside in this weather. But in recent years the organization has supplemented its yearly al fresco productions with a more evergreen tradition: Bring Your Own Bard, an occasional event in which performers act out their favorite Shakespearean monologues. Attendees are encouraged to join in. This year's first iteration is tonight at Te Café; the theme is "Shakespeare's Favorites." Drop a line to Jennifer Tober at pittsburghshakespeare@yahoo.com or 412-404-8531, if you're interested in reading. Andy Mulkerin 7 p.m. 2000 Murray Ave., Squirrel Hill. Free.
Fri., Jan. 28 -- Dance
Don't let the name fool you: Performers in Matthew Landi's kNOTDance do dance. But the three-year-old troupe's credo is "ordinary movement, executed extraordinarily," and its work incorporates video projections and nontraditional elements like aerial dance. The new kNOTDance production, Hot CoCo, opens tonight with a special free preview as part of the Downtown Gallery Crawl. A ticketed show follows, the first of six over two weekends at Verve 360 Wellness space. BO Free preview: 6-7:30 p.m. Performance: 8 p.m. Also Jan. 29 and 30 and Feb. 4-6. 142 Sixth St., third floor, Downtown. $5. www.knotdance.com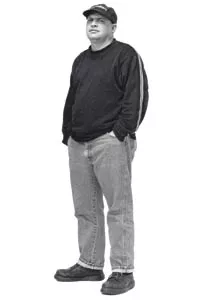 Fri., Jan. 28 -- Comedy
Anyone missing the late, great Bill Hicks might try out New York-based comic James Inman at the Original Funny Bone, in Green Tree. Inman rants about religious fundamentalists, local news' obsession with reporting the weather every two minutes, Wal-Mart and government conspiracies. He's also done a disturbingly relatable 28-minute, one-man (plus slide-projector) show about the special hell of a cross-country Greyhound bus trip. You'll cringe and laugh in various ratios, depending on your tolerance for delightfully caustic, misanthropic vulgarity. Lucy Steigerwald 9 p.m. Also 8 and 10 p.m., Sat., Jan. 29. 101 Radisson Drive, Green Tree. $15 (with two-drink minimum). 412-920-4242 or www.funnybonepgh.com
Sun., Jan. 30 -- Music
As part of its Music in a Great Space series' 18th season, Shadyside Presbyterian Church offers mezzo-soprano Olga Perez in an operatic recital. Perez has sung with companies across the U.S., in Carmen, La Traviata and Die Fledermaus. She teaches voice at Point Park University and sings with the Pittsburgh Opera Guild. Today she performs pieces by Rossini, Jake Heggie and other composers. The program concludes with a duet, the Seguidilla from Carmen, sung with her husband, tenor James Flora. LS 4 p.m. 5121 Westminster Place, Shadyside. $10 ($5 for seniors, free for students and children). 412-682-4300 or www.shadysidepres.org
Sun., Jan. 30 -- Stage
Dreams of Hope, Pittsburgh's consciousness-raising performance troupe for lesbian, gay, bisexual and transgendered youths, launches its eighth season with a free show today. And, bully for them, Bully Me is a 40-minute program of poetry, dance, theater and song on a theme that is, unfortunately, especially pertinent to sexual- and gender-minority youths. Bully Me was developed by the 10 young performers working with local arts mentors including Vanessa German, Doug Levine, Beth Corning and CP theater critic (and playwright) Ted Hoover. The free matinee takes place at the August Wilson Center for African American Culture. BO 4 p.m. 980 Liberty Ave., Downtown. 412-258-2700 or www.dreamsofhope.org
Sun., Jan. 30 -- Art
Starting today, see 19th- and 20th-century American Landscapes at the Westmoreland Museum of American Art. The collection of 39 paintings includes work by William Stanley Haseltine of the Hudson River School, and works from later painters influenced by the movement's use of light and naturalism. The exhibit also ranges through pop-art pieces. The works are on loan from the New York Parrish Art Museum. LS 11 a.m.-5 p.m. Exhibit continues through April 24. 221 North Main St., Greensburg. $5 suggested donation; children under 12 and students free. 724-837-1500 or www.wmuseumaa.org
Mon., Jan. 31 -- Stage
Belarus Free Theatre already had it hard: The troupe is banned in its own country and must perform in secret. Then, in December, two group members were among hundreds of peaceful protesters arrested for demonstrating against the re-election of dictator Alexander Lukashenko. Some members escaped to a tenuous artistic exile in the U.S. Tonight, actor and Point Park instructor Mark Staley, Bricolage Theatre and the World Affairs Council of Pittsburgh join theatrical brethren in other U.S. cities to hold a reading of Belarus Free Theatre's Being Harold Pinter, an acclaimed work the company staged at last year's Under the Radar Festival, in New York. Pinter combines the words of Belarusian political prisoners with excerpts from the great playwright's writings. BO 7:30 p.m. 937 Liberty Ave., Downtown. www.webbricolage.org
Wed., Feb. 2 -- Words
TNY Presents launches its new season with four poets, including one visiting from a long ways off: Alan Jude Moore, a critically acclaimed young poet and writer from Dublin, Ireland, with a 2010 collection titled Strasbourg. Also visiting is Moore's fellow Salmon Poetry poet Michael S. Begnal. The program at ModernFormations Gallery is rounded out by notable locals Ellen McGrath Smith and Kevin Finn (the latter also known as a singer-songwriter). This is TNY Presents' final first-Wednesday show. Starting Feb. 17, the series moves to a third-Thursdays schedule. BO 8 p.m. 4919 Penn Ave., Garfield. $5; free with potluck contribution. tnypresents.blogspot.com