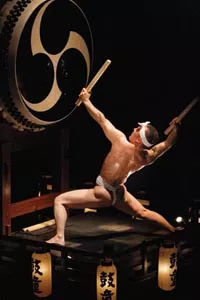 Male Kodo odaiko players began wearing the traditional Japanese underwear, fundoshi, after a French fashion designer saw a Kodo member wearing one while exercising and suggested it would make a good stage costume. Female Kodo performers wear kimonos; other performers wear simple Japanese robes.
Drum: The odaiko ("big drum") is made from one large piece of wood (often, the Japanese keyaki tree) and cow skin. Kodo owns three but only takes one on tour. Care must be taken because they're impossible to fix on the road.
Man: For the current U.S. tour, 26-year-old Kenta Nakagome, who has been with the troupe for six years, is playing the odaiko for the first time. To be a full member of Kodo, artists spend two years as an intern and one as a provisional member. Members' ages range from the 20s to the 60s.
Candles: These are traditional Japanese lanterns made of paper and thin wood. They read "Kodo."
Man's back: "Kodo" means heartbeat in Japanese. This Kodo is a group of Japanese taiko drummers. While most taiko groups play original music, Kodo, like American folk musicians of old, likes to travel and learn traditional songs that members can put their own spin on. Don't be surprised to hear Bolivian, Indian or Irish elements. -- Lucy Steigerwald
7:30 p.m. Tue., March 1, and 7:30 p.m. Wed., March 2. Byham Theater, 101 Sixth St., Downtown. $15.75-42.75. 412-456-6666 or www.pgharts.org
Thu., Feb. 24 -- Talk
Pittsburgh Post-Gazette columnist Tony Norman is a well-documented comic book nerd. But despite the Tony-in-tights artwork that comes with the promotional materials for Tony Norman Saves the 'Burgh, the discussion tonight at the Hot Metal Bridge Faith Community isn't about superheroes per se. The first installment of the new monthly Tony Norman Vs. series features Pittsburgh City Councilor Bruce Kraus in the guest seat, and promises discussion about current city issues. (We're willing to bet the South Side bar conundrum comes up.) Andy Mulkerin 7 p.m. 2700 Jane St., South Side. Free. 412-481-4010 or www.hotmetalbridge.com
Fri., Feb. 25 -- Jazz
Ethnic Heritage Ensemble is a band with an unusually straightforward name. The jazz group was formed in the late '70s by Chicago musician Kahil El' Zabar as an effort to combine an African-American music – jazz – with more traditional African music. The percussionist El' Zabar, who's also in Ritual Trio, is joined in the group by sax player Ernest "Khabeer" Dawkins and trombonist Joseph Bowie. The band plays an early show at Thunderbird Café tonight. AM 7 p.m. 4023 Butler St., Lawrenceville. $20. 412-682-0177 or www.thunderbirdcafe.net
Fri., Feb. 25 -- Rock
Either you're into jam bands or you're not; there's not a lot of sense quibbling as to whether the genre as a whole is fantastic or a snooze-fest. But if you're in, you're in for one of the best noodlers around if you head to Stage AE tonight to see Trey Anastasio. The Phish lead man (the band broke up in 2004 but has since reunited regularly) is the head honcho of all who inspire innumerable bootlegs and speculation about guitar-related minutiae. AM 7 p.m. 400 North Shore Drive, North Side. $39.50. 412-229-5483
Fri., Feb. 25 -- Music
Welcome the almost-here spring with Beethoven's Symphony No. 6, "Pastoral," his tribute to the loveliness of nature. Hear more of his works when Pittsburgh Symphony Orchestra music director Manfred Honeck conducts a program of Beethoven masterpieces at Heinz Hall this weekend. The PSO will also play "Piano Concerto No. 1" and "Overture to Lenore, No. 3," from Beethoven's only opera, Fidelio. German pianist Lars Vogt is the guest soloist on the concerto. Lucy Steigerwald 8 p.m. Also, 8 p.m. Sat., Feb. 26, and 2:30 p.m. Sun., Feb. 27. 600 Penn Ave., Downtown. $20-93. 412-392-4900 or www.pittsburghsymphony.org
Sat., Feb. 26 -- Art
Russian Andrey Avinoff produced fantastical images, sometimes lush, sometimes apocalyptic works with watercolor, pen and graphite. He is also known for his 20 years as the director of the Carnegie Museum of Natural History, as well as for his scientific research on butterflies. The Carnegie Museum of Art presents Andrey Avinoff: In Pursuit of Beauty, his first exhibit in more than five decades, which showcases 50 works -- watercolors as well as some of his mounted butterflies, which he used as models. LS Through June 5. 4400 Forbes Ave., Oakland. 412-622-3131 or www.cmoa.org
Sat., Feb 26 -- Ice
How often this winter have you said: "I wish I could just set fire to all this snow and ice"? Well, stop dreaming: A giant ice chimney with flames shooting out of it is among the highlights of the Fire and Ice Festival and Chili Cook-Off, at the Northway Mall. If you're still warm for the frozen stuff, there will be ice carving, free ice souvenirs and an ice throne for photo opportunities. Re-heat by tasting chili samples, and voting for the best meat-and-bean dish. Al Hoff 5-8 p.m. Parking lot, 8000 McKnight Road, North Hills. Free. 412-364-7900
Sat., Feb. 26 -- Stage
The Bricolage theater company reports that its annual Bricolage Urban Scrawl, a fundraiser, is its audience members' favorite single event of the season. And no wonder: B.U.S. gives local stage talent 24 hours to produce a series of one-act plays from scratch, starting with six playwrights each taking a bus ride, and ending with six fully staged performances. It's a madcap theatrical challenge, and tonight and tomorrow it's accepted by playwrights like Wali Jamal and Tammy Ryan; directors like Marty Giles and Sheila McKenna; and two dozen actors including Tony Bingham, Gregory Lehane and Cheryl El-Walker. Last night's VIP show was sold out, but at press time tickets remained for tonight's show. Bill O'Driscoll 8 p.m. 937 Liberty Ave., Downtown. $75. jeff@webbricolage.org
Wed., Mar. 2 -- Words
Gynecologist and obstetrician Dr. Izzeldin Abuelaish was the lone Palestinian resident at an Israel Hospital in Tel Aviv. Then his wife died of leukemia in 2008. During Israel's Gaza offensive mere months later, a shell hit Abuelaish's house, killing three of his daughters and a niece. Devastated, he still wrote a memoir titled I Shall Not Hate: A Gaza Doctor's Journey on the Road to Peace and Human Dignity. His book tour takes him to the Jewish Community Center of Greater Pittsburgh, in an event sponsored by Pittsburgh J-Street. LS 7 p.m., 5738 Forbes Ave., Squirrel Hill. jstreet.org or pittsburgh@jstreet.org
Thu., Mar. 3 -- Words
The class of animals known as gastropods poop on their own heads, and not just to be funny. You'll learn this and more about gastropods and their near relatives at "Mollusks on Your Planet and in Your Backyard," a talk tonight at Fern Hollow Nature Center by Timothy Pearce, head of the Carnegie Museum of Natural History's section of mollusks. Pearce will bring examples of the major mollusk groups, including endangered freshwater mussels and his own specialty, land snails. He'll also talk about nonnative species (including all your backyard slugs) and why mollusks matter to the ecosystem. BO 7:30 p.m. (7 p.m. coffee and potluck dessert). 1901 Glen Mitchell Road, Sewickley. Free. 412-741-6136 or www.fhnc.org