Oh, Pittsburgh, you're so damned green. Such an example to the world. Or so we heard ad infinitum 'round G-20 time last year. And apparently -- all those gas wells, coal-fired power plants and suburban-sprawl subdivisions notwithstanding -- we're also green enough to host the U.N.'s World Environmental Day, in June. And this week brings yet another whole day we're expected to think about the planet we live on. (What are we, made of time?) April 22 is the 40th anniversary of Earth Day. Of course, you can do more than think about it. On Sat., April 24, in particular, you can pitch in to make the place a little less dirty. Closest to home for many are local incarnations of the Great American Cleanup, which last year in Pennsylvania alone scooped 6.7 million pounds of trash from roads, parks, schools, waterways and wildlife areas. Initiatives take place from Bridgeville and Duquesne to South Park and Upper St. Clair, and in city neighborhoods from Sheraden and the Strip to Garfield and Spring Garden; see www.gacofpa.org for locations. Other pitch-ins include a volunteer clean-up and restoration of Panther Hollow, with a party in Schenley Plaza to follow (www.pittsburghparks.org). You can also help unpollute state parks including Ohiopyle, Pine Grove Furnace and Jennings Environmental Education Center (www.dcnr.state.pa.us/calendar). On the less labor-intensive side, there's Pittsburgh Zoo & PPG Aquarium's Party for the Planet (www.pittsburghzoo.com). Or celebrate with special activities at the Carnegie Museum of Natural History (www.carnegiemnh.org), the National Aviary (www.aviary.org) or stories from The Trash Fairy at the Children's Museum of Pittsburgh (www.pittsburghkids.org). And Happy Earth Day to you. Bill O'Driscoll All events Sat., April 24. Volunteer events are free; others free with museum admission.
Thu., April 22 -- Comedy
Given his quarter-century in comedy, from standup to Saturday Night Live to In Living Color and My Wife and Kids, we probably don't need to tell you who Damon Wayans is. But in case we need to tell you he's making a rare standup appearance here, at The Improv, his six shows there run tonight through Sunday. Bill O'Driscoll 8 p.m. Also Fri., April 23-Sun., April 25. 166 E. Bridge St., The Waterfront, West Homestead. $35. 412-462-5233 or www.improv.com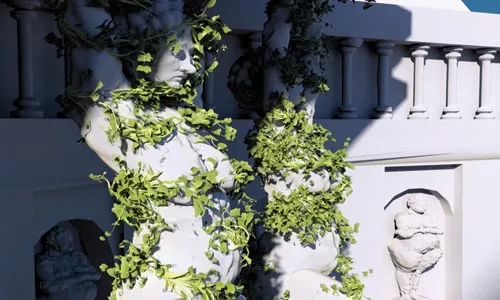 Fri., April 23 -- Art
Attractions at the 19 Downtown venues in tonight's Gallery Crawl include new exhibits at Future Tenant (the group show Responding) and 707 Penn Gallery (photos by Robert Raczka). See Thad Mosley sculptures (August Wilson Center) and locally made short films (Harris Theater), and hear live music by Boca Chica (the Backstage Bar hosts). And Wood Street Galleries has sights and sounds: Claudia Hart: Empire, a new four-screen animation of a "virtual monument," is accompanied by a performance by composer Ella Buckley. It's all free to the people tonight, courtesy of the Pittsburgh Cultural Trust. BO 5:30-9 p.m. Downtown. 412-456-6666 or www.pgharts.org
Fri., April 23 -- Art
The feisty crew behind San Francisco's queer art collective Sister Spit includes poets, comedians, PowerPoint enthusiasts and wily performance artists. This crowd of self-proclaimed "notorious, talented, and just frickin' interesting women and dykes" park their vintage touring van at The Mattress Factory tonight for a rollicking evening of queer creativity. Anna Reilly 7:30 p.m. 500 Sampsonia Way, North Side. $20 ($15 members). 412-231-3169 or www.mattress.org
Fri., April 23 -- Comedy
The Funny Bone has headed for the hills -- the South Hills! (Wokka wokka wokka.) The Pittsburgh comedy venue has moved from Station Square to the Green Tree Radisson, where it continues its regularly scheduled programming. This weekend, Cleveland-born Bob DiBuono shares his cartoonish characters and good-humored interpretations of life's silliest situations. AR 8 p.m. Also 8 p.m. and 10 p.m. Sat., April 24. 101 Radisson Drive, Green Tree. $15 (plus two drink minimum). 412-920-HAHA or www.funnybonepgh.com
Fri., April 23 -- Rock
It's been a year-and-a-half since the last release from Centipede Eest; the over-the-top local rockers are back tonight, though, to release a new LP entitled Resonator. The album's extended jams, infectious bass lines and moments of quiet insight and clarity are all typical Centipede fare, but more experimental moments -- auxiliary percussion, Eastern influences, near-drones -- pepper the release as well. But that doesn't mean the band's release show tonight at The Shop won't be a party. Jackson (from Grand Buffet) and Raw Blow open. Andy Mulkerin 8 p.m. 4312 Main St., Bloomfield. $5. All ages. 412-951-0622
Sat., April 24 -- Art
Art All Night might be the city's biggest indoor art party, and it's definitely the most democratic. For the 13th year running, literally anybody can exhibit one piece of artwork, free of charge and free of censorship, at this grassroots, volunteer-driven extravaganza. Then, tonight through tomorrow, everybody checks it out for free: Last year, more than 10,000 people saw more than 1,000 works. Artists can register (online or on-site) as late as this afternoon. This year's venue, the historic but idle Iron City Brewery, also boasts live music and refreshments. New wrinkles include a live collaborative painting event. BO 6 p.m.-2 p.m. Sun., April 25. 3340 Liberty Ave., Lawrenceville. 412-235-1950 or www.artallnight.com
Sat., April 24 -- Opera
The Pittsburgh Opera season goes out on a crescendo with four performances of Mozart's famous comedy The Marriage of Figaro. In this classic, a palace-full of royals and servants fall into farcical mayhem surrounding the marriage of servants Figaro (rising star Oren Gradus) and Susanna (internationally celebrated soprano Sari Gruber). Curious opera-goers can also attend a pre-show opera talk (free to all ticket holders), held an hour before each performance. AR 8 p.m. Also 7 p.m. Tue., April 27; 8 p.m. April 30; and 2 p.m. May 2. Benedum Center, 803 Liberty Ave., Downtown. $10.50-$150.50. 412-281-0912 or www.pittsburghopera.org
Sun., April 25 -- Music
Dutch musician Jozef Van Wissem brings an adventurous, contemporary approach to an instrument you probably wouldn't think of in those terms: the lute. His deconstructive, often circular composition style and the instrument's gentle tones are a hypnotic combination. Just watching him tune the damn thing is kind of mesmerizing. Van Wissem performs tonight at Garfield Artworks alongside Che Chen and Robbie Lee, Tyler Wilcox and Paul Neidhart, and Pittsburgh-based guitarist Chris Niels. (The show is presented by frequent CP contributor Manny Theiner.) Aaron Jentzen 8 p.m. 4931 Penn Ave., Garfield. $10. All ages. 412-361-2262 or www.garfieldartworks.com
Mon., April 26 -- Health
Did you know April is National STD Awareness month? Neither did I. Being aware of Awareness month is one thing; being aware of your sexual health is another. In participation with MTV's Get Yourself Tested campaign, Planned Parenthood's six Pittsburgh locations offer free STD screenings in April. Take responsibility for your health and prepare for this year's bout of spring fever (last reported: not an STD). AR Now through April 30. Hours vary by location. Locations in Bridgeville, Downtown Pittsburgh, Johnstown, Moon Township and Somerset. Free. To schedule an appointment: 1-800-230-PLAN or www.ppwp.org.
Mon., April 26 -- Rock
In this day and age, metal can be a tough genre in which to forge your own adventurous sound, so when a band like Mastodon makes it to the big time while doing just that, it's impressive. It's also helps if you make pretty great music, turn in dense, conceptual albums ... and if the lead singer looks like he'd feel right at home riding a mastodon. Tonight's show at the Palace Theatre in Greensburg also features Between the Buried and Me, Baroness and Valient Thorr. AJ 6:30 p.m. 21 W. Otterman St., Greensburg. $25.50. 724-836-8000 or www.thepalacetheatre.org
Tue., April 27 -- Spoken & Written Word
City of Asylum/Pittsburgh is best known for its residency program, serving as a home for writers escaping persecution in their home countries. But sometimes -- like tonight -- the organization hosts readings for other national and international authors. Writers from three countries are represented at this evening's event: Finnish novelist Sofi Oksanen, author of the post-Soviet thriller Purge, Dutch author Tommy Wieringa, and Christos Tsiolkas, of Australia, whose The Slap won the Commonwealth Foundation's 2009 Writer's Prize for best book. The reading, part of the PEN World Voices tour, is followed by a panel discussion moderated by CP A&E editor Bill O'Driscoll. AM 7:30 p.m. The Mattress Factory, 500 Sampsonia Way, North Side. Free, reservations required: cityofasylumpittsburgh@gmail.com
Wed., April 28
Loud, spastic, and angular -- French gypsy punks Vialka will be raising an unapologetic ruckus tonight at Brillobox, even as the folks downstairs vie for the top spot at Pub Quiz. With frantic vocals and polyrhythms verging on math rock, the duo is more post-punk than many of the contemporary rock bands that take European folk as their base; at the same time, their songs contain moments of beautiful simplicity. DJs Pandemic Pete and Edgar Um spin before and after the band. AM 9 p.m. 4105 Penn Ave., Bloomfield. $5. 412-621-4900 or www.brillobox.net