SPOTLIGHT: Sun., Sept. 20 — Music
Once bankrupt, and shuttered for more than a year, the August Wilson Center is poised for rebirth. The Center, which first opened in 2009, is now debt-free (thanks to local foundations), managed by the Pittsburgh Cultural Trust, and installing a new board. On Sun., Sept. 20, its new management offers new programming as the first season of the Soul Sessions Series for soul, jazz and rhythm-and-blues concerts begins. Opening it is Grammy-winning jazz vocalist Gregory Porter (pictured), a rising talent who has thrilled audiences from Broadway to Penn Avenue (during the 2014 Pittsburgh Jazz festival). But Porter's just the start for the revived Center. On Sept. 25, the Trust's quarterly Gallery Crawl includes the unveiling of I Am August, the series of portraits of everyday Pittsburghers by Brazilian artist Angelica Dass that will be a literal facelift for the Center's façade. On Oct. 2, the Center's concert hall will ring with the gospel sounds of the internationally acclaimed Jones Family Singers. Also scheduled are performances by heralded dance companies Philadanco (Oct. 9) and Ailey II (Nov. 10). And the Soul Sessions continue Oct. 10 with An Evening with Marsha Ambrosius, best known as one half of the duo Floetry and for her songwriting and production work. Bill O'Driscoll Gregory Porter: 7:30 p.m. Sun., Sept. 20. 980 Liberty Ave., Downtown. $35-45. 412-456-6666 or www.trustarts.org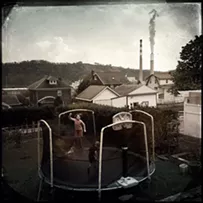 Thu., Sept. 17 — Art
Air quality in Western Pennsylvania ain't what it used to be — it's much better — but it ain't what it could be, either: It's still among the worst in the country. For the exhibit In the Air: Visualizing what we breathe, curated by Laura Domencic and Brian Cohen, photographers Cohen, Scott Goldsmith, Lynn Johnson and Annie O'Neill have spent a year documenting people and places that show the environmental, social and economic effects of air quality in Pennsylvania. (Pictured is Johnson's image of a coal-fired power plant in Cheswick, Pa.) The exhibit opens tonight with a reception at Pittsburgh Filmmakers Galleries. Learn more at air.thedocumentaryworks.org. Bill O'Driscoll 6-9 p.m. Exhibit continues through Feb. 26. 477 Melwood Ave., Oakland. filmmakers.pfpca.org
Fri., Sept. 18 — Free Stuff
Starting today, and for the next three weeks, the Allegheny Regional Asset District (funded by the county sales tax) offers free events at dozens of venues all over town. This week's RADical Days include free admission to the Carnegie Museums of Art and Natural History and a free concert by the young singers in Pittsburgh Opera's Resident Artists program, all on Sun., Sept. 20. On Monday, visit Phipps Conservatory and Soldiers & Sailors Hall & Museum for no charge. And on Thu., Sept. 24, get a free tour of Heinz Field. For a complete RADical Days line-up, see www.radworkshere.org. BO Continues through Oct. 11.
Fri., Sept. 18 — Art
Free your mind at Mindful: Exploring Mental Health Through Art, a socially engaged art experience at the Society for Contemporary Craft. The exhibit, which opens with a reception tonight, explores mental illness' impact on society through more than 30 artworks by artists who have been diagnosed with or affected by mental illness. A follow-up event on Sat., Sept. 19, includes a pop-up bake sale by Depressed Cake Shop. Kelechi Urama Reception: 5:30-8 p.m. Also 10 a.m.-3 p.m. Sat., Sept. 19. 2100 Smallman St., Strip District. Free. 412-261-7003 or www.contemporarycraft.org
Fri., Sept. 18 — Art
The Mattress Factory expands its big Factory Installed exhibit with new immersive works by four artists-in-residence from around the U.S. and overseas. Rob Voerman, an internationally exhibited Dutch artist, "creates post-apocalyptic structures from found materials" (like cardboard boxes). Illinois-based Bill Smith "creates technology-based art inspired by nature's functional complexity." Internationally exhibited, Brooklyn-based Lisa Sigal takes painting beyond the canvas to encompass walls and other architectural forms. And Los Angeles-based Marnie Weber, known for deploying curiously costumed mannequins, plans to create "a theatrical stage set involving a ghost train and many departing spirit effigies." The opening reception is tonight. BO 6-8 p.m. Exhibit continues through spring. 500 Sampsonia Way, North Side. $15. 412-231-3169 or www.mattress.org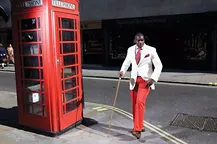 Fri., Sept. 18 — Art
The Silver Eye Center for Photography opens Dandy Lion: (Re)Articulating Black Masculine Identity. The exhibit highlights about 30 works by emerging photographers and filmmakers from around the world, and features young men in city landscapes that break away from stereotypes of black masculinity. Tonight's opening reception features a talk by curator Shantrelle P. Lewis, former curator for the McKenna Museum of African American Art. KU 6-9 p.m. Exhibit continues through Nov. 14. 1015 E. Carson St., South Side. Free. 412-431-1810 or www.silvereye.org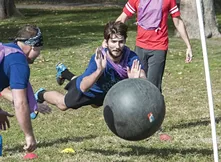 Fri., Sept. 18 — Outdoors
Pittsburgh's City of Play furthers its mission of getting adults outdoors to play new games and sports by teaming with New York's Come Out & Play Festival for the very first Come Out & Play Pittsburgh. The donation-based fest for people ages 13 and up offers two days of recreation including Circle Rules Football (played on a circular field with a yoga ball), Scattershot (a video game hundreds can play at once) and Counter Squirt ("a late-night live-action squirt-gun battle throughout the streets of Oakland"). It all starts tonight. BO 8 p.m.-midnight. Also 11 a.m.-3 p.m. Sat., Sept. 19. Schenley Plaza, Oakland. Suggested donation: $10. www.comeoutandplaypgh.org

Sat., Sept. 19 — Art
Artists Image Resource holds its annual fundraiser, and it's a hands-on affair (if you like). Sure, there are DJs and live music, a print sale from the AIR archives, an exhibition of art to be raffled at night's end, a hot-dog bar, beer and more. But in addition, AIR's screenprinting, lithography and letterpress facilities will be open to those who wish to print their own neighborhood-themed T-shirts, tote bags, postcards and more. It's Fundraiser, Ink. BO 4-11 p.m. 518 Foreland St., North Side. $15-20. 412-321-8664 or www.artistsimageresource.org
Sun., Sept. 20 — Words
Share a drink and celebrate the launch of her new book, The Shift: One Nurse, Twelve Hours, Four Patients' Lives (Algonquin Books), with author and New York Times opinion columnist Theresa Brown, at Classic Lines Bookstore. Brown's memoir explores her job as a nurse in a Pittsburgh oncology ward, and the toll disease takes on her patients. Another launch event is scheduled for Tue., Sept. 22, at Pitt's O'Hara Student Ballroom. KU 4-7 p.m. 5825 Forbes Ave., Squirrel Hill. Free. 412-422-2220 or www.theresabrownrn.com.
Mon., Sept. 21 — Words
Although it climaxes with next weekend's two days of concerts, the annual Thrival Innovation + Music Festival actually begins today. The fest, organized by the nonprofit Thrill Mill and presented by UPMC Enterprises, offers some 30 free "innovation-focused programs" at 10 locations around town on topics including women in leadership, the inclusive economy and gentrification, new media and more. The target audience is "entrepreneurs, impact-makers, innovators, creatives and business leaders." Tonight's kickoff, at City Theatre, is a program titled 21st Century Cities and Global Leadership. BO Festival continues through Sept. 27. Almono site (off Second Avenue), Hazelwood. www.thrivalfestival.com
Mon. Sept. 21 — Fashion
Starting with tonight's Opening Night Extravaganza, at Highmark Stadium, Pittsburgh Fashion Week returns for a sixth year. Created by Pittsburgh-based model and actress Miyoshi Anderson, the event promises to treat guests to high-fashion runway shows featuring wares from local designers, students and vendors. "It's going to be fun-filled and action-packed," promises Anderson. Events include designer showcases at Highmark Stadium, a fashion show at Macy's and the Pittsburgh Fashion Hall of Fame Luncheon. The shows will spotlight more than 25 designers (Bradford Mumpower, Mayfield Avenue, Faith N'Khaos and more) and 350 models. Rebecca Nuttall 7 p.m. (Highmark Stadium, South Side; $35-60). Events continue through Sun., Sept. 27 (various venues; admission: $15-75). www.pittsburghfashionweek.com
Mon., Sept. 21 — Words
Hector Tobar talks about his latest book, Deep Down Dark, which details the experiences of the 33 Chilean miners who were trapped underground for 69 days in 2010. Tobar won a 1993 Pulitzer Prize for his coverage of the Los Angeles riots, and The New York Times calls Deep Down Dark "greatly rewarding." The Pittsurgh Arts & Lectures Monday Night Lecture Series event takes place tonight at Carnegie Music Hall. KU 7:30 p.m. 4400 Forbes Ave., Oakland. $10-25. 412-622-8866 or www.pittsburghlectures.org.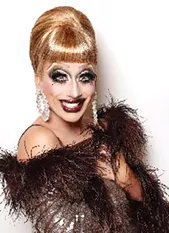 Wed., Sept. 23 — Comedy
The New York Times calls Bianca del Rio "the Joan Rivers of the drag world." And if you don't already know her from her winning season on RuPaul's Drag Race — or even if you do — tonight's a good time to catch up. The costume designer, insult comic and veteran of the New Orleans nightclub scene brings her raunchy, nationally touring Rolodex of Hate Comedy Special to the Byham Theater for one show tonight. BO 8 p.m. 101 Sixth St., Downtown. $25-83. 412-456-6666 or www.trustarts.org.