Sat., Oct. 1 - Games
City of Play keeps growing: The nonprofit rec outfit now has two full-time and two part-time employees, including founder and creative director Adam Nelson, and in addition to corporate gigs, still runs free weekly and monthly events all over town. Its annual Come Out & Play festival for new and innovative games has gotten bigger, too. The seventh annual incarnation, Oct. 1, is the first to include family games, and its late-night, adults-only component is the most ambitious yet.
The fest is one of only three of its kind in the country, says Nelson, the others being in New York City and San Francisco. Pittsburgh's, based in Oakland's Schenley Plaza, starts at 2 p.m. with field games for adults and teens, including both new games and old faves like circle-rules football, a combination of football, soccer and more that's played with a yoga ball on a circular field. New games include The Forger, a non-athletic contest involving art, creativity and strategy. Family games include Temporary Adventure Playground, which looses kids (free of parental involvement) to construct playground equipment with cardboard boxes, tape and imagination. After Dark activities for adults include a multi-player Tetris game, projected on a big screen and played via smartphones and a website.
All that's free. Come Out & Play's lone ticketed component is Fantastic Adventure, a 21-and-over game running 10 p.m.-midnight (plus an after-party). Nelson says the game blends a treasure hunt, capture the flag and immersive theater in the context of a narrative inspired by both pulp novels and Persian mythology (ancient treasure, serpent king, etc). It's all set within walking distance of Schenley Plaza. Nelson also promises that Fantastic Adventure will conclude a festival even better than last year's, which drew a couple hundred and ended with a water-gun fight. Bill O'Driscoll 2 p.m.-midnight, Sat., Oct. 1. Schenley Plaza, Oakland. Most events are free; Fantastic Adventure is $30-45 (group rates available). www.cityofplay.org
Thu., Sept. 29 – Stage
Ella is a young actress desperate to make her embittered playwright father proud. After her stage debut (Chekhov), they spend a drug- and booze-filled evening discussing — among many other things — whether to read the reviews. The REP presents the Pittsburgh premiere of Halley Feiffer's I'm Gonna Pray for You So Hard, a 2015 Off-Broadway critical and box-office hit. Broadway veteran Robert Turano directs Cathryn Dylan and local favorite Martin Giles in this two-hander, which The New York Times called "punishing." The first performance in the Pittsburgh Playhouse Studio Theatre is tonight. BO 8 p.m. Continues through Oct. 16. 222 Craft Ave., Oakland. $10-29. 412-392-8000 or www.pittsburghplayhouse.com
Thu., Sept. 29 – Stage
If charm were a musical, it might well be called The Fantasticks. The storied romantic comedy by Tom Jones (no, not that one) and Harvey Schmidt premiered Off-Broadway, in 1960, and ran for a record 42 years (really!). A 2006 revival remains on stage in New York, but a new production comes to Pittsburgh tonight courtesy of Pittsburgh Public Theater. Funny, knowingly theatrical, incorporating everything from Shakespeare to vaudeville, the show has a tuneful score that includes, most notably, "Try to Remember." The Public's Ted Pappas directs a cast including Mary Elizabeth Drake and Jamen Nanthakumar as the young lovers. BO 8 p.m. Continues through Oct. 30. 621 Penn Ave., Downtown. $15.75-66. 412-316-1600 or www.ppt.org
Fri., Sept. 30 – Art
Continuing its Factory Installed series, the Mattress Factory welcomes new works by four artists-in-residence. Tonight's free opening reception unveils room-sized installations by Australian artist Stephen Bram and Philadelphian Ezra Masch, whose work "combines musical instruments, lights, and mechanical and digital systems." Pieces by Christopher Meerdo — whose work "explores ideas of paranoia, entropy and memory" — and Palestinian artist Mohammed Mussallam, whose focus is humanity's relationship with the environment, also debut. Ian Flanagan 6 p.m. Continues through May 28. 500 Sampsonia Way, North Side. Free. 412-231-3169 or www.mattress.org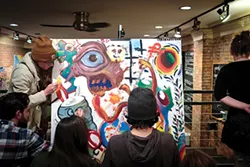 Fri., Sept. 30 – Festival
Paint Jam takes all the fun of Redfishbowl-sponsored art crawls like this past June's, on the South Side, and concentrates it into one venue on one night — a smorgasbord of visual and concert performances at Spirit Lounge. Tonight, 10 local music acts including electronic dance artist Chalk Dinosaur, psych-rockers Decaffeinated Grapefruit and garage punks NOX BOYS fill the seven-hour evening. There is also work by 40 visual artists and live painters, body painters, vendors, dancers from Pittsburgh Aerial Silks and more. IF 7 p.m.-2 a.m. 242 51st St., Lawrenceville. $5. 412-586-4441
Sat., Oct. 1 – Tour
While Downtown has many doors, probably you've entered only a few. Today and tomorrow, slake your architectural curiosity with the inaugural Doors Open Pittsburgh. The weekend-long event turns about 40 Downtown theaters, hotels, offices, private clubs and more into open houses, some with guided tours. Founded by Pittsburgh native Bonnie Baxter (inspired by a similar event in Chicago), Doors Open ranges from free spots you've maybe missed (Wood Street Galleries, the Fourth Avenue Dollar Bank) to buildings you usually need a ticket for (Heinz Hall, Byham Theater) and spaces that typically require an invitation (Strada Architecture, Allegheny HYP Club, the mayor's office). Likely highlights: The Engineer's Society of Western Pennsylvania, with its antique walk-in vault, now a dining room (pictured). No reservations needed. BO 9 a.m.-4 p.m. Sat., Oct. 1, and 9 a.m.-4 p.m. Sun., Oct. 2. Downtown. Free. www.doorsopenpgh.org
Sat., Oct. 1 – Art
The late Brazilian artist Hélio Oiticica was famous for experimenting with geometric images — both two- and three-dimensional — and for the immersive environments he created in the 1960s and '70s. Along with The Art Institute of Chicago and The Whitney Museum of American Art, the Carnegie Museum of Art has created To Organize Delirium, the most expansive U.S. exhibition yet for this bold artist. Today's opening day also features a film screening — a documentary composed of Super 8 footage — at 1:30 p.m. with director César Oiticica Filho, the artist's nephew. IF 10 a.m.-5 p.m. Exhibit continues through Jan. 2. 4400 Forbes Ave., Oakland. $11.95-19.95. 412-622-3131 or www.cmoa.org
Sat., Oct. 1 – Outdoors
The South Side's Step Trek is 16 years old, but this year there's a new wrinkle. Participants in this South Side Slopes Neighborhood Association event — an annual self-paced hike of the community's signature city steps — will be treated to performances inspired by those very steps, courtesy of Steppin Stanzas. At the registration area and during water breaks, Steppin Stanzas co-founders Paola Corso and Andrew Edwards will read their original poems, accompanied by acoustic guitarist Aaron LeFebvre (pictured, with Corso) and movement artist Daniel Dongilli. BO 11 a.m.-4 p.m. Josephine and 21st streets, South Side Slopes. $13 (free for kids under 12). www.southsideslopes.org
Mon., Oct. 3 – Screen
S. Brian Willson is a Vietnam veteran who lost both his legs, but not in war. He lost them to a train, in 1987, while protesting a shipment of U.S. weapons to Central America. The author and activist is the subject of Paying the Price for Peace, a new documentary critiquing America's history of military aggression. Tonight's free screening in Carnegie Mellon University's McConomy Auditorium is co-sponsored by CMU's CreateLab and School of Computer Science. Producer and director Bo Boudart will attend for a Q&A. BO 6 p.m. CMU campus, Oakland. Free; donations accepted. www.payingthepriceforpeace.com
Mon., Oct. 3 – Talk
Baseball might be a slow game to some, but the moments of action are lightning-fast. Timothy Verstynen, a psychology professor at Carnegie Mellon University, tackles neuroanatomy on the diamond at tonight's Café Scientifique Pittsburgh. Dedicated to questions and answers between guests and speaker, this casual "scientific hub" is held monthly at Carnegie Science Center. Learn what happens to the brain during one intense split second in Verstynen's talk In the Blink of an Eye: The Neuroscience of Baseball. IF 7 p.m. 1 Allegheny Ave., North Side. Free. 412-237-3400 or www.carnegiesciencecenter.org
Thu., Oct. 6 – Words
Californian author Melissa Yancy won the 2016 Drue Heinz Literature Prize, the award for a national University of Pittsburgh Press contest for short-fiction collections. Yancy, chosen from among nearly 300 submissions, won $15,000 and publication of Dog Years, her book of nine short stories. Yancy and famed novelist Richard Russo — the Drue Heinz judge who called her book "smart, intricate, carefully crafted" — will appear at a reading and signing tonight at the University of Pittsburgh's O'Hara Student Center. IF 7 p.m. 4024 O'Hara St., Oakland. Free. 412-383-2456

Thu., Oct., 6 – Stage
In a special Non-Verbal Edition of the Pittsburgh Cultural Trust's Multiple Choice series, Wonderheads, a theater company from Portland, Ore., stops by the August Wilson Center tonight on its North American tour. The troupe's wordless show performed in full masks, Grim and Fischer, pits the Reaper against an obstinate grandmother. As if seeing this "living cartoon" weren't enough, Multiple Choice offers a Silent Disco Party, including food trucks, all in one evening. IF 8 p.m. 980 Liberty Ave., Downtown. $25 (Silent Disco and food truck only: $5). 412-456-6666 or www.trustarts.org