FREE EVENT: Sun., Sept. 18 – Free Stuff
Each year for the past 15, the Allegheny Regional Asset District says "thanks" for the sales-tax dollars it's used to support things like parks, libraries, arts groups and the paying off of debt on sports stadiums. The thank-you is RADical Days, several weeks of free admissions and performances to ARAD-funded attractions.
This year's offerings run this week through Oct. 9, and they begin with Pittsburgh Opera: Rising Stars, a special Sept. 18 concert by the young singers of the troupe's Resident Artists performing their favorite arias (registration required at 412-281-0912 or www.pittsburghopera.org). On Sept. 19, free admissions include Phipps Conservatory & Botanical Gardens; behind-the-scenes tours at PNC Park; and an evening of theatrical scenes (by Saltworks Theatre) and stage and film music (by The Aeolian Winds) at Kelly-Strayhorn Theatre. Rounding out the first week of RADical Days is Sept. 22's free, naturalist-led evening walk at the Beechwood Farms Nature Reserve, courtesy of the Audobon Society of Western Pennsylvania (registration required at 412-963-6100 or www.aswp.org).
But there's lots more where all that came from (even if, it should be said, the offerings include some stuff that's usually free anyway). Other highlights: The Children's Museum of Pittsburgh (free admission Sept. 25); the Carnegie Museums of Art and Natural History (Sept. 25); an hour-long Pittsburgh Symphony Orchestra concert, at Heinz Hall (Sept. 28); and Prime Stage Theatre's preview performance of To Kill a Mockingbird (Oct.1). On Oct. 2, all three of these North Side attractions are free: The Andy Warhol Museum, Carnegie Science Center and National Aviary. On Oct. 4 come free behind-the-scenes tours of Heinz Field. And Oct. 5 brings a performance of Quantum Theatre's Pittsburgh-premiere production of Jez Butterworth's The River, in Aspinwall Riverfront Park. RADical Days wraps Oct. 9 with free admission to the Pittsburgh Zoo and the Mattress Factory, and a free Attack Theatre performance at Carnegie Mellon University. Bill O'Driscoll Complete schedule at www.radworkshere.org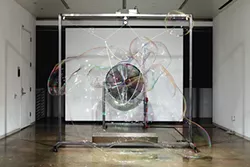 Thu., Sept. 15 – Exhibit
The Children's Museum of Pittsburgh is a hands-on type of place. Today, the museum marks 10 years of its artist-residency program Tough Art, which challenges artists to create interactive experiences for kids. Debuting are: Nicholas Hanna's giant bubble-making machine "Bubble Device #4"; Anne Lily's people-powered "To Conjugate"; Stephen Malinwoski "Musical Animation Machine," which lets visitors visualize music composition; and Nobuho "Nobi" Nagasawa's "Fist-Sized Survival," in which visitors work with clay to honor the lone pine tree to survive the 2011 Fukushima tsunami. Bill O'Driscoll 10 a.m.-5 p.m. 10 Children's Way, North Side. $14-16 (free for kids under 2). 412-322-5058 or www.pittsburghkids.org
Thu., Sept. 15 – Words
Author and journalist Sebastian Junger, known for books like War and The Perfect Storm, has a new one. In an age when "tribalism" has a bad name, a provocative thesis of Tribe: On Homecoming and Belonging is that not only soldiers returning from combat but also the rest of us must recognize "the innate human preference to live in small groups defined by clear purpose." Junger speaks tonight at Carnegie Lecture Hall as part of the Re:NEW Festival. BO 6 p.m. 4400 Forbes Ave., Oakland. $10 ($30 includes signed book). www.pittsburghartscouncil.org
Thu., Sept. 15 – Art
No punning titles here: Concept Art Gallery's new exhibit is called, simply, Contemporary Glass, and that's all you need to know when the work is by three internationally known artists. Dante Marioni, Nick Mount and, in a rare public appearance, Richard Marquis, will all attend tonight's opening reception at one of Pittsburgh's most venerable galleries. Marioni is known for his tall, iconic forms, while Mount draws from Venetian traditions; Marquis' recent work includes colorful, whimsical sculptures. BO 6-8 p.m. (free). Exhibit continues through Oct. 15. 1031 S. Braddock Ave., Edgewood. 412-242-9200 or www.conceptgallery.com
Thu., Sept. 15 – Words and Music
That big Jazz Poetry concert you're expecting this time of year from City of Asylum? Well, it's taken a new form. Instead of a single big event, it's now Jazz Poetry Month — a series of smaller free shows, every Thursday, Friday and Saturday through Oct. 9, with different performers nightly. It starts tonight, with renowned saxophonist Oliver Lake, as the Jazz Poetry co-founder presents a solo show of his original music and poetry. The series continues tomorrow with live music by visiting famed saxophonist Hamiet Blue and legendary Pittsburgh-based drummer Roger Humphries, accompanying Venezuelan-born poet Israel Centeno. And Saturday, Lake's pioneering World Saxophone Quartet is joined by Pittsburgh's Adriana E. Ramirez and Syrian-born Osama Alomar. A note on the venue: At press time, it was uncertain whether City of Asylum's new Alphabet City building would be ready to host. If it isn't, an alternate location will be announced. Bill O'Driscoll 8 p.m. Location TBD, North Side. Free. www.cityofasylum.org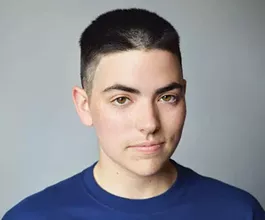 Fri., Sept. 16 – Stage
Throughline Theatre Company stages the winner of its annual playwriting contest. The Censor is by David L. Williams, a locally based playwright whose work has been staged internationally; this new one concerns a woman who works as a censor for a totalitarian government and who, after being passed over for a promotion, hires a transgender victim of censorship to paint her portrait. The cast includes Liam Ezra Dickinson (pictured), Maura Underwood, Jessie Wray Goodman and Christopher S. Collier. Tonight's opening-night performance at Grey Box Theatre is followed by a reception with the cast. BO 8 p.m. Continues through Sept. 24. 3595 Butler St., Lawrenceville. $15-20 (opening night: $25-30). www.throughlinetheatre.org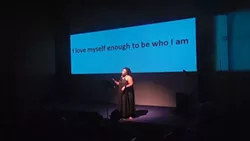 Fri., Sept. 16 – Stage
Trans-Q Live! is "a queer evening of performance, dance, poetry, comedy, resplendent fantasies, music" and more. The show's a project of Trans-Q Television, a long-running project based at Carnegie Mellon University. The third annual Trans-Q Live!, at The Andy Warhol Museum, features Ginger Brooks Takahashi + Nica Ross, Joy KMT, Smokin' McQueen, Sarah Elaine Smith, Angela Washko and Anthony Williams, plus Trans-Q Television videos. Joseph Hall hosts. BO 8 p.m. 117 Sandusky St., North Side. $8-10. 412-237-8300 or www.warhol.org

Fri., Sept. 16 - Comedy
He might be better known for co-hosting The Opie and Anthony Show, but Jim Norton's irreverent sense of humor is just as unfiltered in his standup. Norton has a knack for tackling taboos and arriving at uncomfortable truths, just like friend and Louie creator Louis C.K.; Norton has had many appearances on that peculiar sitcom. With his previous hour-long standup special released only last year, Norton returns with Mouthful of Shame; the international tour stops at the Rex Theater tonight. Ian Flanagan 9 p.m. Rex Theater, 1602 E. Carson St., South Side. $40. 412-381-6811or www.rextheater.com

Sat., Sept. 17 – Festival
"Wastewater treatment" and "festival" might sound like concepts at odds, but don't tell that to the 2,013 folks who visited last year's ALCOSAN Open House. In fact, this free, day-long watershed and environmental festival is popular enough that you should register online. Tours of the 59-acre plant are complemented by displays from more than 40 exhibitors, demos by ALCOSAN's Mad Scientist, games, and attractions like a huge aquarium full of fish pulled from the Ohio River hours earlier. Parking is free, and so is a cookout-style lunch. BO 9 a.m.-4 p.m. 3300 Preble Ave., Marshall-Shadeland. www.alcosan.org

Sat., Sept. 17 – Words
It's never too late to speculate on history. Jennifer Chiaverini — known for her Elm Creek Quilt series — has lately turned to historical fiction. Her newest work is Fates and Traitors: A Novel of John Wilkes Booth, a novel that explores U.S. history's most famous assassin by way of a narrative mostly from the viewpoint of the women in Booth's life. The author returns to her hometown of Sewickley for an event at the Penguin Bookshop tonight. IF 7 p.m. 417 Beaver St., Sewickley. Free. www.jenniferchiaverini.com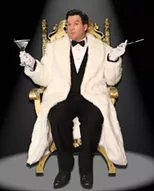 Sat., Sept. 17 - Comedy
Film history meets comedy tonight as Brian Edward tackles classics of camp cinema. The performer and playwright (who hosts online culture magazine 'Burgh Vivant) will give a standup-comedy lecture, complete with clips from such touchstones as Auntie Mame, Sunset Boulevard and Mommie Dearest ("No wire hangers ever!"). Brian Edward: In Person & On Film takes place at Bricolage Productions' Downtown venue. The show opens with a performance by improv troupe LGBTQBert, and there's a post-show cocktail party and silent auction of Hollywood memorabilia. Proceeds from this 21-and-over event benefit the ReelQ film festival. BO 7:30 p.m. 937 Liberty Ave., Downtown. $20. www.reelq.org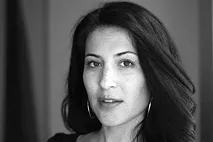 Thu., Sept. 22 – Words
"It was, for a time, a loud twittering flight / of psychedelic-colored canaries: a cloud / of startle and get-out in the ornamental / irons of the rib cage. Nights when the moon / was wide like the great eye of a universal / beast coming close for a kill, it was a cave / of bitten bones and snake skins, eggshell dust, / and charred scraps of a frozen-over flame." Ada Limón's 2015 collection Bright Dead Things was a finalist for the National Book Award in poetry, among other honors. Limón, who splits time between Kentucky and California, opens the Pittsburgh Contemporary Writers season with tonight's free reading in the University of Pittsburgh's Graduate School of Public Health Auditorium. BO 8:30 p.m. 130 DeSoto St., Oakland. Free. 412-624-6508 or www.pghwriterseries.wordpress.com