SPOTLIGHT: Thu., Nov. 30 - Stage
Millennials and their boomer parents' generation are often portrayed as at odds, and you'll get no argument from acclaimed British playwright Mike Bartlett. His 2010 comedy Love, Love, Love concerns a boomer couple and their two children. With acts set in 1967, 1990 and the present, it tracks Kenneth and Sandra, whose youthful idealism (stop me if you've heard this one) gives way to bourgeois convention. On three distinctive sets, the main characters age from 19 to 63 as conflicts with their son and daughter mount.
Andrew Paul's Kinetic Theatre Company stages the play's regional premiere in a production largely transplanted from Cockroach Theatre, in Las Vegas, the former Pittsburgher's hometown. (The work also had a 2016 Off-Broadway run.) The production features Las Vegas-based actors Mindy Woodhead and Darrell Weller (pictured), the former of whom starred earlier this year as the preacher's wife in Kinetic's The Christians. "By and large, the play is a love story about this central couple," says Paul, who directs. But he adds that Bartlett — a hot playwright (King Charles III) whose Cock was a 2016 hit here for Kinetic — prompts audiences to decide: selfish parents or gutless kids? "It does create a great opportunity for audiences to have a debate in the theater," says Paul.
— Bill O'Driscoll
Thu., Nov. 30-Dec. 17. Kinetic Theatre at Pittsburgh Playwrights, 937 Liberty Ave., Downtown. $20-40. www.kinetictheatre.org

Winter Is Coming From Russia With Love is the puckish title of an evening of arias, folk songs and ensemble tunes by Rachmaninoff, Tchaikovsky, Rimsky-Korsakov and more, plus Christmas favorites, sung by local talents including Andrey Nemzer, Robert Frankenberry, Desirée Soteres and Uliana Kozhevnikova. The Opera at Wallace's event, at Hotel Indigo, is free. Bill O'Driscoll 7-9 p.m. Tue., Dec. 5. 123 N. Highland Ave., East Liberty. www.facebook.com ("coming from russia")

Fri., Dec. 1 - Art
Join Silver Eye Center for Photography tonight for the opening reception for not one, but two solo exhibitions. Tarrah Krajnak's SISMOS reclaims a psychic history, with Krajnak piecing together her pre-adoption life in Brazil through found photographs and archival materials. Tabitha Soren's Fantasy Life follows young baseball players from the Oakland A's farm system in 2002, evoking the American dream of making it to the major leagues. Amanda Reed 6-9 p.m. (free). Exhibit continues through Feb. 17. 4808 Penn Ave., Blomfield. 412-431-1810 or www.silvereye.org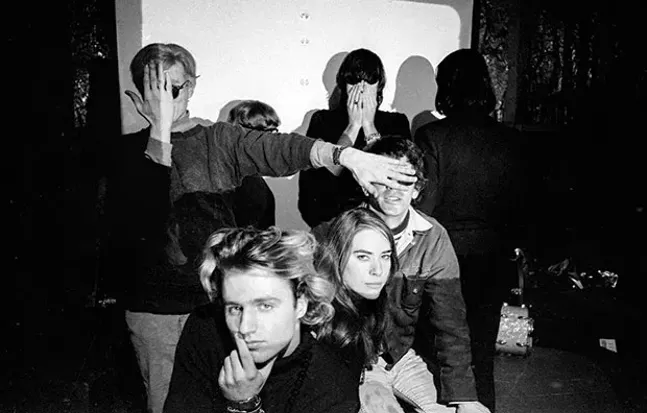 Fri., Dec. 1 – Art
Nat Finkelstein was a revered photojournalist whose work was exhibited worldwide. In some circles, he remains best known for documenting Andy Warhol's Factory in the mid-1960s. Finkelstein died in 2009, but his life-partner, Elizabeth Murray Finkelstein, lives in Pittsburgh. Up All Night, her selection of his photos documenting subjects including Warhol and the early days of the Velvet Underground (plus notable cameos), and photos and video of the emergent '90s club scene, is now on exhibit at the Irma Freeman Center for Imagination. Tonight's closing reception is part of Penn Avenue's gallery crawl, Unblurred. Bill O'Driscoll 7-10 p.m. (free). Exhibit continues through Dec. 17. 5006 Penn Ave., Bloomfield. www.irmafreemancenter.org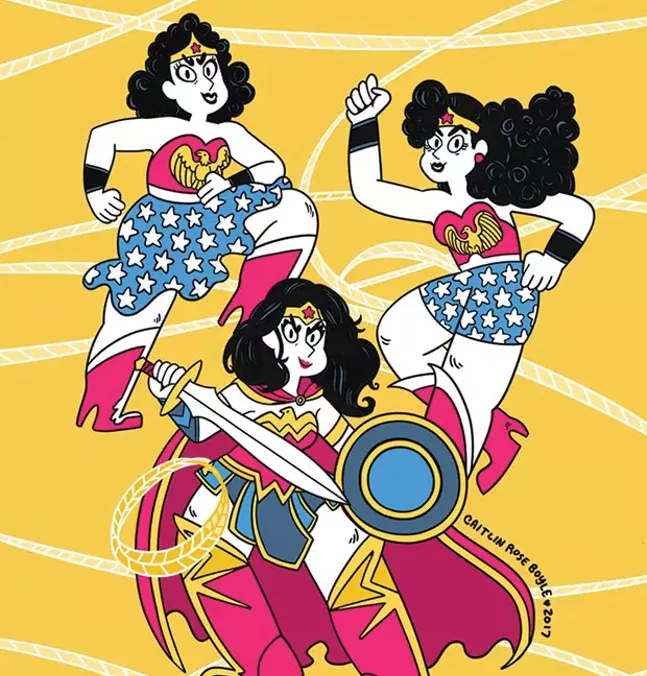 Fri., Dec. 1 – Art
For comic-book superheroes, longevity requires constant reinvention. Wonder Woman turns 75 this year, and her many incarnations are the subject of Wonder Woman: Visions, an exhibit at the ToonSeum. The homage, curated by museum president Anthony Letizia and artist Jessica Heberle, includes original art from such DC Comics masters as Cliff Chiang, Ramona Fradon, Trina Robbins and H.G. Peters — the first person to ever draw the Amazonian warrior princess — plus new interpretations by local talents including Asia Bey, Caitlin Rose Boyle, Ilene Winn Lederer, Maggie Negrete, Jayla Patton and Lizzie Solomon. Visitors can add their own words and images to a community-sourced collage. The opening party is tonight. BO 7-10 p.m. (free). Exhibit continues through Feb. 25. 945 Liberty Ave., Downtown. www.toonseum.org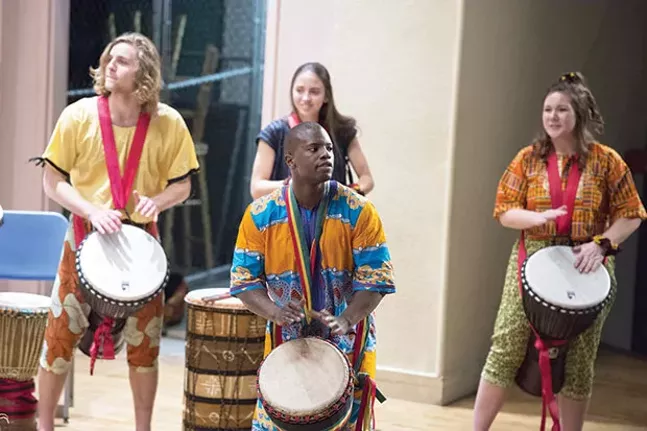 Fri., Dec. 1 – Music
The University of Pittsburgh's African Music and Dance Ensemble brings energetic drumming and dancing to Bellefield Hall Auditorium tonight for its fall concert. The group will perform traditional and contemporary African music, joined by local music and dance groups Timbeleza, Kuumba, Camara Drum and Dance, and Mouminatou Camara. The ensemble is lead by Yamoussa Camara and directed by Gavin Steingo. AR 8 p.m. 315 South Bellefield Ave., Oakland. $5-12 (free for Pitt students). 412-624-7529 or www.music.pitt.edu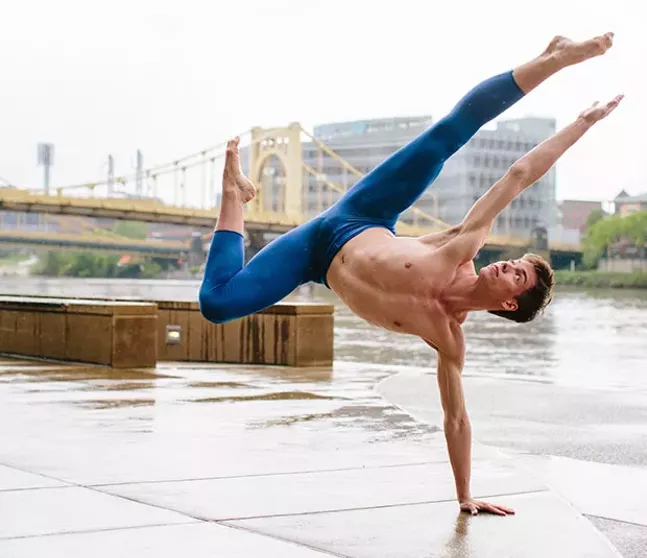 Fri., Dec. 1 – Dance
Join Point Park University Conservatory Dance Company for its Winter Dance Concert, beginning tonight at the Rockwell Theatre. Featuring styles from contemporary to ballet, the concert offers works by nationally known choreographers John Heginbotham, Adam Hougland, Lucinda Childs and Point Park University associate professor Garfield Lemonius. The program, with eight performances through next weekend, is staged by Jorge Perez Martinez and Matt Pardo. AR 8 p.m. Continues through Dec. 10. 222 Craft Ave., Oakland. $10-24. 412-392-8000 or www.pittsburghplayhouse.com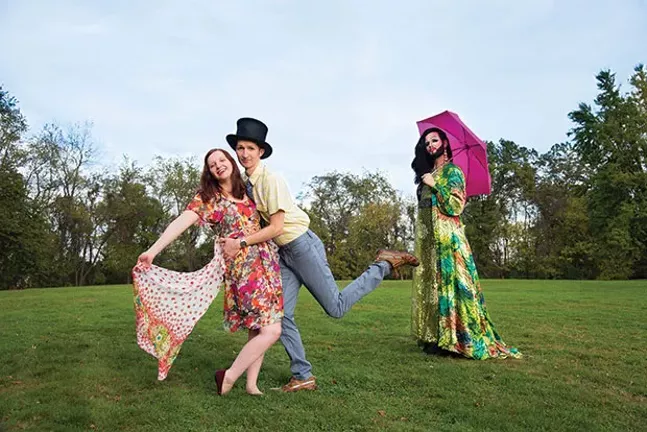 Fri., Dec. 1 – Stage
Feelings: A Magical Time-Traveling Love Story premieres tonight at City Theatre. This one-night-only show is a live comedic memoir in three acts about real-life couple Nicole Havranek and Brian Gray, two local improv veterans. It details their journey from childhood on with sketches, improv and audience games, along with narration by their Fairy Drag Mother, Qarma Kazee, a Pittsburgh-based bearded drag performer. An after-party features adult beverages and standup from local comics Cumi Ikeda and Ossia Dwyer. AR 9 p.m. 1300 Bingham St., South Side. $15-19.50. 412-431-2489 or www.citytheatre.culturaldistrict.org

Fri., Dec. 1 – Stage
Holiday-season counterprogramming? Glad you asked! The Midnight Death Parlor: Tales of Tragedy and Murder is a new monthly series at The Weeping Glass, a new Allentown art gallery focusing on the macabre (and co-run by the Atrocity Exhibition's Macabre Noir). Tonight, The Mad Muse performs "Stella," her chilling monologue based on the true story of a deathbed confession that rattled a small Western Pennsylvania town. This late show includes themed cocktails, refreshments and more — and "funeral attire is always welcome." BO 11 p.m. 817 E. Warrington Ave., Allentown. $30. www.facebook.com ("midnight death parlor")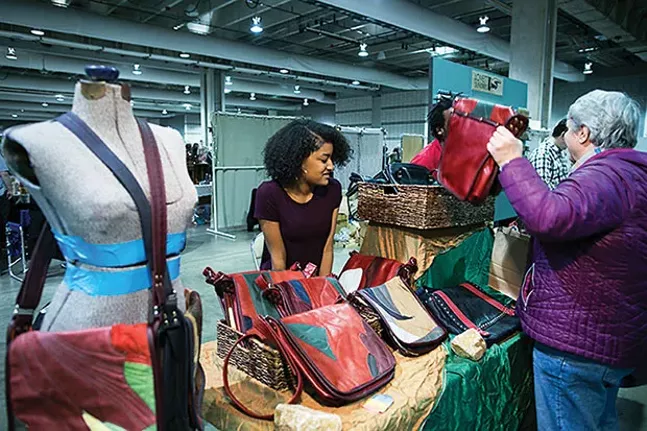 Sat., Dec. 2 – Shopping
If crafty handmade gifts seem right for the holidays, you can't get much more efficient than visiting Handmade Arcade. The nationally known craft fair that annually takes over the David L. Lawrence Convention Center offers everything from wallets made from reclaimed baseball mitts and fine-art jewelry to organic skin-care products and toy robots made from repurposed wood, at a wide range of prices. And this will be the largest HA to date, with 170-plus vendors from around the country, 66 of them new to the fair. There are also hands-on activities for all ages, including T-shirt screenprinting and block-printing holiday cards. BO 11 a.m-7 p.m. 1000 Fort Duquesne Blvd., Downtown. Free. www.handmadearcade.com

Sat., Dec. 2 – Music
Alia Musica returns tonight with Nidra at Frick Fine Arts Auditorium. Written by Giacomo Baldelli, a New York-based guitarist, Nidra combines sight and sound, featuring guitar pieces played alongside short movies inspired by the music. Nidra won the 2015 Queens New Music Festival Call for New Proposals, and has been performed throughout New York City and in Modena, Italy. AR 8 p.m. 650 Schenley Drive, Oakland. $12 ($10 for students/seniors). 412-427 6717 or www.aliamusicapittsburgh.org

Sat., Dec. 2 – Comedy
Norlex Belma is a native of Brooklyn who went to Carnegie Mellon, then moved back to NYC. But he still loves Pittsburgh, the town that launched his standup career. He returns quarterly to produce a comedy showcase at Club Café, and the late-fall edition, Lexfest III, is tonight. Belma hosts New York comics Bob Kitson, Rashad Bashir and Wanjiko, and local talents Felicia Gillespie and Terry Jones. BO 10 p.m. 56 S. 12th St., South Side. $10. 412-431-4950 or www.clubcafelive.com

Sun., Dec. 3 – Words
Bridge to Terabithia author Katherine Paterson speaks today at the Carnegie Library Lecture Hall as part of Pittsburgh Arts & Lectures' Word and Pictures series. Paterson, a two-time Newbery Medal and National Book Award winner, has written 16 novels for children. Her latest children's book, My Brigadista Year, which is inspired by true accounts, centers on Nora, a Cuban teenager who volunteers for Fidel Castro's national-literacy campaign and travels to the countryside to teach others to read. A book-signing follows. AR 2:30 p.m. 4400 Forbes Ave., Oakland. $11. 412-622-8866 or www.pittsburghlectures.org

Wed., Dec. 6 – Stage
PICT Classic Theatre artistic director Alan Stanford offers the U.S. premiere of In the Company of Oscar Wilde, his portrait of the great Irish wit and playwright assembled from Wilde's own writings. Stanford (pictured) narrates as Wilde and his characters are evoked by actors Karen Baum, Martin Giles, Ingrid Sonnichsen and James FitzGerald. The Frick Museum hosts five performances; this weekend's Wilde at the Frick program also includes a family-friendly Dec. 9 reading of two of Wilde's fairy tales ($10), and a Dec. 10 staging of The Trial of Oscar Wilde, recreating that infamous court case ($50). BO 7:30 p.m. Continues through Sun., Dec. 10. 7227 Reynolds St., Point Breeze. $13-39. www.picttheatre.org