Thu., Nov. 18 – Stage

A decade since he had last written a play, Patrick Marber, the British playwright noted for works including Closer, was commissioned to adapt Ivan Turgenev's A Month in the Country. The 150-year-old work depicts how a love affair between a rich woman and her son's tutor disrupts life on a Russian country estate. Marber himself had been living in the country for several years, writing screenplays and gentleman-farming; in an email interview from London with City Paper, he says he was intrigued by the play's setting and its "liveliness and variety of tone." Full of characters like, in Marber's words, "the inept depressed doctor, the idiotic old suitor, the foolish husband, the cynical love, the sophisticated woman broken by desire," A Month is thought to have influenced Chekhov.
While Marber's version kept the basic plot, it halved the running time, to two hours, and "added more jokes," he writes. "My intention was to take Turgenev's plot for a brisk walk. It's roughly the same story but told differently." The adaptation, titled Three Days in the Country, premiered last year, at London's Royal National Theatre; this week, it gets its Pittsburgh premiere from Kinetic Theatre Company at the New Hazlett Theater. The ensemble cast of 13 is a Who's Who of local stage favorites, including David Whalen, Nike Doukas, Sam Tsoutsouvas, Helena Ruoti and Larry John Meyers.
Kinetic bills Three Days as a tragicomedy about the vagaries of love. I asked Marber about the new ending he added to Turgenev's original. "Turgenev's ending is sudden and strange, as if he ran out of ink," Marber writes. "It's rather good. But I wanted to end with the forgotten child who has witnessed the adult world without understanding it. … I was very moved by this boy (Kolya). He was my entry point into the play and he became my exit." Bill O'Driscoll Nov. 18-Dec. 4. 6 Allegheny Square East, North Side. $25-40. 888-718-4253 or www.kinetictheatre.org
Thu., Nov. 17 – Art
A variety of bodies are on the agenda at two events complementing the exhibit Andy Warhol: My Perfect Body. Tonight, attend a nude drawing class led by artist educators, with cocktails and nude models, in the entrance space of The Andy Warhol Museum; Sip and Sketch includes a curator-led exhibit tour. And on Saturday, at the Carnegie Museum of Art theater, a free screening of Jack Smith's 1964 avant-garde classic "Flaming Creatures" is followed by a discussion with poet and artist John Giorno (pictured), a Warhol contemporary and innovator on New York's 1960s art scene. "Flaming Creatures" is a carnivalesque, 45-minute drag fantasia in black-and-white, once controversial for its graphic sexuality. BO Sip and Sketch: 6 p.m. (117 Sandusky St., North Side; $12-15). John Giorno and "Flaming Creatures": 7 p.m. (4400 Forbes Ave., Oakland; free). 412-237-8300 or www.warhol.org

Thu., Nov. 17 – Stage
Real/Time Interventions presents its acoustic cabaret concert ANGELMAKERS: Songs for Female Serial Killers. The work-in-progress features songs by Real/Time's Molly Rice and will be directed by Rusty Thelin; the co-artistic directors welcome their first artist-in-residence, Milia Ayache (pictured), a musician and actor from Lebanon. The historical murderesses highlighted include Jane Toppan, Elizabeth of Bathory and Velma Barfield. ANGELMAKERS opens tonight at the Aftershock Theatre, a new theater space in Lawrenceville. Ian Flanagan 8 p.m. Also 8 p.m. Fri., Nov. 18. 115 57th St., Lawrenceville. $10. realtimeinterventions@gmail.com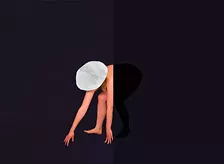 Fri., Nov. 18 – Art
Internationally exhibited Pittsburgh-based artist Sarah Keeling's multidisciplinary exhibit Off-Road opens tonight. The works, which range from images to hand-made objects, explore the subtext of landscape scenes and question our relationship to our built environment. By blending artistic formats, the Carnegie Mellon graduate seeks to "combine familiarity and humor to make comedic yet contemplative works." The opening reception is tonight at 707 Penn Gallery. IF 5:30 p.m. Continues through Jan. 22. 707 Penn Ave., Downtown. Free. 412-325-7017 or www.trustarts.org

Fri., Nov. 18 – Art
The seven artists guilds associated with Pittsburgh Center for the Arts present The New Collective 2016. This survey of diverse work by 43 regional artists, juried by critic Alexandra Oliver and designer and painter Rick Landesberg, opens with a reception tonight courtesy of Pittsburgh Filmmakers/Pittsburgh Center for the Arts' Guild Exhibition Committee. The evening also includes the opening of a new solo show by painter Phiris Kathryn Sickels and the kickoff of the PCA's annual Holiday Shop, offering work by local crafters, designers and artists. BO 5:30-9 p.m. ($5 suggested donation). Exhibit continues through Feb. 26. 6300 Fifth Ave., Shadyside. www.center.pfpca.org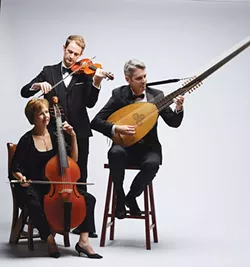 Fri., Nov. 18 – Music
Chatham Baroque's season continues this weekend with The Art of the Trio: Music From Across Baroque Europe. Guest artists joining the trip to explore the sounds of Germany, Italy, France and England include oboist Geoffrey Burgess and flutist Stephen Schultz. Tonight's performance, at Westminster Presbyterian Church, is followed by concerts tomorrow, at St. Andrew's Episcopal Church, and Sunday, at Campbell Memorial Chapel, at Chatham University. IF 7:30 p.m. (2040 Washington Road, Upper St. Clair). Also 8 p.m. Sat., Nov. 19 (5801 Hampton St., Highland Park), and 2:30 p.m. Sun., Nov. 20 (Chatham campus, Shadyside). $10-30. 412-687-1788 or www.chathambaroque.org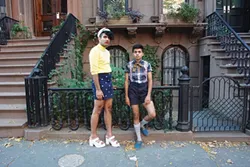 Fri., Nov. 18 – Stage
Working as DarkMatter, spoken-word artists Alok Vaid-Menon and Janani Balasubramanian "share stories of navigating the world in all of its ordinariness and peculiarity as trans South Asians." Some of it comes across as politically aware storytelling and standup comedy, done in tandem. The pair, based in New York, has performed internationally. Tonight, they bring their show #ItGetsBitter to the Carnegie Library Lecture Hall, courtesy of The Andy Warhol Museum, the Carnegie Museum of Art and Carnegie Mellon University's Center for Arts & Society. BO 8 p.m. 4400 Forbes Ave., Oakland. $12-15. 412-237-8300 or www.warhol.org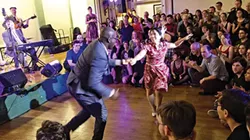 Fri., Nov. 18 – Dancing
Starting tonight, swing dancers from across North America descend on Pittsburgh for the 16th annual PittStop Lindy Hop. It's a full weekend of live music for dancers of all experience levels, at a variety of venues including Soldiers & Sailors Memorial Hall. Performers include regional fave Miss Freddye's Blues Band; Philly's Chelsea Reed & the Fair Weather Five; and local eminence Paul Cosentino's new, 14-piece Hot Metal Swing Orchestra. Dance straight through Sunday night, if you like. BO Tonight through Sun., Nov. 19. Various venues. $10-20 (weekend pass: $80). 412-242-4562 or www.pittstoplindyhop.com

Sat., Nov. 19 - Fair
PGH Vintage Mixer is back, and the city's vintage-specific vendor fair is big. More than 30 regional, authentic vintage sellers of men's and women's fashion, accessories, housewares, vinyl, décor, art and furniture take over both floors of Spirit all day today. Feed your nostalgic and aesthetic preferences, and also enjoy music by local DJs, vintage camper photos with Pittsburgh Camper Booth, and food and beverages. BO 9 a.m.-4 p.m. 252 51st St., Lawrenceville. $5. www.pghvintagemixer.com

Sat., Nov. 19 – Dance
Maria Caruso's 2015 ballet The Messiah was inspired by her own Lux Aeterna and "her investigation of movement through a requiem Mass." Caruso, who chairs the Performing Arts Department at La Roche College, is artistic director of Bodiography Contemporary Ballet. The two institutions co-present this work scored by Handel's famous Baroque oratorio. The Messiah features music by The Pittsburgh Festival Orchestra and Maestri Singers, with performances at the Byham Theater this afternoon and tonight. IF 2 and 8 p.m. 101 Sixth St., Downtown. $20.75-45.75. 412-456-6666 or www.trustarts.org

Sat., Nov. 19 – Art
You Doom Chunx is the ominously titled exhibit opening with tonight's reception at UnSmoke Systems. It's an immersive installation in which live-feed video images of viewers themselves are splashed across a site-specific "Doom-Pop" landscape exploring toxicity, destruction, addiction and nostalgia with, respectively, materials including Styrofoam, salvage rebar, neon and objects cast in resin. The artists are internationally exhibited, California-based Tre Bouscaren and award-winning, nationally exhibited photographer-turned-sculptor John Schlesinger, of Philadelphia. BO 6-10 p.m. (free). Exhibit continues by appointment only through February. 1137 Braddock Ave., Braddock. www.unsmokeartspace.com
Sat., Nov. 19 – Comedy
Chicago-based comedian Charlie Vergos visits the Technically Sunday Comedy Show, hosted by John Dick Winters, at Arcade Comedy Theater. Vergos has worked at The Onion and performed at various festivals, most recently, Atlanta's Laughing Skull Comedy Festival and the Blue Whale Comedy Festival, in Oklahoma. His style makes use of his relaxed Memphis drawl and "scatterbrained mannerisms," and also includes musical elements. Vergos comes to Pittsburgh tonight as part of his Going Solo Tour. IF 11:45 p.m. 811 Liberty Ave., Downtown. $5. 412-339-0608 or www.arcadecomedytheater.com




Sun., Nov. 20 – Music
Rising talents offer classic arias and more at a free Pittsburgh Youth Symphony Orchestra performance at Carnegie Music Hall. The Color of Sound features Pittsburgh Opera resident artists Leah De Gruyl and Brian Vu as soloists in the "Habanera," "Seguidilla" and "The Toreador's Song," from Bizet's Carmen. Francesco Lecce-Chong (pictured) conducts the program, which also includes Rimsky-Korsakov's Capriccio Espagnol; De Falla's Finale from The Three-Cornered Hat, Suite No. 2; and Brahm's Symphony No. 2. BO 7 p.m. 4400 Forbes Ave., Oakland. Free, but tickets required at 412-392-4872 or www.pyso.org.