FREE EVENT: Sun., March 26 – Words
Elena Passarello's Animals Strike Curious Poses (Sarabande Books), a book inspired by both medieval bestiaries and an addiction to online animal videos, is on a roll. Last week, the glowing reviews of this essay collection continued when H is for Hawk author Helen Macdonald, writing in the New York Times, called Passarello "a master of the essay form" and summed up, "It might be the best book on animals I've ever read. It's also the only one that's made me laugh out loud."
In 17 essays, Passarello delves into the lives and resonances of creatures made famous in science, art, folklore and popular culture, from a frozen woolly-mammoth calf to Mr. Ed, and from a modern circus "unicorn" to wartime passenger pigeons and the pet starling that jammed with Mozart (for real). The thoroughly researched book teems with lyrical language, humor, ingenious stylistic choices and smartly drawn connections. Highlights include "Jumbo II," which juxtaposes Gilded Age circus-elephant tragedies with the dawn of the electric chair, and "Koko," in which Passarello borrows the limited vocabulary and syntax of the noted sign-language gorilla to retell a classic dirty joke in Koko's own voice.
Passarello lived in Pittsburgh from 1996 until 2005. She came to study at Pitt and was best known here as an actor. Since 2012, she's taught at the University of Oregon. Curious Poses is her second essay collection, after 2012's award-winning, human-voice-themed Let Me Clear My Throat.
Reached by phone in Oregon, Passarello says her modern bestiary grew from her preferred style of researching short pieces under a larger theme. This particular theme has fascinated her since childhood. Much of the book concerns how "we use animals as the connecting point to each other," she says.
In a March 26 event at brillobox, Passarello reads with former Pittsburgher Mike Scalise, whose acclaimed medical memoir The Brand New Catastrophe, is also new on Sarabande.
— Bill O'Driscoll

7 p.m. Sun., March 26. Brillobox, 4104 Penn Ave., Bloomfield. Free. 412-621-4900

Thu., March 23 – Stage
In his new adaptation of Oedipus Rex, PICT Classic Theatre's Alan Stanford moves the action from ancient Greece to Mediterranean Africa. But Stanford promises that audiences for this version of Sophocles' classic about a royal family plagued by bad omens, incest and murder will see something like the Greeks saw: Theater "performed very much as a ritual." Local favorite James FitzGerald, as blind prophet Teiresias, is joined by Chicago-based actor Justin Wilson, as King Oedipus, and Boston's Jonny Lee Davenport as Creon. The first performance at the Union Project is tonight. Amani Newton 8 p.m. Continues through April 8. 801 N. Negley Ave., Highland Park. $15-50. 412-561-6000 or www.picttheatre.org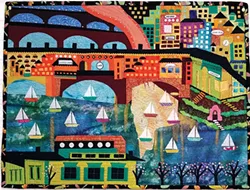 Fri., March 24 - Crafting
The Pittsburgh Knit and Crochet and Pittsburgh Creative Arts Festival returns to the David L. Lawrence Convention Center. For three days, starting today, more than 70 exhibitors from Pennsylvania and beyond will showcase their handcrafted wares. Special features include today's luncheon/colors workshop with famed fiber artisan StevenBe; an open studio for trying out new equipment; and a free Maker Space for "cross-crafting" techniques. And American Patchwork & Quilting magazine seeks seamsters and quilters for its long-running 1 Million Pillowcase Challenge to benefit local charities (like hospitalized kids and homeless families). Bill O'Driscoll Noon-7 p.m. Also 9 a.m.-5:30 p.m. Sat., March 25, and 9:30 a.m.-3:30 p.m. Sun., March 26. $10-25. www.pghknitandcrochet.com

Fri., March 24 – Art
Brenda Stumpf calls art-making a "shamanistic" act, and her work backs it up. The Pittsburgh-based artist's paintings, drawings and especially her sculptures incorporate nontraditional materials (like women's dresses, twigs and dead leaves) to dramatically explore mythic and historical figures and subjects including Pandora, the Black Madonna, victims of Jack the Ripper, and the poetry of Pablo Neruda. Her latest show, Ritual & Relic, has its opening reception at the Mine Factory tonight. BO Reception: 6 p.m. (free). Exhibit continues through April 9. 201 N. Braddock Ave., Point Breeze. www.brendastumpf.com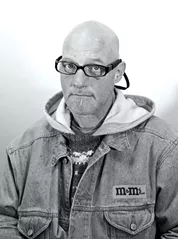 Fri., March 24 – Art
Walk on By, the new exhibit at Future Tenant, is a partnership with Northside Common Ministries, whose executive director, Jay Poliziani, curated this show addressing the plight of Pittsburgh's homeless population. Featured artists will explore the issue through video, painting, live performance, sculpture and more, with the aim of facilitating a dialogue about affordable housing. Two free receptions will be held for the show, tonight, with a performance by Pittsburgh Playback Theater, and again on March 31. AN Reception: 6-9 p.m. Exhibit continues through April 2. 819 Penn Ave., Downtown. Pay what you wish. 412-567-8861 or futuretenant.org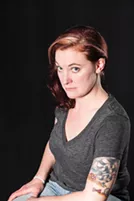 Fri., March 24 – Comedy
Heidi Nagle admits it: Being denied first-rate stuff is kind of a first-world problem. But that's maybe all the more reason to laugh about it, and starting tonight, the founding member of sketch-comedy troupe The Harvey Wallbangers presents the second installment of her one-woman show This Is Why We Can't Have Nice Things, at Carnegie Stage. The three-night run includes new original sketches, new short videos and special guests. BO 8 p.m. Also 8 p.m. Sat., March 25, and 7 p.m. Sun., March 26. 25 W. Main St., Carnegie. $10-15. 724-873-3576 or www.insideoffthewall.com

Sat., March 25 – Dance
Some might call it improvisation; slowdanger and Gia Cacalano prefer "instantly composed performance." The duo called slowdanger and Cacalano, both stalwarts of the local dance scene, will each start the evening at The Hideout by performing a pre-existing work. The evening concludes with "a serendipitous instantly composed trio." BO 8 p.m. 201 N. Braddock Ave., Point Breeze. $10-15. www.facebook.com ("gia t and slowdanger")

Sat., March 25 – Opera
The plot of Turandot, Giacomo Puccini's final opera, hinges on the most high-stakes meet-cute ever: The Prince of Tartary falls in love at first sight with Princess Turandot, but the law demands that if he fails to answer three riddles to win her hand, he will be executed. Pittsburgh Opera presents four performances starting tonight; selected shows feature special events, including the chance to meet the leads, soprano Alexandra Loutsion, who sings Turandot, and tenor Thiago Arancam, as the Prince. AN 8 p.m. Continues through April 2. Benedum Center, 237 Seventh St., Downtown. $12-160. 412-456-6666 or www.pittsburghopera.org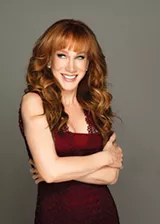 Sun., March 26 – Comedy
Kathy Griffin is bringing her trash talk to Pittsburgh! The Queen of the D-List's latest memoir, Kathy Griffin's Celebrity Run-Ins: My A-Z Index, dishes on all of the celebrities she has met during her many years in show business, from Woody Allen to Warren Zevon. During this one-night stop on her comedy tour, she'll share tales from the book on stage at the Benedum Center. A portion of the proceeds benefit the Delta Foundation of Pittsburgh, which presents the show in partnership with the Pittsburgh Cultural Trust. AN 7:30 p.m. 237 Seventh St., Downtown. $43.25-103.25. 412-456-6666 or www.trustarts.org

Sun., March 26 – Music
The Andy Warhol Museum welcomes spring by hosting the Arditti Quartet and guitarist Eliot Fisk for a night of strings. Violinist Irvine Arditti has led the world-renowned quartet that interprets contemporary and 20th-century music since 1974, after founding it at London's Royal Academy of Music. The Sunday Times once remarked, "The Arditti players manage to say more in a couple of bow strokes than some concerts communicate in total." Joining them is Philadelphia native Fisk, who received his classical training at Yale before performing internationally, including a recent special performance for former Secretary of State John Kerry. AN 8 p.m. 117 Sandusky St., North Side. $10-20. 412-237-8300 or www.warhol.org
Wed., March 29 - Stage
University of Pittsburgh Stages presents a uniquely women-led cast in Baltimore. The 2016 drama by Kirsten Greenidge was commissioned as part of the Big Ten Theatre Consortium's New Play Initiative, dedicated to producing work by female playwrights at universities nationwide. The playwrights only have one rule: the plays must include at least six substantial roles for women. Greenidge's winning work concerns eight young college students forced to mediate a racially charged incident on campus with their resident advisor. AN 8 p.m. Continues through April 9. Henry Heymann Theatre, 4301 Forbes Ave., Oakland. $12-25. 412-624-7529 or play.pitt.edu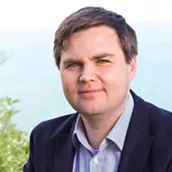 Thu., March 30 – Talk
Last year, J.D. Vance's memoir Hillbilly Elegy, about growing up poor in Appalachia, became an unexpected best-seller during the presidential campaign; afterward, it looked only more prescient. Vance, though criticized by some for blaming the poor for their poverty, remains a sought-after speaker. Tonight he visits Carnegie Lecture Hall, a fundraiser for Pittsburgh news outlet Public Source. BO 7 p.m. 4400 Forbes Ave., Oakland. $25-150. www.publicsource.org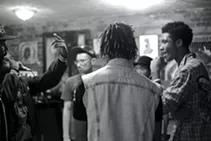 Thu., March 30 – Stage
Inspired by both improv comedy and hip-hop culture, David Reason Freeman presents Track Meet: Whose Rhyme Is It Anyway? This freestyle cypher (in a new venue in Bloomfield) is open to emcees, singers, dancers, poets and more. All skill levels are welcome. Games like What's the Scenario and Scenes From a Snapback provide some structure; DJ Thermos and DJ Kelly supply the tunes. BO 8 p.m.-midnight. 4614 Liberty Ave., Bloomfield. $5 (18 and over). www.facebook.com ("track meet whose rhyme")