SPOTLIGHT: Fri., March 17 — Comics
It's a long way from Bazooka Joe Gum comics to Dante's Inferno, or so you'd think. But Robert Sikoryak collapsed that distance — as well as the gulf between "Garfield" and Faustus, "Ziggy" and Candide, and Beavis and Butthead and Waiting for Godot — in his book Masterpiece Comics. Now the comics artist is back with Terms and Conditions (Drawn & Quarterly).
The new book is a full-text adaption of iTunes' (possibly previously unread) "Terms and Conditions" agreement, each of its 94 pages an homage to an iconic comic — except now, the protagonist of each strip or sequence is Steve Jobs. Sikoryak's turtlenecked, 5-o'clock-shadowed Jobs impersonates everyone from Archie Andrews, Calvin and the Incredible Hulk to figures from Marjane Satrapi and Peter Bagge.
With the text incorporated as narration and dialogue, it's a comics geek's delight (complete with index of source material). On Fri., March 17, Sikoryak visits The ToonSeum for a free talk and book-signing co-presented with Copacetic Comics.
Sikoryak, whose credits range from The New Yorker to MAD, was always partial to parody, pastiche and homage. "I never particularly liked the way I draw," he says by phone from his home, in New York City. Terms fulfilled his desire to follow Masterpiece with "something incongruent" and for which he didn't have to edit text. He broke the Apple agreement into 200-word chunks, then looked for strips or sequences with characters he could Jobs-ify.
While the juxtapositions of text and image are mostly random, often the text imparts a mood or even a narrative to the images, whether it's Snoopy Jobs looking lonely while discussing "Family Sharing" or a Jobsian Dan Clowes nebbish explicating "Your Account." The effect, says Sikoryak, is "a testament to the comics form."
"Our brain always works to make sense of the world," he says. "And the world does not make any sense!"

— Bill O'Driscoll
7 p.m. Fri., March 17 (6 p.m. reception). ToonSeum, 945 Liberty Ave., Downtown. Free. www.toonseum.org
Thu., March 16 - Art
The Carnegie Museum of Art previews the role virtual reality will play in museums of the future at The Virtual Reality Museum, a free event with museum admission. Attendees will be first to experience the new dystopia-imagining VR exhibit Styles and Customs of the 2020s, and meet members of the artist collectives behind the work, Scatter x DIS. Guests who want to stay late will need a Third Thursday ticket to access artist demonstrations, open galleries, and the music of DJ duo Tracksploitation for glow-in-the-dark dancing. Amani Newton 7 p.m. Exhibit continues through Sept. 4. 4400 Forbes Ave., Oakland. $11.95-34.95. 412-622-3131 or www.cmoa.org

Fri., March 17 – Stage
In 1966, composer Cy Coleman, lyricist Dorothy Fields and book-writer Neil Simon turned Nights of Cabiria, Fellini's classic film about a prostitute, into Sweet Charity, a Broadway musical about a Manhattan taxi-dancer. Directed and choreographed by Bob Fosse, Sweet Charity was a hit, with two timeless tunes, "Big Spender" and "If My Friends Could See Me Now." Starting tonight, Point Park University's Conservatory Theatre Company presents this jazz-inflected musical in a new staging directed by Michael Rupert, a Broadway veteran with a Tony for playing love interest Oscar in the show's 1986 Broadway revival. Bill O'Driscoll 8 p.m. Continues through March 26. 222 Craft Ave., Oakland. $10-24. 412-392-8000 or www.pittsburghplayhouse.com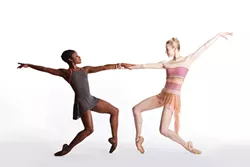 Fri., March 17 – Dance
Tickets are going fast for Pittsburgh Ballet Theatre's collaboration with Dance Theatre of Harlem. Starting tonight, join the two troupes at the August Wilson Center for an eight-show run celebrating diversity in American dance. The companies will present two alternating programs, each featuring signature performances from the individual repertoires, as well as a partnership on Swan Lake's "Black Swan Pas de Deux," performed nightly. A series of free community events accompany the performance schedule. Look for a review in next week's CP. AN 8 p.m. Continues through March 26. 980 Liberty Ave., Downtown. $28-108. 412-456-6666 or www.pbt.org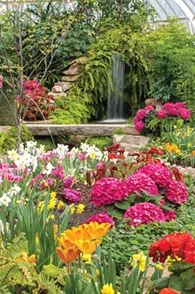 Sat., March 18 – Exhibit
Kick off the season with day one of Phipps Conservatory and Botanical Gardens' annual Spring Flower Show. The theme is "Enchanted Forest." Wander from the Palm Court to the Serpentine Room and take in the pink hyacinths, massive mushrooms, vibrant azaleas, snapdragons, tulips and more. One neighborhood east, at Phipps Garden Center, stop by the annual Orchid Show, a one-day affair of the Orchid Society of Western Pennsylvania. Peruse gorgeous flowers, and purchase an orchid from vendors from all over the East Coast. AN Spring Flower Show: 9:30 a.m.-5 p.m.; exhibit continues through April 16 (One Schenley Park, Oakland; $11.95-17.95, kids under 2 free; 412-622-6914 or www.phipps.conservatory.org). Orchid Show: 10 a.m.-5 p.m. (1059 Shady Ave., Shadyside; free, with donations accepted; 412-441-4442 or www.oswp.org)

Sat., March 18 – Stargazing
Most events this St. Patrick's weekend, you'd be wise to watch where you're stepping. Tonight at Carnegie Science Center, though, look up: SkyWatch, held on select dates through May, continues. Rain or shine, take a virtual night-sky tour in the Henry Buhl Jr. Planetarium; given clear skies, use the rooftop observatory (pictured), with its telescope powerful enough to see Saturn's rings. Tonight's two SkyWatch sessions also include "stars over Dublin" info and Irish constellation trivia. BO 7 and 9 p.m. One Allegheny Ave., North Side. $4. www.carnegiesciencecenter.org

Sat., March 18 – Stage
For the past decade, professional entertainer, juggler and former world yo-yo champ Mark Hayward has lived in Pittsburgh, and lately he's made a second home at Arcade Comedy Theater. Now Hayward — who's toured internationally and twice guested on The Late Show With David Letterman — is moving back to his native Wisconsin. But first, it's one more time (at least as a Pittsburgher) at Arcade, for tonight's all-ages variety program titled Mark Hayward's Super Awesome Yo-Yo Show. BO 8 p.m. 811 Liberty Ave., Downtown. $7-12. www.arcadecomedytheater.com

Sun., March 19 – Talk
Comic-book fans of all ages should stop by when acclaimed graphic novelist and cartoonist Gene Luen Yang visits Pittsburgh Arts & Lectures' Words & Pictures series. The MacArthur "genius" grantee has written and drawn more than a dozen books, including current runs for Dark Horse Comics' Avatar: The Last Airbender and DC's Superman. But he's best known for his 2006 book American Born Chinese, the first graphic novel to win the American Library Association's Michael L. Printz Award. AN 2:30 p.m. Carnegie Lecture Hall, 4440 Forbes Ave., Oakland. $11. 412-622-8866 or www.pittsburghlectures.org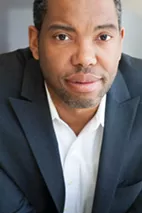 Mon., March 20 – Talk
For those exploring America's defining struggle with race, lately there's no getting around Ta-Nehisi Coates. In his journalism for The Atlantic, and works like the National Book Award-winning Between the World and Me, the New York-based writer has made the case for slavery reparations and offered indispensable insights about the fraught prospects of black America; he's also won a MacArthur "genius" grant and written 11 issues of Marvel Comics' Black Panther series. Tonight, the Pittsburgh Contemporary Writers Series honors Coates as this year's William Block Sr. Award winner with a free talk in the William Pitt Union ballroom. Arrive early: This one's sure to be SRO. BO 6:30 p.m. 3959 Fifth Ave., Oakland. Free. www.pghwriterseries.wordpress.com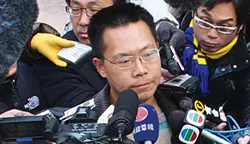 Tue., March 21 – Talk
Lawyer and human-rights activist Teng Biao is part of China's weiquan, or "rights defenders," movement for those who work on cases related to the environment, religious freedom, and freedom of speech and the press. For this activity and others, he was banned from teaching, disbarred, jailed and tortured. Now living in exile in the U.S., he's been a visiting Fellow at the law schools of Harvard and Yale, and is currently a visiting scholar at New York University and the Institute for Advanced Study. Tonight, he speaks and takes questions about life in China courtesy of City of Asylum. BO 8 p.m. Alphabet City, 40 W. North Ave., North Side. Free; tickets required at www.alphabetcity.org.

Wed., March 22 - Words
The hero of Susan Perabo's latest novel, The Fall of Lisa Bellow (Simon & Schuster), isn't the title character. It's a different girl, an innocent bystander who was there during the armed robbery when Lisa Bellow was abducted. The novel examines how violent crime can root itself even in the lives of witnesses, rupturing their foundations. Penguin Bookshop welcomes Carlisle, Pa.-based Perabo to discuss her latest work, answer questions and sign books. AN 6 p.m. 417 Beaver Road, Sewickley. Free. 412-741-3838 or www.penguinbookshop.com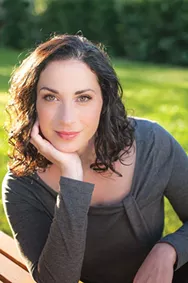 Wed., March 22 – Words
Chevy Stevens' 2010's Still Missing arguably paved the way for publishers to greenlight women-authored, women-centered thrillers, when it received the International Thriller Writers Award for Best First Novel. You can meet the bestselling author tonight at Mystery Lovers Bookshop, when she discusses the forthcoming Never Let You Go (St. Martin's Press). The novel tells the story of a woman in alternating timelines, describing her past abusive relationship and her present stability, threatened by her ex-husband's release from prison. AN 7 p.m. 514 Allegheny River Blvd., Oakmont. Free. 412-828-4877 or www.mysterylovers.com