Unblurred is the Penn Avenue Arts District's monthly gallery crawl, with more than a dozen venues hosting exhibits, performances and activities from 4800 to 5500 Penn, in Garfield, Bloomfield and Friendship, and more nearby. Highlights of the Fri., March 2, Unblurred (www.friendship-pgh.org/paai) include:
1) 4913 Penn: Grand opening of the Center for PostNatural History, Carnegie Mellon assistant professor Richard Pell's project exploring the places where culture, nature and biotechnology meet, from Sea Monkeys to genetically modified corn (6 p.m.).
2) 4931 Penn: Garfield Artworks opens Lounge Boss, Bree Chumley's show of toy-camera photographic transparencies mounted on lighted windows, and sculptural installations by Rory Angus (7 p.m.).
3) 5006 Penn: Irma Freeman Center hosts the book release for Pittsburgh by Pittsburgh Artists, with musical guests including Joy Toujours and the Toys du Jour (7 p.m.).
4) 5467 Penn: Voluto Coffee holds an open-mic poetry reading hosted by Terrance Hayes, Pittsburgh's own National Book Award-winner (7-9 p.m.).
—
Bill O'Driscoll
Thu., March 1 — stage
"The concept of shame, for example, is a thing of the past," C.S. Lewis regretfully tells Sigmund Freud in the play Freud's Last Session. "You think shame is a good thing?" replies Freud. Says Lewis: "I'd love to see more of it!" Mark St. Germain's 2010 play, a solidly reviewed hit in New York, imagines a long verbal sparring match between Christian convert and future Chronicles of Narnia author Lewis and aging devout atheist Freud; it's set in Freud's London study, in 1939, the day England declares war on Hitler. David Wohl (Freud) and Jonathan Crombie (Lewis) star in the Pittsburgh Public Theater's new production, whose first performance is tonight. Bill O'Driscoll 8 p.m. 621 Penn Ave., Downtown. $15.75-55. 412-316-1600 or ppt.org
Fri., March 2 — Art
Since 2004, Melissa Kuntz has been using photography and paint to capture the decadent allure and tacky aesthetics of vacation time. Her exhibit Caravan features painted representations of her photographs and impressions of well-known vacation spots from South Beach to the New Jersey shore. To Kuntz, a Pittsburgh-based critic and educator, the image of a crumbling trailer is beautiful: "a metaphor for the small, however unrealistic, hopes that remain of one day embarking on a great adventure." The show opens tonight with an artist reception. Mariluz Orbay 6-8 p.m. Exhibit continues through April 13. 709 Penn Gallery, 709 Penn Ave, Downtown. Free. 412-325-7017
Fri., march 2 — Music
At Renaissance City Choirs' Totally! Our '80s Show, expect fondly campy looks back at big hair, shoulder pads and "It's Raining Men." But there'll be more to this cabaret featuring 10 RCC singers, plus special video and choreography, at Grey Box Theatre. RCC will also remember the start of the AIDS epidemic and other sobering aspects of the decade that brought us both "Girls Just Wanna Have Fun" and Depeche Mode's "People Are People." Period attire is encouraged. The three remaining performances include tonight's. BO 8 p.m. Also 8 p.m. Sat., March 3, and 7 p.m. Sun., March 4. 3595 Butler St., Lawrenceville. $30-35. 412-362-9484 or www.rccpittsburgh.com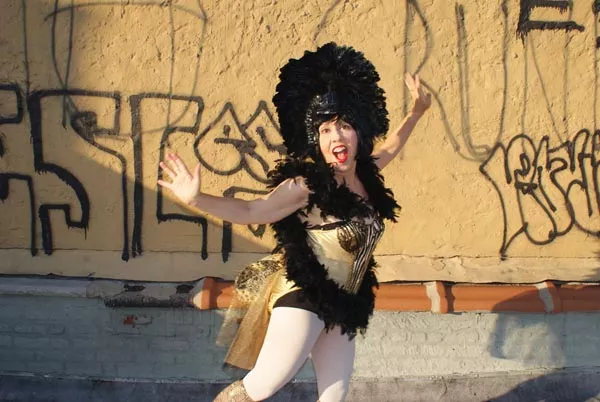 March 2 — Stage
"Kunst is my waffen — art is my weapon," says Alina Troyano. The Cuban performer, playwright and actor known as Carmelita Tropicana uses humor, fantasy and cultural identity to rewrite history. This evening at The Andy Warhol Museum, she combines two works: Homage to Jack, about her first encounter with "godfather of performance art" and filmmaker Jack Smith, and Ole/Ghost, a love story about obsession and the desire for the fast fix. Time Out New York describes Carmelita's performance as colorful, hilarious and full of brain-twisting narratives. This event continues the Warhol's Off the Wall series. MO 8 p.m. 117 Sandusky St., North Shore. $20-25. 412-237-8300 or www.warhol.org
Sat., March 3 — Dance
Tonight, Pittsburgh Dance Center hosts an evening of world dance. Bellydance to Ballroom — World Dance Extravaganza is headlined by touring belly-dancer Lisa Zahiya. Known for her fusion of dance forms, in 2008 she was named Belly Dancer of the Universe in Long Beach, Calif. Tonight's show also includes a special performance by our own Latin ballroom legend, Holly Kirby. The Pittsburgh Dance Center opened in Bloomfield in October. MO 8 p.m. 4765 Liberty Ave., Bloomfield. $12-15 (free for children under 12). 412-759-0522 or jengal55@gmail.com
Sat., March 3 — Art
An art exhibit titled How to improve the world (you will only make things worse) might sound like it's rebuking do-gooders. But in fact, the multimedia collaboration between Craig Fahner and Steve Gurysh instead bears a cautionary message about energy usage as it "remystifies technological process into Promethean ritual" and explores the many facets of the contemporary American home. The new show, curated by Jaime Leonardi, opens tonight, at Fe Arts Gallery. BO Reception: 7-9 p.m. Exhibit continues through March 31. 4102 Butler St., Lawrenceville. Free. www.fegallery.org
Tue., March 6 — Art
Will Eisner's New York opens tonight, with a rare collection of original works by the pioneering New York comics writer and creator of the iconic series The Spirit. The Toonseum exhibition includes more than 50 original works, spanning Eisner's 70-year career. Each offers a glimpse of New York's beauty and squalor, from pre-Depression to contemporary times. Eisner established the graphic novel as a form of literature with A Contract With God and Other Tenement Stories. He mentored Jack Kirby, creator of Captain America, and Frank Miller, writer and illustrator of Sin City and 300. MO 7 p.m. Continues through Sun., May 27. 945 Liberty Ave., Downtown. $7 (free for members). 412-232-0199 or www.toonseum.org 
Thu., March 8 — Art
Local artist Cara Lynn Kleid specializes in portraying expressions; she investigates how emotion, identity and the human face both facilitate and hinder communication. Tonight, Wildcard hosts the opening of My Favorite Feminists, a collection of 13 abstract collage portraits of feminist pioneers from the first wave through the third. Kleid served as the F.I.N.E. Artist in Residence at the Pittsburgh Children's Museum in 2009. This exhibit celebrates Women's History Month; the opening includes refreshments and music. MO 6-9 p.m. Exhibit continues into April. 4209 Butler St., Lawrenceville. 412-224-2651 or www.wildcardpgh.com
Thu., march 8 — Words
Blogger, journalist and small-press advocate Karen Lillis is as busy as anyone on the local lit scene. Lillis' experience with small presses also includes publishing on them: Watch the Doors as They Close (Spuyten Duyvil), her second novella and fourth full-length work of fiction, bows tonight with a release party and reading at Copacetic Comics. The novella's narrator is a Brooklyn woman struggling to create a portrait of her recently departed lover. Joining Lillis is acclaimed, and now-Pittsburgh-based, zine-maker Ocean Capewell (High on Burning Photographs). BO 6-9 p.m. 3138 Dobson St., Polish Hill. 412-251-5451 or www.copcomco.com