SPOTLIGHT: Fri., March 3 - Stage
Richard Blair remembers when his father was writing 1984. In the late 1940s, George Orwell (born Eric Blair) and his young adopted son were living on the Isle of Jura, off Scotland. Orwell died in 1950, the year after publication of his classic dystopian novel about a totalitarian government that twists language to its own ends. Richard Blair (pictured) was thereafter raised by his aunt and uncle.
Now, after seven decades as a cultural touchstone, 1984 is hot again. Following White House spokesperson Kellyanne Conway's recourse to "alternative facts" about attendance at President Trump's inauguration, the book shot to the top of Amazon's bestseller list in the U.S. In June, Robert Icke and Duncan Macmillian's hit new London stage adaptation of 1984 arrives on Broadway. And in Pittsburgh, from March 3-12, Prime Stage Theatre stages an earlier adaptation, at the New Hazlett Theater. The special guest at a series of opening-weekend events is Richard Blair, 73, who in retirement promotes his father's work as part of England's Orwell Society. At noon Sat., March 4, Blair (in his first visit to Pittsburgh) speaks at the Cranberry Barnes & Noble, and that evening at receptions and a post-show discussion. On March 5, he attends at pre-matinee book-signing, a VIP tea and the post-show discussion.
Prime Stage's production, directed by Richard Keitel, stars Justin Fortunato and Jessie Wray Goodman as doomed lovers Winston and Julia, and Brian Ceponis as O'Brien. Prime Stage actually scheduled this production of the adaptation by Robert Owens, Wilton E. Hall Jr. and William A. Miles three years ago — well before the book's current resurgence. But as Blair notes in a Skype interview from his home in England, 1984 seems only to grow ever more relevant. For instance, the Big Brother Is Watching surveillance technology Orwell dreamed up is no longer a dream: "The things that he talked about in 1984 suddenly have become reality.

- Bill O'Driscoll
1984 March 3-12. Prime Stage at the New Hazlett Theater, 6 Allegheny Square East North Side. $10-50. www.primestage.com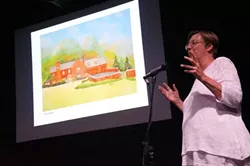 Thu., March 2 – Talk
PechaKucha turns PowerPoint presentations into a combination art form and competition. The brainchild of two European expats in Tokyo, it applies simple rules to presentations: only 20 slides displayed, for 20 seconds each. The result eliminates all the drudgery you'd expect from a PP presentation; Wired magazine says the format "combines business meeting and poetry slam into surprisingly compelling beat-the-clock performance art." Featured artists at a local Pecha Kucha event on the North Side include Kahmeela Friedson, of the Pittsburgh 48 Hour Film Project, explaining how filmmakers make seven-minute shorts from scratch in the allotted time. Amani Newton 6:30 p.m. (doors at 6 p.m.) Alloy 26, 100 S. Commons, North Side. $10-$15. www.pechakucha.org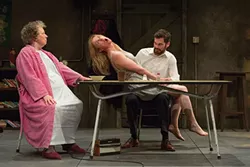 Thu., March 2 – Stage
Seems like yesterday that playwright Martin McDonagh emerged as the enfant terrible of theater with his mix of sharp insight and dark, dark humor set in small-town Ireland. In fact, it was in 1996 that Ireland's Druid Theatre Company premiered The Beauty Queen of Leenane. Now Druid has this four-time Tony-winner about a middle-aged woman desperate for love, and her relationship with her manipulative mother, on its 20th-anniversary U.S. tour. Garry Hynes, a Tony-winner for best director for the original production, directs Aisling O'Sullivan, Aaron Monaghan and Marty Rea, with Marie Mullen as the mother, Mag. The Pittsburgh Cultural Trust presents four performances at the August Wilson Center, starting tonight. BO 7 p.m. 980 Liberty Ave., Downtown. $21-46. 412-456-6666 or www.trustarts.org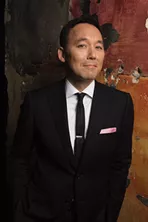 Thu., March 2 – Comedy
"I know that I'm 40," says Steve Byrne. "I'm not trying to be young. I know this: It's over. No more medium T-shirts for this guy!" Byrne grew up in Pittsburgh and forged a career in comedy; his set-in-Pittsburgh sitcom, Sullivan & Son, aired for three seasons on TBS. With his fourth hour-long standup special, Tell the Damn Joke, imminent on Showtime, he's touring. Look for him in his trademark white shirt and black suit and tie (or perhaps some favored piece of Penguins gear?) when he does five shows tonight through Saturday at Pittsburgh Improv. BO 8 p.m. Continues through Sat., March 4. 166 E. Bridge St., The Waterfront, West Homestead. $20. 412-462-5233 or www.pittsburgh.improv.com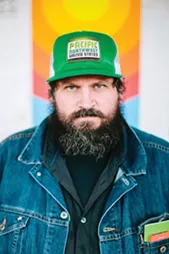 Fri., March 3 – Talk
Pittsburgh's FULLTIME Lecture Series is all about designers, artists and entrepreneurs who've created their own means to make a living. Few exemplify that DIY ethos better than Aaron Draplin. The burly, bearded, trucker-hatted skateboard-and-indie-rock guy is one of the nation's best-known designers, from his iconic "Field Notes" journals to clients including Patagonia, Nike and Sasquatch Festival. FULLTIME, a project of local design firms Commonwealth Press, Sapling Press and strawberryluna, hosts the Portland, Ore.-based Draplin for a workshop and evening lecture today at the Hollywood Theater. The workshop is sold out, but at press time, tickets remained for the lecture. BO Lecture: 7:30-9 p.m. (6:30 p.m. reception). 1449 Potomac Ave., Dormont. $35. www.compressmerch.com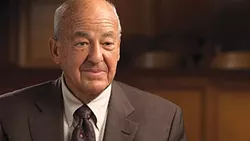 Fri., March 3 – Talk
There's a sizable audience for inquiries into the often-sketchy deaths of the famous. And who better to discuss them than former Allegheny County Medical Examiner Cyril Wecht? Tonight, at the Oaks Theater, the world-renowned forensic pathologist — and prominent critic of the single-bullet theory on President Kennedy — delves into the untimely ends of prominent folk from JFK to JonBenet Ramsey, from Sharon Tate and Brian Jones to Elvis and Vince Foster. KDKA radio's John McIntire is the host for this onstage interview and Q&A titled An Evening With Dr. Cyril Wecht. BO 8 p.m. 310 Allegheny River Blvd., Oakmont. $15-20. 412-828-6322 or www.theoakstheater.com
Sat., March 4 – Expo
Support the resistance at People's Spa Day, where you can get an affordable spa treatment (and some handcrafted mead) while supporting a good cause. Proceeds benefit The Stone Cabin Collective, a volunteer group offering free bi-annual services to the indigenous community of Black Mesa, Ariz., supporting resistance to massive mining operations and the federal forced-relocation policies. The event, at the Irma Freeman Center, offers massages, acupuncture, foot baths, reflexology, tinctures, tarot readings, reiki, haircuts, manicures, wine, tea and more. AN Noon-6 p.m. 5006 Penn Ave., Bloomfield. $15-60. 615-804-0064 or www.irmafreedman.org
Sat., March 4 – Art
BoxHeart Gallery offers an opportunity to mingle with two lauded women artists at the opening reception for Jackie Hoysted: Conflicted and Annie Heisey: Places We Have Never Known. Ireland's Hoysted creates multi-media art, often eerie and deformed, with the objective of revealing or highlighting conflicting or opposing notions of identity, feminism, economy, religion and health. Heisey, a Pittsburgh-based artist, imbues her figurative painting with an indivisible sense of emotion; her current work examines the idea of nostalgia and how it colors our perception of the present. AN Reception: 5 p.m. (free). Exhibit continues through March 24. 4523 Liberty Ave., Bloomfield. www.boxheartgallery.com

Sat., March 4 – Stage
Pittsburgh Playwrights Theatre Co. opens its season of new works by contemporary local playwrights with Findings. Arlene Weiner crafted this drama about a woman who tries to "bright-side" every crisis, even as her daughter runs away, her sister's behavior turns dangerous, and a secret threatens from the past. Lisa Ann Goldsmith directs a cast including Lissa Brennan, Sam Lothard and Amy Marsalis. The first performance at Playwrights' Downtown theater is tonight. BO 8 p.m. Continues through March 19. 937 Liberty Ave., Downtown. $22.50. www.pghplaywrights.org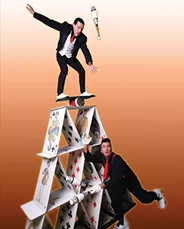 Sun., March 5 – Circus
The Children's Theater Series continues with Circo Comedia, a duo from Montreal whose physical comedy and acrobatic stunts suit the whole family. Jean Saucier, who describes himself as a "master equilibrist, juggler, trick cyclist, acrobat and magician," and Patrick Côté, a "burlesque clown, expert roller-skater and drummer," sometimes even pull small children from the audience to join them on stage. Performances take place tonight through March 12, at six schools throughout the area. AN 2 p.m. (Byham Theater, 101 Sixth St., Downtown). Continues through March 12 (various venues). $10-12. 412-456-6666 or www.trustarts.org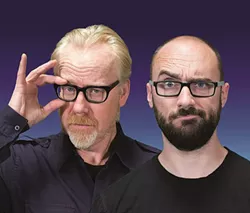 Tue., March 7 - Stage
Fans of TV's sadly defunct Mythbusters! shouldn't miss their chance to see co-host Adam Savage's new project, Brain Candy Live!, in Pittsburgh for one night only. Starring Savage and Michael Stevens, creator of the award-winning YouTube channel Vsauce, LIVE! is interactive, requiring audience members to help build the experiments in the theater. Judging from Savage and Stevens' previous work, I'd guarantee that the Benedum Center audience will see at least one thing that changes the way they look at everything. AN 7:30 p.m. 237 Seventh St., Downtown. $33.65-53.75. 412-456-6666 or www.trustarts.org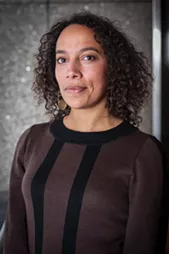 Wed., March 8 – Talk
Before the official start of the fifth annual PGH Photo Fair, get a fresh perspective on the essentials of collecting by attending its Speaker Series, continuing tonight at the Ace Hotel Ballroom. Amanda Hunt, assistant curator at The Studio Museum in Harlem, will lend her expertise to prospective collectors, and offer an insider's view on the state of photography. The talks, all of them free, continue through April 5. AN 6:30 p.m. 120 S. Whitfield St., East Liberty. Free. www.pghphotofair.com