Thu., June 11 — Festivals
Controversy over this year's PrideFest headliner, rapper Iggy Azalea, and over PrideFest organizer the Delta Foundation, has sparked a noteworthy alternative to the long-running LGBTQIA-themed festival. [Editor's note: As this issue went to press, Azalea had dropped out of the festival; no alternative programming had yet been announced.] Roots Pride Pittsburgh is a four-day celebration created by local activists to honor what they call a more inclusive vision of the LGBT community in regard to race, class and gender. So, this year's incarnation of PrideFest includes: Friday's Pittsburgh Pride Pub Crawl ($30); Saturday's planned big party on Liberty Avenue, Downtown. Then, Downtown on Sunday, there's both the annual PrideMarch (noon) and the free, family-oriented, carnival-style Pride in the Street (1-6:30 p.m.), also on Liberty. The brand-new Roots Pride Pittsburgh, meanwhile, starts Fri., June 11. First comes a town-hall meeting focusing on LGBT people of color in Pittsburgh, at the Hill District's Blakey Building. On the lighter side, Friday's Intergenerational Paint Party is a water-balloon fight that starts at 6:30 p.m., in Schenley Park. (Wear all white.) On Saturday, to coincide with PrideFest and Azalea's appearance, comes the Shut It Down protest, starting at Downtown's Renaissance Hotel. And Roots Pride wraps on June 14 with a Healing Circle and Riverwalk, which begins at 2:30 p.m. at the Point. Bill O'Driscoll PrideFest: www.pittsburghpride.org. Roots Pride: www.rootspridepgh.wix.com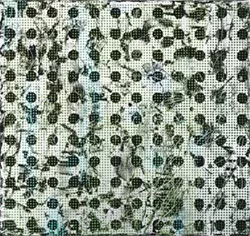 Thu., June 11 — Art
For her first solo exhibition in nearly a decade, opening tonight, internationally exhibited artist Jacqueline Humphries unveils new abstract paintings, created specifically for Carnegie Museum of Art galleries. Her silver canvases react to natural light to create images that are constantly shifting, while her black-light works, hung in a darkened room, are excited by ultraviolet bulbs to create an immersive fluorescent experience. Joseph Peiser 10 a.m.-5 p.m. Exhibit continues through Sept. 28. 4400 Forbes Ave., Oakland. $12-20. 412-622-3131 or www.cmoa.org

Thu., Jan. 11 — Art
For PhAb Now!, Pittsburgh Filmmakers Gallery enlisted six local artists who use photography as a vehicle for abstract expression. Corey Escoto, April Friges, Lori Hepner, Jesse Kauppila, Todd Keyser and Barbara Weissberger all break with the tradition of realism to create experimental images that play with light and combine sophisticated technologies with classic techniques. An opening reception is tonight. JP 6-9 p.m. Continues through Sept. 4. 477 Melwood Ave., Oakland. Free. 412-681-5449 or www.filmmakers.pfpca.org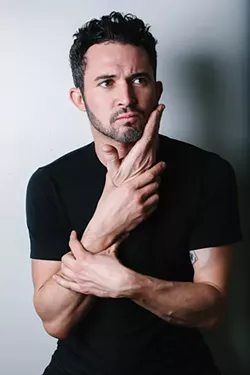 Thu., June 11 — Comedy
Comedian-magician Justin Willman, host of the Food Network's Cupcake Wars and a guest on Ellen and The Tonight Show, plays the first of six shows at Pittsburgh Improv tonight. Don't expect any rabbits out of a hat or quarters in your ear. Willman prefers tricks like turning a computer mouse into a live rodent. His current tour features brand-new material, so even if you're a fan there'll still be surprises. JP 8 p.m. Continues through Sun., June 14. 166 E. Bridge St., The Waterfront, Homestead. $17 (ages 18+). 412-462-5233 or www.pittsburgh.improv.com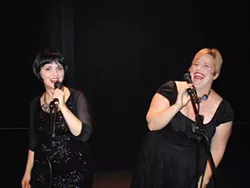 Fri., June 12 — Stage
They proudly call themselves "a cabaret duo with sass and questionable class." Now Indecent Divas II: The Second Coming revisits the performers we first met last year, at Off the Wall Theater. Tonight and tomorrow, at ModernFormations Gallery, Anna Elder and Rebecca Covert offer a whole new show with songs on the bawdy and raunchy side. The guest star is "international boylesque diva" Smokin' McQueen, with musical support from Dan Burgon, Jennie Dorris and Kevin Sapp. Bill O'Driscoll 8 p.m. Also 8 p.m. Sat., June 13. 4919 Penn Ave., Garfield. $20. www.facebook.com (search "Indecent Divas II")
Saturday, June 13 — Exhibit
Few books have made such a universal impact as Eric Carle's The Very Hungry Caterpillar. The beloved 1969 picture book is an early step on nearly everybody's reading journey, so don't be embarrassed if you're just as excited as your kids for today's world premiere of the traveling Very Eric Carle exhibit, at the Children's Museum of Pittsburgh, co-organized with the Eric Carle Museum of Picture Book Art. Play-and-learn stations allow visitors to interact with Carle's classic characters and his colorful world. JP 10 a.m.-5 p.m. Exhibit continues through Sept. 20. 10 Children's Way, North Side. $13-14. 412-322-5058 or www.pittsburghkids.org
Sat., June 13 — Sport
Back then, it was "base ball." People just had less need for compound words in the 19th century, the time to which Meadowcroft Rockshelter and Historic Village harks with Vintage Base Ball Day. This site of the oldest human habitation in North America, also noted for its recreations of historic villages, hosts three games played under 1860s rules by vintage-baseball outfits the Pittsburgh Franklins, the Somerset Frosty Sons of Thunder and the Addison Mountain Stars, who'll wear period-appropriate uniforms and gloves. Also expect live 19th-century music by the group Home Front, baseball-appropriate refreshments (hot dogs, popcorn) and kid-friendly games. BO Noon-5 p.m. 401 Meadowcroft Road, Avella, Pa. Free with admission ($6-12; free for kids under 5). www.heinzhistorycenter.org/meadowcroft
Sat., June 13 – Talk
Heard enough about starving artists? So had Andrew Simonet. The Philadelphia-based choreographer launches Artists U, a free, grassroots, artist-run program for "building sustainable artist lives." Says Simonet: "I want to talk about why artists are poor, and why they shouldn't be." He offers analysis, solutions — and hope — in "Let's Change It Up," today's talk at Neu Kirche Contemporary Art Center, presented by the Greater Pittsburgh Arts Council. BO 4:30-6 p.m. 1000 Madison Ave., North Side. $5. Register at www.pittsburghartscouncil.org.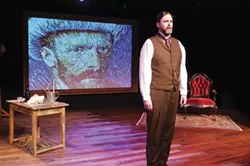 Sat., June 13 — Stage
As part of its exhibition Visiting Van Gogh: Still Life, Basket of Apples, Carnegie Museum of Art presents the one-man play Vincent. James Briggs, who has performed the role in a dozen cities, plays Vincent's brother Theo — an art dealer and the artist's sole supporter during his lifetime — who argues for Vincent's legacy. Vincent was written by the late Leonard Nimoy, who himself toured it extensively after its 1981 premiere. The play, which paints Van Gogh as an inspiring symbol of passion, is performed tonight and tomorrow in the Carnegie Lecture Hall. JP 8 p.m. Also 2 p.m. Sun., June 14. 4400 Forbes Ave., Oakland. $30. 412-622-3288 or www.cmoa.org
Tue., June 16 — Music
The Pittsburgh Jazz Celebration boasts big names in a big program composed entirely of songs either written or made famous by a Pittsburgh talent. The show, at Heinz Hall, is presented by MCG Jazz, the Pittsburgh Symphony Orchestra, the Pittsburgh Cultural Trust and WQED Multimedia. It begins with a sextet featuring drummer and local legend Roger Humphries, bassist Dwayne Dolphin and trumpeter Sean Jones honoring such predecessors as Kenny Clarke and Art Blakey, and performing work by the likes of Tommy and Stanley Turrentine and Earl "Fatha" Hines. The second half features the PSO — with guests like famed pianist Ramsey Lewis and vocalist Kurt Elling — performing new arrangements of numbers by Billy Strayhorn, George Benson, Ahmad Jamal, Billy Eckstein and others. The evening's host is nationally known actress and singer Gloria Reuben. BO 8 p.m. 800 Penn Ave., Downtown. $24.75-79.75 (gala and concert: $250). 412-392-4900 or www.pittsburghsymphony.org
Wed., June 17 — Words
The Living Room Chronicles is a way to hear the stories behind local news- and culture-makers. Tonight, the real-life-storytelling series hosts Brandi Fisher, founder of the Alliance for Police Accountability. The grassroots organization strives to create a working relationship between the community, police and government officials. Also taking the stage at the Hill House Kaufmann Center is local writer EbonyDawn Davis. BO 7 p.m. 1825 Centre Ave., Hill District. $5. 412-392-4400 or www.hillhouse.org
Wed., June 17 — Screen
This year, CitiParks' Dollar Bank Cinema in the Park, known for cineplex-friendly fare, introduces a new program. Spark! is a series of films telling stories from diverse cultures. (It's part of Mayor Peduto's Welcoming Pittsburgh initiative.) Spark! continues tonight with a free screening of The Refugees of Shangri-La. The 2014 documentary by Doria Bramante and Markus Weinfurter explores the plight of the 75,000 Bhutanese refugees who have settled in America — many of them in the Pittsburgh area. A concert by the Ferla-Marcinizyn Guitar Duo precedes the film. BO Concert at 7 p.m., screening at dusk. Flagstaff Hill, Schenley Park, Oakland. Free. www.citiparks.net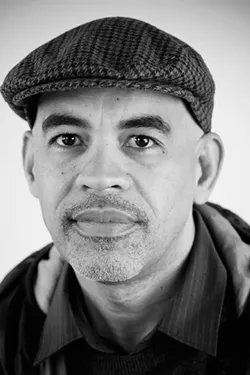 Thu., June 18 — Words
Cave Canem was founded in 1996, as a home for African-American poets. It's found a home-away-from-home at City of Asylum/Pittsburgh, which since 2010 has hosted a free annual reading by poets affiliated with the group. Cave Canem 2015 features the group's nationally known co-founders, Cornelius Eady and longtime University of Pittsburgh professor Toi Derricotte. Also on the always-lively, tented outdoor program are Amber Flora Thomas and Willie Perdomo (pictured). A set by jazz pianist Tom Roberts precedes the reading; a book-signing follows. BO 7:30 p.m. 318 Sampsonia Way, North Side. Free. RSVP at www.cityofasylum.org.