SPOTLIGHT: Thu., June 2 – Stage
David Ives' Venus in Fur is a Tony-winning 2009 play (and a 2013 Roman Polanski film) with a steamy premise: a sexually charged power struggle between a playwright and the actress who appears unnannounced to audition to play the slavemistress/lover in his adaptation of Leopold von Sacher-Masoch's 1870 erotic novel Venus in Furs. Whitney Maris Brown (pictured), a Brooklyn-based actress, says friends kept telling her she'd be perfect for the part, and when she read the script, she agreed: She calls Vanda "one of the best female characters written in the past 30 years." In town to play Vanda in the play's local premiere, at Pittsburgh Public Theater, Brown says, "It's not often that you see a female character using sex and sexuality for anything other than the male gaze." She adds: "She's just a really dynamic character. She's funny, she's silly, she's messy — and she's the complete opposite as well." The relationship between Vanda and playwright Thomas is expressed largely through a play-within-a-play: their reading of parts adapted from Sacher-Masoch (whose own name was borrowed for the term "masochism"). The critically acclaimed Venus in Fur — The New Yorker's Hilton Als called the off-Broadway-premiere staging "wildly intelligent and sometimes frightening" — is "definitely a play about power," says Brown. The Public's production is directed by Jesse Berger, with Christian Conn as Thomas. Bill O'Driscoll June 2-26. 621 Penn Ave., Downtown. $15.75-60. 412-316-1600 or www.ppt.org
Thu., June 2 — Stage
Get in on the ground floor of four new plays at various stages of development at City Theatre's Momentum '16 festival. The four-day festival, which lets audiences give feedback to the playwrights, begins tonight with a reading of Sing the Body Electric, by City Theatre favorite Michael Hollinger (Hope and Gravity, Opus); it's a story of two families in 1980 Florida. Momentum also features Sharon Washington's Feeding the Dragon, a coming-of-age story premiering at City next season; Pittsburgh native James McManus' locally set Dry Bones; and Liza Birkenmeier's thriller Radio Island. And there's a Sat., June 4, Playwrights' Panel and more. All Momentum events are free. Bill O'Driscoll 7 p.m. Continues through Sun., June 5. 1300 Bingham St., South Side. Free. Reservations suggested at 412-431-2489 or www.citytheatrecompany.org.
Fri., June 3 — Performance
What's a Thought Pocket? If you're Downtown today, you've got eight hours to experience it for yourself, as the Pillow Project debuts this series of immersive public, site-specific performance-art installations. On Strawberry Way, right across from the U.S. Steel Building, poet/musician John Lambert and director and dancer Pearlann Porter, of The Ellipses Condition, will use "movement, music and chalkings to visually depict a contrasting tempo of experience." It's a pop-up show that comments on the surrounding urban environment, and you can check it out at any point during the workday. BO 9 a.m.-5 p.m. Strawberry Way at Grant Street, Downtown. Free. www.pillowproject.org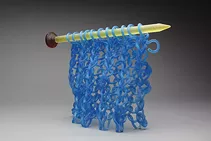 Fri., June 3 — Art
Morgan Contemporary Glass Gallery opens its summer show. Bound by Glass includes work by eight artists, including kiln-cast lead-crystal pieces by Carol Milne, and cut, polished and blown glass by Jon Goldberg. The other artists include Jen Blazina, Gregory Grenon, Owen Johnson, Weston Lambert, David Patchen and Steven Weinberg/KASTAL. A reception is tonight. BO 5:30-8:30 p.m. (free). Exhibit continues through Sept. 3. 5833 Ellsworth Ave., Shadyside. 412-441-5200 or www.morganglassgallery.com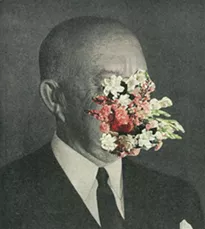 Fri., June 3 — Art
While they're not technically part of the Three Rivers Arts Festival, two Downtown exhibits opening tonight are close enough to stop by. Future Tenant opens New Order: Collage Now, a group show featuring eight local artists including Crystala Armagost, Stephanie Armbruster, Matthew Buchholz, Seth Clark and Ron Copeland. And right next door to the arts fest, the Fort Pitt Museum holds an opening reception for History Inspires, a group show of work suggested by the 18th-century history of Western Pennsylvania, with contributors including Amber Kear, Ryder Henry, Dan Burfield and Meg Prall. BO New Order: 6 p.m. (819 Penn Ave.; www.futuretenant.org). History Inspires: 5:30-8 p.m. (101 Commonwealth Place; www.heinzhistorycenter.org).
Fri., June 3 — Comedy
Is there such a thing in politics as "the woman card"? Or is the dramatic underrepresentation of women at all levels of governance in this country evidence enough that sexism still rules? Tonight, the John McIntire Dangerously Live Comedy Talk Show weighs in. The panel for Playing the Woman Card — Sexism in Politics? includes comic Gab Bonnesso, activist Gisele Fetterman (spouse of the Braddock mayor and U.S. Senate hopeful) and attorney and former Republican Allegheny County Councilor Heather Heidelbaugh. Comedian McIntire hosts, and the Oaks Theater has a bar. BO 8 p.m. 310 Allegheny River Blvd., Oakmont. $15-18. www.theoakstheater.com
Sat., June 4 — Words
Storytelling is perhaps humanity's oldest art. But that doesn't mean it can't use a little jazzing up. At Tall Trees Amphitheater in Monroeville Park, six raconteurs including Emmy-winning professional storyteller and author Jim May, present Tales Under the Trees, an all-ages, rain-or-shine event. The tellers will compete on traditional tales, personal stories and "liars' tales" to be judged by the audience. The competition began last year, at the Three Rivers Storytelling Festival. Picnic baskets and lawn chairs are encouraged. Tyler Dague 1-5 p.m. 2447 Tilbrook Road, Monroeville. Free. 724-327-1102 or www.murrysvillelibrary.org
Sat., June 4 — Art
With dozens of social networks at our fingertips, hours spent daily consuming media and an endless desire for connection, what is your identity? That is the central question in the UnSmoke Systems Artspace exhibition You/U, which opens with a reception tonight. Local artists Ben Quint-Glick, Gianna Paniagua and Zach John Lee blend audio and digital technology with sculpture, asking viewers to contemplate how people incorporate modern technologies into their environment and how that shapes the self. TD 6-10 p.m. (free). Exhibition continues through June 26 by appointment. 1137 Braddock Ave., Braddock. 415-518-9921 or www.unsmokeartspace.com
Sat., June 4 — Words
Anastasia Higginbotham grapples with some pretty serious subjects for an author and illustrator of children's fiction. In the latest entry in her "Ordinary Terrible Things" series, Death Is Stupid, Higginbotham explores how kids understand and cope with the death of a loved one through the story of a little boy at his grandmother's funeral. Higginbotham visits the South Hill Village Barnes & Noble today for a book-signing. Her series, which began with "Divorce Is the Worst," mixes humor and frank honesty to help children and families discuss difficult topics. TD Noon. 301 South Hills Village, South Hills. Free. 412-835-0379 or www.barnesandnoble.com
Sat., June 4 — Stage
The 12th Pittsburgh Playwrights Theatre Co.'s Theatre Festival in Black and White features new twists. The festival of one-acts still pairs white playwrights with black directors, and vice versa. Playwrights this year include such local names as Ray Werner, Kim El and F.J. Hartland. But now the fest is part of the Three Rivers Arts Festival; admission is free; and the scheduling is a bit different. Today and June 11, all six plays are performed in afternoon sets of two; June 5-10, see evening performances of either Program A or Program B, each featuring three plays. BO Two one-acts each at noon, 2 and 4 p.m.; program repeats June 11. Programs A and B rotate daily Sun., June 5-June 11. 937 Liberty Ave., Downtown. Free. www.pghplaywrights.com
Sun., June 5 — Festival
What's on your summer reading list? Beach read? Crime thriller? Carnegie Library of Pittsburgh challenges Steel City residents to read 90,000 books this summer. The challenge begins with today's 16th Annual Summer Reading Extravaganza. The all-ages festival will feature more than 70 exhibits, ranging from cooking demonstrations to science booths and animal displays. Young musicians from WYEP's Re-imagine Media program will perform; extreme pogo-stick champs Xpogo will give demos; and Pittsburgh Riverhounds soccer players will be on hand for a meet-and-greet. Food trucks will donate 10 percent of their proceeds to the library. TD Noon-5 p.m., 4400 Forbes Ave., Oakland. Free. 412-622-3114 or www.carnegielibrary.org
Tue., June 7 - Music
For the first time, the Bach Choir of Pittsburgh invites singers of all experience levels to join it in singing and studying major works from legendary composers. Summer Sing takes place on three Tuesdays in June at the Rodef Shalom Temple, starting tonight. The sessions cover Bach's Magnificat, Bernstein's Chichester Psalms and Mozart's Requiem. Associate conductor Jon Erik Schreiber leads each session. TD 7-10 p.m. Also June 14 and 21. 4905 Fifth Ave., Oakland. $15, or $30 for all three sessions. 412-241-4044 or www.bachchoirpittsburgh.com