SPOTLIGHT: Fri., July 7 – Art
One year ago, Baron Batch was arrested for spray-painting graffiti on the Three Rivers Heritage Trail. The prominent, locally based artist (a former Pittsburgh Steeler) was charged with 30 counts of criminal mischief; he eventually was sentenced to 18 months of probation and 150 hours of community service, and paid $17,000 in restitution. But the story doesn't end there. One of Batch's arresting officers was graffiti-squad veteran Alphonso Sloan. "I explained to him that I was an artist also," says Sloan. "Right off the bat he wanted to collaborate." Or, as Batch (pictured) tells City Paper, "Artists know artists. You hit it off. You start talking." The two have already collaborated on a couple works. On Fri., July 7, they'll be creating in public for Wall Paintings: Storytellers, a live art event at SPACE gallery that's part of the Pittsburgh Cultural Trust's quarterly Downtown Gallery Crawl. Twelve artists or artist teams each will get eight hours and a 12-by-12-foot expanse of wall to make new work; visitors are welcome the whole time, starting at 1 p.m.
Wall Paintings was organized by curator Robert Raczka, his fourth such live art event at SPACE. Most of the artists work in comics, illustration or graphic design, including Caitlin Rose Boyle, M.L. Walker, Mike Budai, Jessica Heberle, Renee Ickes, Nils Balls Hanczar and Paulette Poullet. Raczka hasn't asked the artists what they'll paint. And other than saying that his and Sloan's work would send a positive message to young people, Batch adds only, "It's going to be a lot of us figuring it out when the day gets here."
The Gallery Crawl features art, live music, comedy, film and more at some three dozen venues, with new exhibits also opening at 707 and 709 Penn galleries and The Lantern; the Pittsburgh Downtown Partnership's Night Market; and the debut of FLOW, Erwin Redl's large-scale public light installation at the Wood Street T Station.
- Bill O'Driscoll
Gallery Crawl: 5:30-10 p.m. Downtown. Free. 412-456-6666 or www.trustarts.org
Fri., July 7 – Festival
A new series at the Children's Museum of Pittsburgh called Northside Neighbor Days continues with Girls Rule. It's three days of performances and arts-and-crafts activities aimed primarily at empowering girls (though boys can join in). There are girl-centric story times; self-portrait drawing classes; and a health fair with sponsors Allegheny Health Network and Allegheny General Hospital. Everyone, North Sider or not, is welcome, but those with IDs proving North Side zip codes (15212, 15233 or 15214) get half off admission for up to five people. Bill O'Driscoll 10 a.m.-5 p.m. Also 10 a.m.-5 p.m. Sat., July 8, and Sun., July 9. Free with museum admission ($14-16; free for kids under 2). 412-322-5058 or www.pittsburghkids.org
Fri., July 7 - Art
"Disco, to me, seems to come from a distant idyllic era." So writes curator Emily Colucci, of Future Tenant's Night Fever. The art exhibition, which opens tonight, features the work of nine local and national artists, examining the aesthetic and cultural legacy of disco — from its resonant visual iconography (shimmery disco divas) and performative nature (dancing alone, together) to the scene's embrace and empowerment of gay, black and Latin communities. It's been 40 years since Saturday Night Fever catapulted disco into the mainstream to acclaim and derision; now we ask what it all meant. Al Hoff Reception: 5:30-10 p.m. 819 Penn Ave., Downtown. Free. www.futuretenant.org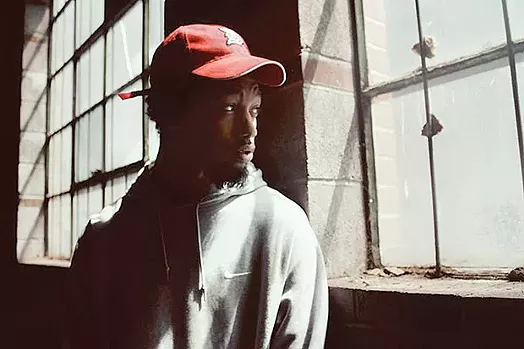 Fri., July 7 - Festival
Pittsburgh-based hip-hop artist Livefromthecity is known to some as King of the Sun, after the title of his 2016 mixtape. And he takes light, and all it symbolizes, seriously: He's the host of Sun Fest '17, a three-day series of hip-hop/Afro-futurism-themed art, performances and more, celebrating life, at BOOM Concepts. Tonight, as part of Penn Avenue's monthly gallery crawl Unblurred, a gallery show curated by Tresa Murphy-Green is complemented by performances by VUDU L U C, Pirate Gang, 1Hood, Prospectz Nation, Livefromthecity and more. Saturday's Sun Shower is an afternoon streetwear pop-up shop and family barbecue. The fest wraps Sunday with brunch, trap music and a lecture by VUDU L U C. BO 6-10 p.m. 5139 Penn Ave., Garfield. Free. www.livefromthe.city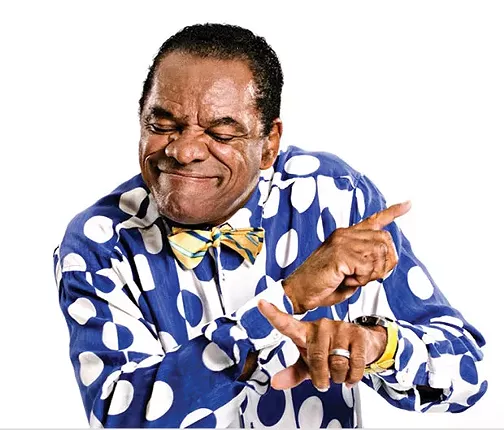 Fri., July 7 – Comedy
If you've seen episodes of The Boondocks, Black Jesus or The Tracy Morgan Show, or the hit Friday movie series, you may already be familiar with John Witherspoon. His energetic persona has been injected into a variety of characters over the years, such as the dad in The Wayans Bros. The 75-year-old comic brings his own style of funny to the Pittsburgh Improv. He knows his stuff: The Detroit-born funnyman has been working since the 1970s. Matt Petras 7:30 and 9:45 p.m. Also 7 and 9:30 p.m. Sat., July 8, and 7 p.m. Sun., July 9. 166 E. Bridge St., The Waterfront, Homestead. $25. 412-462-5233 or www.pittsburgh.improv.com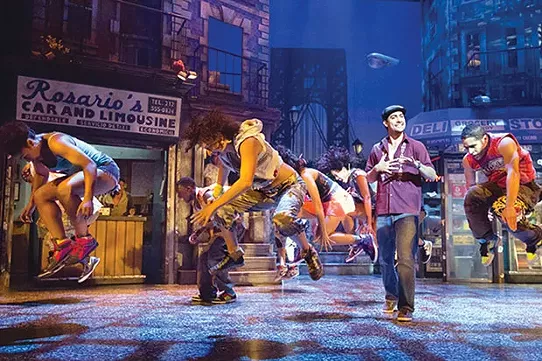 Fri., July 7 – Stage
If you can't get tickets to Hamilton — and who can except VIPs like Mike Pence, who managed to provoke a clap-back from the cast — consider In the Heights, beginning tonight at the Benedum Center. This 2008 Tony Award-winning musical was written by Lin-Manuel Miranda, who later wrote Hamilton. In this musical filled with hip hop and pop music, a New York City community is changed drastically by a lottery ticket. The cast includes Blanca Camacho as Camila, David Del Rio as Sonny, and Damon J. Gillespie as Graffiti Pete. MP 8 p.m. Continues through July 16. 719 Liberty Ave., Downtown. $25.75-75.75. 412-281-3973 or www.pittsburghclo.culturaldistrict.org

Sat., July 8 - Screen
The Carnegie Science Center is shutting down the Rangos Omnimax Theater — to be replaced with the Rangos Giant Cinema this fall — and is sending the oddly shaped, domed movie theater off in style with a 31-hour movie marathon. It will be screening nearly 20 large-format faves like Hubble, Born to Be Wild, D-Day, Tornado Alley and National Parks Adventure. Tickets include in-out privileges, access to the exhibits and a piece of 70 mm Omnimax film. AH 10 a.m. through 5 p.m. Sun., July 8. One Allegheny Ave., North Side. $10 ($5 for members). www.carnegiesciencecenter.org
Sat., July 8 - Goats
Perhaps you read about landscaping goats in last week's Animal Issue? Now catch them in action as the herd from Allegheny GoatScape starts munching through the invasive plants that overwhelm the South Side Slopes "Jurassic Valley." At today's Goat Fest, folks can meet the goats; catch some tunes from Colonel Eagleburger's Highstepping Goodtime Band, and Ethan Kovalcik; take a hike; nibble on cake and grilled cheese; and see a fire truck (1-3 p.m.). AH Noon-4 p.m. Bandi Schaum Community Garden (park at Mission Street lot), South Side Slopes. Free. www.facebook.com (search "Goat Fest")
Sat., July 8 - Art
UnSmoke Systems Artspace hosts the opening reception for two art exhibits, both rather different from each other. One is The Natural Being, which combines the paintings of Aimee Heinnickel, Tony Havrilla, and Brandon McDonald, all emerging artists based in Southwestern Pennsylvania. The other exhibit is Surface/Structure, an ongoing project from Pittsburgh-based artists Natalia Gomez and Kara Skylling. In it, new works, examining existing structure and built history, will be created on site in response to the raw exhibition space. MP 6-9 p.m. Continues through July 30. 1137 Braddock Ave., Braddock. Free. www.unsmokeartspace.com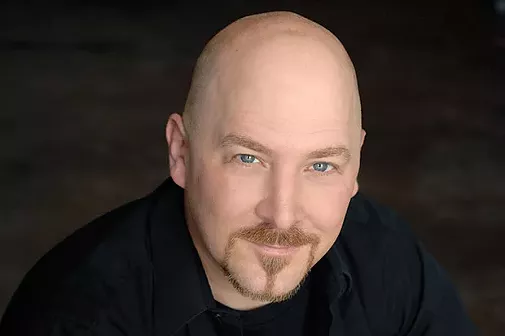 Sun., July 9 – Stage
"As flies to wanton boys are we to the gods. / They kill us for their sport." Few would accuse King Lear of pussyfooting about loss, fate, foolishness or mortality. But acclaimed literature scholar Julian Markels and Guggeheim Fellow James Kincaid think they've found a way to sharpen the Shakespeare classic's irredeemably tragic message. Tonight, Bricolage Productions offers a free reading of their new edit by a cast of top local actors, including Ken Bolden, Lissa Brennan, Jeffrey Carpenter (pictured), Tami Dixon and James FitzGerald. Risher Reddick directs. BO 7 p.m. 937 Liberty Ave., Downtown. Free; email ticket request to tami@webbricolage.org.

Tue., July 11 - Art
BoxHeart welcomes two art exhibits to its gallery — Heather Kanazawa's Investigations of Life and Group A's NOW. The exhibit from Kanazawa, a Pittsburgh-native, features abstract paintings that explore memory. Members of Group A, a collective of artists originally founded in 1944, were asked to submit a recent piece, regardless of theme. So expect works that are wildly different, but still represent the group's commitment to contemporary thought and freedom. A reception with artists from both exhibits is on July 15 from 5-8 p.m. MP Gallery opens 11 a.m. Continues through Aug. 11. 4523 Liberty Ave, Bloomfield. Free. 412-687-8858 or www.boxheartgallery.com