SPOTLIGHT: Sat., July 22 – Art
For half a century, The Studio Museum in Harlem has showcased work by artists of African descent, or inspired and influenced by black culture. On Sat., July 22, a collaboration between that pioneering institution and the Carnegie Museum of Art bears fruit with the opening of 20/20: The Studio Museum in Harlem and Carnegie Museum of Art. The exhibit features works by 40 artists — 20 each from the two museums' collections — meant to spark discussion about art, race, identity, history and inequality in America.
The exhibit is the result of an ongoing dialogue between curators Amanda Hunt and Eric Crosby; works in the show span nearly a century. Paintings include "Abe Lincoln's First Book" (1944), by self-taught, Pennsylvania-born Horace Pippin; Noah Davis' 2008 painting "Black Wall Street"; and recent Carnegie acquisition "Untitled (Gallery)," a 2016 painting by Kerry James Marshall. Other highlights include an unprecedented pairing of 13 works each by iconic, 20th-century-spanning photographers Charles "Teenie" Harris and James VanDerZee. Harris' archive (owned by the Carnegie) consists largely of photojournalism from Pittsburgh; VanDerZee (of whose images the Studio Museum has an extensive archive) is best known for his glamorous studio portraiture shot during the Harlem Renaissance, starting in the 1920s. The Carnegie's Crosby calls the Harris/VanDerZee pairing "an exhibition within the exhibition."
The 80-some works in the Heinz Galleries will also highlight contributions from such notables as Pittsburgh's Thad Mosley; Braddock-born LaToya Ruby Frazier; Jean-Michel Basquiat and Andy Warhol; Jenny Holzer; Glenn Ligon; Gordon Parks; Pope.L; and Kara Walker.
Hunt, former associate curator at The Studio Museum, is now director of education and public programs at the Museum of Contemporary Art, Los Angeles. At 1:30 p.m. on July 22, she joins Crosby and three contributing artists for a panel discussion on landscapes in 20/20. From 3-9 p.m., the opening is celebrated with a Summer Break party ($10), featuring food trucks, DJ music and other activities.
— Bill O'Driscoll
Noon-5 p.m. Sat., July 22. Exhibit continues through Dec. 31. 4400 Forbes Ave., Oakland. $11.95-19.95. 412-622-3131 or www.cmoa.org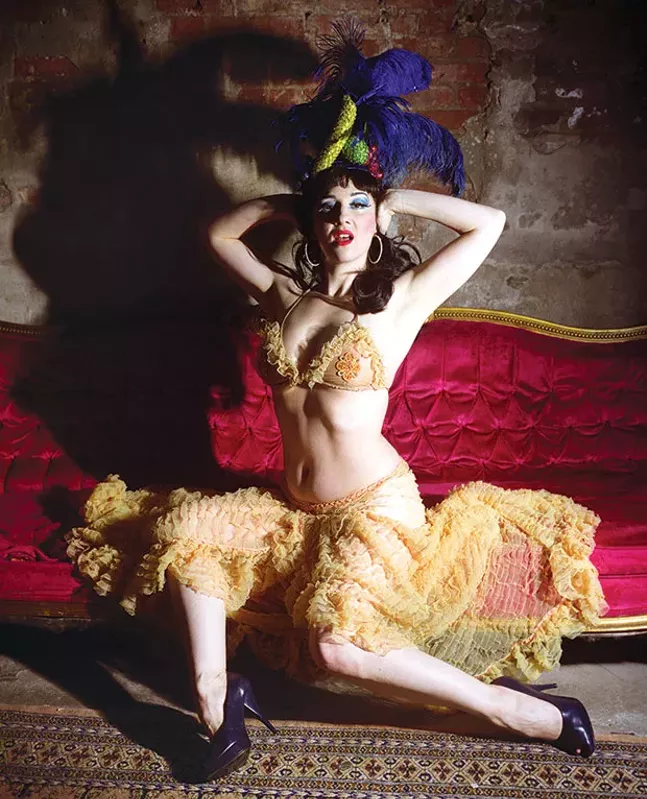 Thu., July 20 — Burlesque
With its open embrace of sexuality, and bold declaration of the right to flaunt one's body, "the art of burlesque is political," says Viva Valezz! The local performer and producer says that in today's often-hostile social climate, that's truer than ever, especially for queer burlesque performers. So for the fifth year running, it's time for the Fierce! International Queer Burlesque Festival. This year's fest welcomes 150 LGBT performers from the U.S. and Canada for six performances in four nights across town. Each show features a unique lineup of 20-some performers, women and men skilled in the arts of the sensual tease. Tonight's Kick-off Karaoke Party, at Downtown's There Ultra Lounge, features Pittsburgh's Velvet Hearts. The Friday early showcase, at James Street Ballroom, has Chicago-based headliner Red Hot Annie; Friday's late headliners are Egypt Blaque Knyle and Tito Bonito, both from Los Angeles. The Ace Hotel Ballroom, in East Liberty, hosts Saturday's showcases, with headliners The Incredible, Edible Akynos, from New York City (early), and Seattle's Indigo Blue (pictured) and New York's Ninia la Voix (late). The Fierce! Brunch IDKE Edition, at James Street Speakeasy, featuring Mr. Karter Banger, from Ottawa, wraps things up on Sunday. BO Continues through Sun., July 23. $15-22.50 (weekend pass: $110). www.fiercequeerburlesquefest.com

Thu., July 20 – Words
Akhil Sharma debuts his latest book at City of Asylum's Alphabet City. The acclaimed author, born in Delhi, India, first published most of the stories in A Life of Adventure and Delight (Faber & Faber) in outlets including The New Yorker, The Atlantic and The Paris Review. The title story follows a Ph.D. student's sex life. "Gautama's favorite thing about hiring prostitutes was negotiating the price," Sharma writes. "This was because actually having sex with a prostitute seemed so immoral that it was hard to enjoy it." Matt Petras 8 p.m. 40 W. North Ave., North Side. Free. 412-435-1110 or www.alphabetcity.org
Fri., July 21 — Art
"We live solo amongst the noise," writes world-traveling, Pittsburgh-based photographer Rick Armstrong. "We are alone together." Isolo is Armstrong's new show at Filmmakers Galleries depicting individuals, whether by themselves or in a crowd. Tonight's opening reception is followed by a 7:30 p.m. screening of God's Country, famed French filmmaker Louis Malle's 1985 documentary about life in Minnesota farm country before and after economic decline. BO Reception: 6-7:30 p.m. (free). 477 Melwood Ave., Oakland. 412-682-4111 or www.pfpca.org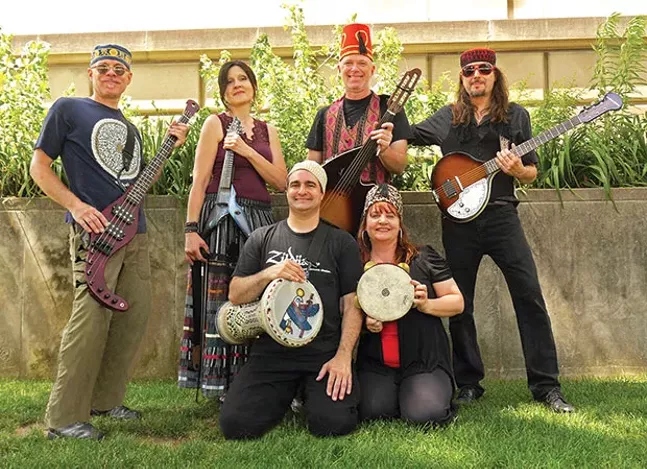 Fri., July 21 – Music
Every Friday through Sept. 8 at The Frick Pittsburgh, it's Summer Fridays at the Frick. The free, festival-like few hours feature live entertainment, food options and more on the Frick's verdant grounds, including free access to the historic Clayton mansion. (The Frick Art Museum is also open until 9 p.m., but admission is ticketed.) Tonight, enjoy the sounds of six-piece belly-dance rock band King Fez (pictured). Dining options include The Café at the Frick, the Café Wine Bar, and food trucks including Bull Dawgs, SS BBQ and Sugar & Spice Ice Cream. Picnic on the lawn while you listen; the whole site's open till 9 p.m. BO 6:30-9 p.m. 7227 Reynolds St., Point Breeze. Free. 412-371-0600 or www.TheFrickPittsburgh.org
Fri., July 21 – Dance
Three days of dance and drumming in the African tradition comprise Dance Africa 2017: It's in the A.I.R. Along with daytime workshops, highlights of this showcase at the Kelly-Strayhorn Theater include evening performances by event organizer The Legacy Arts Project along with Afoutayi Haitian Dance Company, Oyu Oro Experimental Afro-Cuban Dance Ensemble and the Staycee Pearl dance project. The program is Pittsburgh's incarnation of DanceAfrica, a long-running New York-based festival. DanceAfrica was founded by Chuck Davis, who upon his death in May the New York Times called "America's foremost master of African dance"; Pittsburgh's 2017 program honors him. BO 8 p.m. Also 8 p.m. Sat., July 22, and 3 p.m. Sun., July 23. 5941 Penn Ave., East Liberty. Admission is pay-what-you-can. www.legacyartsproject.org

Sat., July 22 – Roller Coasters
Even amidst sleek, modern rides, classic roller coasters like The Racer have not even come close to going out of style, at least at Kennywood Park. This weekend, The Racer celebrates its 90th birthday, and visitors can sign up to see who can rack up the most wins on the dual-track ride. The day's winner will receive a 2018 season pass, and with other prizes for runner-ups. Everyone in attendance, though, can enjoy the thrills of this nonagenarian coaster. MP 10:30 a.m.-10 p.m. 4800 Kennywood Blvd., West Mifflin. $9.99-44.99. 412-461-0500 or www.kennywood.com

Sat., July 22 – Words
Anyone from Pittsburgh knows we talk a certain way (as can be said for places around the globe). Edward McClelland, born in Michigan, tackles ways of speaking in the Midwest in his 2016 book How to Speak Midwestern. The accomplished author, who visits Penguin Bookshop for a book-signing today, has written for Salon, the Washington Post and the Chicago Tribune on topics ranging from the Christian Right to foreign cars in Michigan. How to Speak Midwestern includes analysis of Pittsburgh speech, among many other examples. MP 1 p.m. 417 Beaver St., Sewickley. Free. 412-741-3838 or www.penguinbookshop.com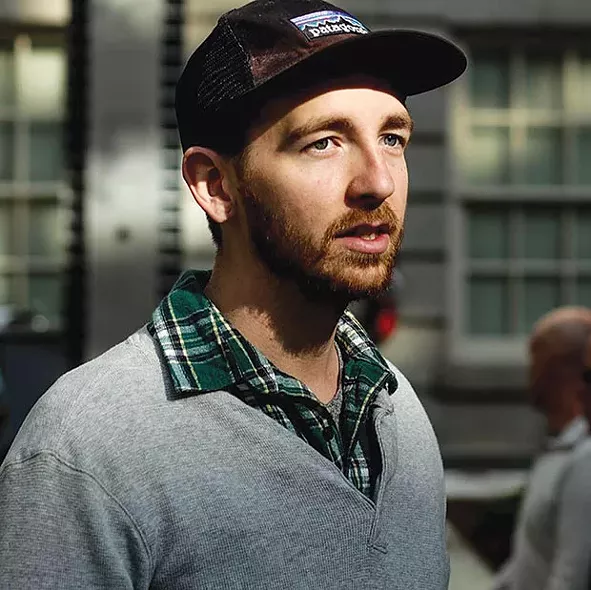 Sat., July 22 – Comedy
Five comedians from across the country formed the comedy group The Ex-Wives Club, which is based primarily in Washington, D.C. At Unplanned Comedy Warehouse, Alex Stypula hosts the troupe for a night of varied acts. The 90-minute show includes sketch comedy, standup and games that involve the audience. The group, including Kevin Tit, Max Woodson, Yoki Danoff, Andrew Hall (pictured) and Peter Musto, is on a multi-state tour. MP 8 p.m. 5601 Butler St., second floor, Lawrenceville. $8-10. 412-212-7061 or www.unplannedcomedy.com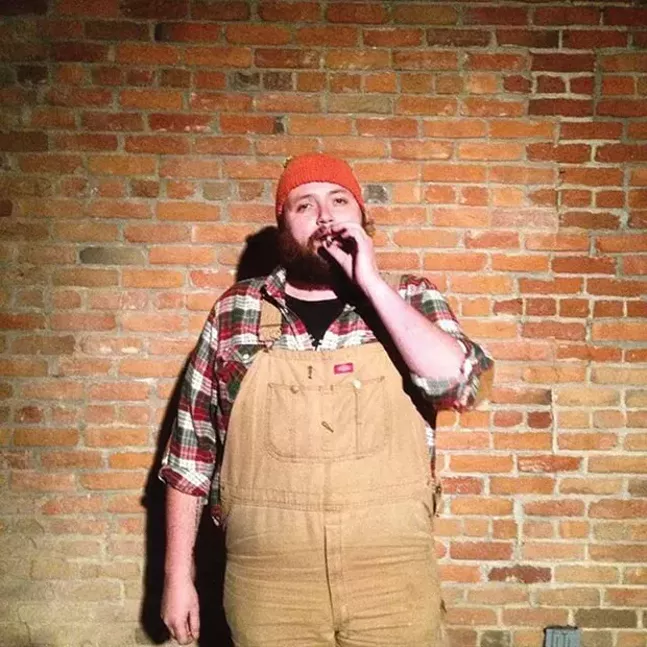 Sat., July 22—Comedy
Comedy Roulette returns to Club Café, this month featuring standup by Sam Tallent. Tallent, from Denver, is becoming more and more well-known. He appeared on VICELAND's Flophouse and Comedy Central's roast-battle series. Local comics Gab Bonesso and Shannon Norman, and host John Dick Winters, also hit the stage during this Race to the Coffin Comedy show. Comedy Roulette changes monthly — June featured a roast battle, for example. MP 10:30 p.m. 56 S. 12th St., South Side. $10. 412-431-4950 or www.clubcafelive.com
Wed., July 26 — Words
Osama Alomar, a Syrian-born writer who emigrated to the U.S. in 2008, has since gotten national press for his very short, often parable-like stories; this year, he moved to Pittsburgh courtesy of City of Asylum, which shelters writers persecuted in their home countries. Tonight, at this month's installment of The Bridge Series, Alomar reads from his first full-length collection, The Teeth of the Comb, new on New Directions. Joining Alomar at Brillobox are poet Malcolm Friend and poet and memoirist Lori Jakiela. Proceeds from tonight's reading benefit City of Asylum. BO 8 p.m. 4104 Penn Ave., Bloomfield. $5. www.facebook.com ("bridge series alomar")