SPOTLIGHT: Wed., March 1 - Music
The singular singer-songwriter Baby Dee is coming through town on her nine-city North American tour. While it's far from her first visit to Pittsburgh, it is her first with what she calls her "family band," consisting of herself on accordion and nephew Blake Norris on guitar. "It's kinda nice to have [a] fucked-up family act — for fucked-up families!" Dee jokes via Skype from her home, in the Netherlands.
Dee, a Cleveland native, is a former street performer and church organist who started playing Coney Island and touring with sideshow troupe The Bindlestiff Family Cirkus after she began transitioning into a woman. She's gone on to record six studio albums, work with artists including Antony and the Johnsons and Andrew WK, and tour with the re-formed Swans. Her sixth album, I Am a Stick, came out in 2010. Singing in a supple, powerful voice, beneath a pile of flaming red hair, Dee ranges from somber, cabaret-style numbers to more rollicking tunes — and from "sweet songs" about robins to "So Bad," about Jesus beating up the singer's mom. "People like music they can relate to," she says, laughing.
All door proceeds from An Evening with Baby Dee, at the intimate Funhouse at Mr. Smalls, will benefit Proud Haven, a local organization serving homeless and unstably housed LGBTQ+ youth. The show is sponsored by the Positive Health Clinic, a comprehensive HIV primary-care clinic for HIV-positive persons, and presented by Phat Man Dee (no relation, but a longtime friend) and the queer nuns of the Sisters of Perpetual Indulgence's Steel City Sisters Mission House.
Baby Dee jokes that for the March 1 show, Proud Haven is changing its name to The Baby Dee Home for Bad Hermaphrodites. Then she notes, "I'm familiar with being a homeless queer."

— Bill O'Driscoll

8 p.m. Wed., March 1. 400 Lincoln Ave., Millvale. $15 suggested donation (donations of warm winter clothes in excellent condition also accepted). www.ticketfly.com ("baby dee proud haven")
Thu., Feb. 23 – Words
East End Poets: Songs for America in a Post-Truth World is an hour-long reading at PointBreezeway benefiting the ACLU. Local poets reading include Charles W. Brice, Judy Brice, Ann Curran, Judith Dorian, Sheila Kelly, Mike Schneider, Robert Walicki and Arlene Weiner. Along with the songs in verse, there'll also be some pre-reading fiddle tunes by Devilish Merry's Jan Hamilton. The ACLU gets the proceeds from donations and book sales. Bill O'Driscoll 7:30 p.m. (doors at 7 p.m.). 7113 Reynolds St., Point Breeze. www.facebook.com ("east end poets songs for america")
Thu., Feb. 23 – Stage
Big Love, opening this weekend at Point Park University's Conservatory Theatre Company, doesn't have to do with the old HBO series about polygamy. Rather, Charles L. Mee's frequently staged 2000 play updates Aeschylus' circa-470 BCE The Suppliant Women. Fifty brides flee Greece to avoid marrying their 50 cousins, setting the stage for a wild showdown at an Italian villa, complete with questions of love, gender and equality — not forgetting the contemporary pop tunes, or the helicopter ambush. Reginald L. Douglas directs the student cast; the first performance is tonight. BO 8 p.m. Continues through Sun., Feb. 26, and March 9-12. 222 Craft Ave., Oakland. $10-24. 412-392-8000 or www.pittsburghplayhouse.com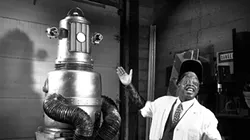 Fri., Feb. 24 – Screen
This year's Oscar nominations suggest (let's hope) that Hollywood is a bit more aware of African Americans' contributions to cinema. This weekend, the first annual Black Bottom Film Festival takes you deeper. The Pittsburgh Cultural Trust event at the August Wilson Center features screenings and discussions exploring themes of black life in America. Tonight's program includes indie shorts, Jamal Joseph's feature film Chapter & Verse, and Post Racial Cinema: Black Film in The Obama Age, a discussion with Reelblack Podcast co-hosts Mike D. and Charles Woods. Saturday's highlights include an afternoon talk and evening awards ceremony with pioneering black director Michael Schultz; screenings include two of Schultz's best-known films, Cooley High (1975) and the 1977 Richard Pryor vehicle Which Way Is Up? More screenings follow Sunday, including Destination: Planet Negro!, a 2013 science-fiction satire by Kevin Wilmott (CSA: The Confederate States of America); a still from that film is pictured. BO 5 p.m. Continues through Sun., Feb. 25. 980 Liberty Ave., Downtown. Single-day pass: $15; festival pass: $35. 412-456-6666 or www.trustarts.org

Fri., Feb. 24 – Expo
The Pittsburgh Cultural Trust presents the 2017 Showcase Noir Artist and Designer Exhibit and Sale, taking place all this weekend at the August Wilson Center. The annual bazaar, in its 14th year, welcomes emerging and established artists from all over the country whose work embodies the diversity of the African diaspora. Paintings, sculpture, photographs, jewelry, pottery and more will be on display and available for sale. Live music and artist demos will complement the showcase throughout the weekend. Amani Newton 5:30 p.m. Continues through Sun., Feb. 26. 980 Liberty Ave., Downtown. Free. 412-456-6666 or www.trustarts.org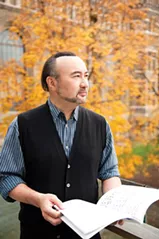 Fri., Feb. 24 – Music
The 27-year-old Israeli conductor Lahav Shani will make his debut with The Pittsburgh Symphony Orchestra tonight, leading Rhapsody in Blue, a program celebrating American works honoring the city of New York. Opening the night will be Charles Ives' The Unanswered Question, from 1906, and Kurt Weill's Symphony No. 2, from 1934. Then pianist Jon Kimura Parker (pictured) joins the orchestra for the title piece, George Gershwin's 1924 jazz concerto. The show closes with a performance of Leonard Bernstein's Symphonic Dances from West Side Story. AN 8 p.m. Also 2:30 p.m. Sun., Feb. 26. Heinz Hall, 600 Penn Ave., Downtown. $20-94. 412-392-4900 or www.pittsburghsymphony.org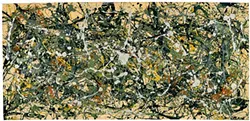 Sat., Feb. 25 – Art
Opening tonight at the Westmoreland Museum of American Art is When Modern Was Contemporary: Selections from the Roy R. Neuberger Collection. Discreetly tucked away on the campus of New York's Purchase College, The Neuberger Museum is a tiny hidden gem, holding a remarkable selection of American modern masters, assembled by the late financier Roy R. Neuberger. Selections brings 52 works from this influential collection to the Pittsburgh area, including pieces by Max Weber, Georgia O'Keeffe and Willem de Kooning, and one of Jackson Pollock's large drip paintings. The opening reception is set for Sat., March 4, from 6:30-8 p.m. AN 11 a.m.-5 p.m. Exhibit continues through May 21. 221 N. Main St., Greensburg. $10-15 suggested donation (free for children under 18, students and military families). 724-837-1500 or www.thewestmoreland.org

Sat., Feb. 25 – Words
Pittsburgh Poetry Collective hosts weekly slams here, but tonight's something different: the annual Battle of the Slams Regional Poetry Slam. At the brand-new Alphabet City, on the North Side, watch our own Steel City Slam squad face teams from Buffalo, Cleveland and Columbus for not only bragging rights, but the chance to qualify for the 2017 National Poetry Slam, in August, in Denver. The show is all-ages. BO 7 p.m. 40 W. North Ave., North Side. $10. www.alphabetcity.org
Sun., Feb. 26 – Music
Quince and Alia Musica Pittsburgh join forces again, continuing their shared mission of exposing audiences to contemporary classical music, composed by living artists. Tonight, at Chatham University, the Chicago-based, all-female vocal ensemble will perform two works: 1988's "From the Grammar of Dreams," by Finnish composer Kaija Saariaho, and 2012's "love fail," by the Pulitzer Prize-winning American composer David Lang. "Dreams" is inspired by the work of Sylvia Plath; "love fail" is a meditation on the timelessness of love, inspired by the medieval myth of Tristan and Isolde. AN 7:30 p.m. James Laughlin Music Hall, Chatham campus, Shadyside. $12-15. www.aliamusicapittsburgh.org
Tue., Feb. 28 – Talk
If you want to hear the truth, to paraphrase Oscar Wilde, give someone a mask. Acclaimed Brooklyn-based performance artist Narcissister always wears a stereotypically "female" plastic mask in her photographic, video and live works that employ wild hand-made costumes, dance, humor and pop music to deconstruct gender, racial identity and sexuality. Narcissister, who's performed nationally and internationally, has embodied characters like an 1980s fitness guru ("Self-Gratifier") and an 18-headed Marie Antoinette. Today, she's the guest at the Carnegie Mellon University School of Art's Visiting Artist Lecture Series. The talk is free. BO 5 p.m. Kresge Theater, CMU campus, Oakland. Free. 412-268-2409 or www.art.cmu.edu

Wed., March 1 – Talk
Pittsburgh Arts & Lectures New & Noted series brings Christina Baker Kline to Pittsburgh with her new novel, A Piece of the World. In World, Kline imagines the life of Christina Olsen, the New England woman who served as the unlikely muse for painter Andrew Wyeth's 1948 masterpiece, "Christina's World." Born in 1893, Olsen suffered from a progressive bone disease which limited her mobility. Seemingly destined for an uncelebrated life, instead Olsen became the subject of one of the best known American paintings of the 20th century. Kirkus Reviews called Kline's conjuring "painterly, sensuous, and sympathetic." AN 7 p.m. Carnegie Library Lecture Hall, 4400 Forbes Ave., Oakland. $33. 412-622-8866 or pittsburghlectures.org