FREE EVENT – Fri., Feb. 17 — Screen
For Black History Month, Sembène, the Pittsburgh-based Film & Art Festival, presents At the Movies with Herb Boyd. The free, two-day screening-and-lecture series, at the Carnegie Library's Homewood branch, starts Fri., Feb. 17, with 1981's Death of a Prophet, and continues Feb. 18 with 2016's The Birth of a Nation. Prophet, directed by Woodie King Jr., blends documentary footage and dramatizations to depict the final 24 hours of Malcolm X, played in the film by Morgan Freeman. Nation, directed by and starring Nate Parker, depicts Nat Turner's 1831 rebellion against enslavement in the antebellum South. Both events include a post-screening discussion led by journalist, author, educator and activist Boyd (pictured).

"It'll be a summary to pick up on some of the points being made in each of the films, trying to place them both in a historical and political context. … I'll summarize some of the high points and point out some of the concerns that I have," says Boyd by phone. "With Death of a Prophet, King deliberately scrambled the scenario, so there's not a linear progression. It'll appear that it's anachronistic, historically out of sequence."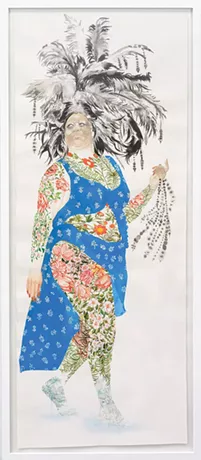 Despite that technique, Boyd says, viewers shouldn't be dissuaded. "[King] has to do that because he's trying to contextualize the period," says Boyd, who teaches African-American history at the City College of New York. "There was a need to fill in the whole historical tableau at that time. [King] does a good job of framing it in terms of the political and philosophical issues and ideological concerns that Malcolm had at that time." Boyd hopes young people will come out to both screenings and learn more about the eras each film is set in. "You're talking about very significant phases of African-American history, or American history for that matter."
— Amani Newton

Death of a Prophet: 6 p.m. Fri., Feb. 17. Birth of a Nation: 1:30 p.m. Sat., Feb. 18. 7101 Hamilton Ave., Homewood. Free. 412-731-3080 or www.sembenefilmfestival.org

Fri., Feb. 17 – Art
The Andy Warhol Museum welcomes Firelei Báez, the Dominican-American artist making a name with her first solo show, Bloodlines. Báez, raised in New York, creates large-scale paintings, sculptures and drawings exploring how colonialism affects race and gender, and examining the way emigrating can complicate or simplify racial identity. The exhibition was organized by the Pérez Art Museum Miami; The Miami New Times called the show "stunning" and "rich and challenging." The Warhol version, which opens today, includes four new works. Amani Newton 10 a.m.-10 p.m. Exhibit continues through May 21. 117 Sandusky St., North Side. $10-20 (half-price 5-10 p.m.). 412-237-8300 or www.warhol.org
Fri., Feb. 17 – Expo
Sarah Miller, of Brookline's own Wyld Chyld Tattoo, has parlayed her success on SPIKE Television's reality show Ink Master into global cult celebrity. This weekend, she broadens her reach with the first annual Bleed Black and Gold Tattoo Expo. The three-day event at the Sheraton Hotel Pittsburgh at Station Square — co-presented by Miller and Greg Piper of Manassas, Va.'s Exposed Tattoo — will have several dozen tattoo and piercing artists on hand to mark you up. Tonight's the Live Tattoo Off (which of course involves putting tattoos on). Saturday brings the Miss Pittsburgh Pin-Up Contest, and Sunday features a tattoo contest. Bill O'Driscoll 1-11 p.m. Also noon-11 p.m. Sat., Feb. 18, and noon-6 p.m. Sun., Feb. 19. South Side. $25 per day (expo pass: $55); children under 12 free with paying adult. www.pittsburghtattooexpo.com

Fri., Feb. 17 – Comedy
Several years ago, when a politician in Arizona compared homosexuality to cannibalism, human sacrifice and bestiality, Suzanne Westenhoefer was offended. "I'll give her cannibalism," said the comedian. "That other stuff is just mean." Westenhoefer, a Lancaster County native, was among the first out lesbian comics, and the first with an HBO special. More than a quarter-century later, she's still touring, and tonight stops at Cattivo. BO 8 p.m. 14 44th St., Lawrenceville. $22.50-35. www.suzannew.com/events

Fri., Feb. 17 – Opera
Undercroft Opera opens its 2017 season with Eugene Onegin, Tchaikovsky's late Romantic opera based on the classic verse novel by Aleksandr Pushkin, about a bored dandy in Imperial Russia ruled by social conventions. Led by Daniel Nesta Curtis (pictured), music director of Carnegie Mellon University's New Music Ensemble, Undercroft's professionally trained, locally based performers will undertake the work in the original Russian with projected English surtitles, accompanied by a full orchestra and chorus. The lone performance is tonight. AN 8 p.m. Bellefield Hall, 315 S. Bellefield Ave., Oakland. $20-25. 412-422-7919 or undercroftopera.org

Sat., Feb. 18 - Screen
One of the most important visual artists ever to come out of Pittsburgh, Duane Michals, returns to show off some new work. The pioneering photographer visits Point Park University's GRW Theater with Talking Pictures, a program of a dozen short films that draw on influences ranging from Charlie Chaplin and Georges Méliès to experimental bellwethers like Kenneth Anger. Michals, 84, openly addresses homosexuality in his work, and continues to explore identity, love and loss. The evening comes courtesy of Point Park and Silver Eye Center for Photography. BO 7 p.m. 414 Wood St., Downtown. $15. Online registration required at www.silvereye.org.

Sat., Feb. 18 – Dance
While Maria Caruso is best known as the artistic director of Bodiography Contemporary Ballet, she's also branched out into solo work. Phoenix Rising, which Caruso calls her biggest creative project ever, includes: a ballet pas de deux with long-time dance partner Joshua Sweeny; new solo pieces choreographed by Anjali Austin and James Martin; a restaging of Martha Graham's famous "Lamentation"; a Lindy Hop duet; and a new hip-hop work created with Gabriel Ash. The evening concludes with Caruso's "Hallelujah," accompanied live by Pittsburgh favorite Bill Deasy. The show's tonight at the Byham Theater. BO 8 p.m. 101 Sixth St., Downtown. $35.75-125.75. 412-456-6666 or www.trustarts.org

Sat., Feb. 18 - Fashion
The Chinese New Year might have come and gone, but you can still celebrate it at Carnegie Mellon University's Lunar Gala. Each year, this fashion show's theme is centered on the zodiac animal of the lunar calendar year. The student-run show for the Year of the Rooster will feature 150 looks from 17 design teams that incorporate materials like zip ties, sheet metal and mood-sensing Intel chips. It will also showcase a line by New York-based streetwear brand Ronin Division. For the first time, the show will also include designs from CMU alumni. Rebecca Addison 8-10:30 p.m. Weigand Gym, CMU campus, Oakland. $20-30. www.lunargala.org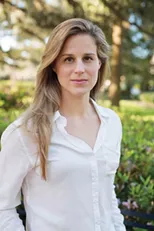 Mon., Feb. 20 – Talk
Lauren Groff's latest novel, Fates & Furies, was named one of the year's best books by The Washington Post, NPR, Time, Slate and more. Described by The New York Times Sunday Book Review as "linguistically pyrotechnic," it earned Groff a place on 2015 National Book Awards shortlist. Her two previous novels, Arcadia and The Monsters of Templeton, were Times bestsellers. Groff's reputation is built on her fragmented, rule-breaking sentences. This should make for a fine talk, especially to any aspiring writers in tonight's crowd at Pittsburgh Arts & Lectures' Ten Evenings series. AN 7:30 p.m. Carnegie Music Hall, 4400 Forbes Ave., Oakland. $15-35. 412-622-8866 or www.pittsburghlectures.org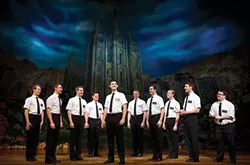 Tue., Feb. 21 – Stage
Hello! The Book of Mormon returns to Pittsburgh on its national tour for eight performances this week, part of the PNC Broadway Series, presented by the Pittsburgh Cultural Trust. The 2011 musical premiered on Broadway and proceeded to win all the awards; inspire some of the priciest resale tickets ever; remain sold-out for months; and turn original cast members Andrew Rannells and Josh Gad into bona-fide celebrities. See it again, or catch it for the first time — just remember, bring a thick skin in case you happen to actually be Mormon (or, probably, if you're religious in any way). AN 7:30 p.m. Continues through Feb. 26. Benedum Center, 237 Seventh St., Downtown. $40-150. 412-456-6666 or www.trustarts.org

Wed., Feb. 22 - Words
Like many of us, artists and arts groups are stepping up their activism. Local literary types have organized The Bridge Series, a new monthly 'do at Brillobox combining readings with fundraising for local organizations fighting the good fight. Tonight's guests are Pittsburgh Post-Gazette columnist and associate editor Tony Norman; Adriana Ramirez, author of forthcoming nonfiction book The Violence; and poet Jan Beatty, whose latest book is Jackknife: New and Selected Poems. Proceeds benefit Be Well! Pittsburgh, which helps consumers, providers and social-service organizations improve health care for the uninsured. BO 8 p.m. 4104 Penn Ave., Bloomfield. $5. www.facebook.com ("the bridge series")
Thu., Feb. 23 – Art
"The job of the artist," says Mark Dion, "is to go against the grain of dominant culture, to challenge perception and convention." In exhibits around the world, the New York City-based Dion has used the device of old-time cabinets of curiosity to examine how our ideologies and our public institutions influence our understanding of the world. Tonight, as part of the Carnegie Museums' Strange Times: Earth in the Age of the Human series, Dion presents Cabinet for the Anthropocene: Mark Dion Unclassified. He's joined at the Carnegie Museum of Art Theater by curator Eric Crosby and Carnegie Museum of Natural History researcher José Padial. BO 7 p.m. 4400 Forbes Ave., Oakland. Free. Registration required at www.cmoa.org.