SPOTLIGHT: Sat., Dec. 19 — Comedy
If you know Kevin McDonald only as a founding member of The Kids in the Hall sketch-comedy troupe, or even from his roles on TV shows including That '70s Show, his debut Pittsburgh appearance will throw a couple curves. One, he'll do standup, which he first attempted only a few years ago, while looking to keep busy in his new home in Winnipeg, Manitoba. It's a sketch-comedy kind of standup, partly done in character as "a guy doing standup who's having trouble doing standup," McDonald says by phone from Winnipeg. Second curve: McDonald's Dec. 19 "variety show," at Arcade Comedy Theater, will include not only an improv set with Arcade regulars, but also sketches developed with students in his day-long sketch-writing and improv workshop. Having traveled around teaching such classes for a few years, he's learned that the secret is "how easy it is" — pretty much just improv by another name. Recalling that the Kids themselves began as a stage act, in the 1980s, McDonald says that his favorite part of his shows is featuring the creativity he's just nurtured. "Creating something from scratch, and doing it that night in front of a live audience is like the most exciting thing," he says. But you'll still get plenty of McDonald: "I'll be hogging the stage, don't worry!" Bill O'Driscoll 8 p.m. Sat., Dec. 19. 811 Liberty Ave., Downtown. $20. www.arcadecomedytheater.com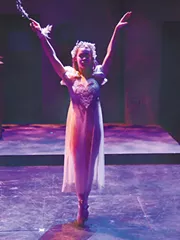 Thu., Dec. 17 — Stage
Here's a locally sourced musical version of A Christmas Carol that dates to 1991. That was the year Ken and Jane Gargaro debuted A Lyrical Christmas Carol, which delivers Dickens' classic story with Christmas carols and the music of Bach, Mozart and more. In this production by Pittsburgh Musical Theater, Jennifer Lybarger directs a cast headed by Brady David Pasty as Scrooge. The four performances at the New Hazlett Theater begin with tonight's. Bill O'Driscoll 7:30 p.m. Continues through Sun., Dec. 20. 6 Allegheny Square East, North Side. $10-20. 412-539-0900, x232 or www.pittsburghmusicals.com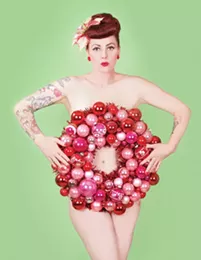 Thu., Dec. 17 — Burlesque
Burlesque dancers, contortionists, hula hoopers, stripping puppets — maybe it's a new holiday tradition. Or so hopes the Tease-a-gogo Christmas tour. This package of burlesque and circus-style variety acts is branching out from its home base in Lansing, Mich., for a regional swing. The show features go-go Amy, from The Pretty Things Peepshow, The Vivacious Miss Audacious, Lil Miss Firefly, puppetmaster Matt Scott of Rasputin's Marionettes, local guest Kat De Lac and your host, Naughty Audie. The tour stops tonight at The Smiling Moose. BO 10 p.m. 1306 E. Carson St., South Side. $10. www.smilingmoose.com
Fri., Dec. 18 — Architecture
The city Office of Public Art's series of monthly walking tours continues with North Side Walking Tour: Stained Glass. The hour-long guided walk focuses on two landmark churches — Calvary United Methodist Church and Emmanuel Episcopal Church — in historic Allegheny West, with work by famed architect H.H. Richardson and windows by Louis Comfort Tiffany. The tour starts at Calvary and includes commentary by the Rev. Larry Homitsky, conservator Kirk Weaver and Father Don Youse. BO Noon-1 p.m. 971 Beech Ave., North Side. $8-10. 412-391-2060, x237 or www.pittsburghartscouncil.org
Fri., Dec. 18 — Dance
Moriah Ella Mason's "sex werque" explores "the aesthetics and emotions of erotic dance." In "El Eswitch," Laura Stokes uses both Latin and modern-dance vocabularies to examine cultural identity. Experimental musician Brian Hecht and interdisciplinary artist Ceci Ebitz offer a multi-sensorial collaborative exchange involving "physical translations of a castor-oil hair mask." And Darcy Shaffner performs "a riotous Dada experiment with flagrant disregard of the fourth wall." It's all in a night's work for Assorted Dances, a program of new experimental pieces, with two showings tonight at Bunker Projects. Seating is limited; a chocolate reception follows each show. BO 6 and 8 p.m. 5106 Penn Ave., Bloomfield. $7.50-10. www.bunkerprojects.org
Fri., Dec. 18 — Comedy
Everyone knows that everything's funnier when you're drunk. (Well, except for Donald Trump, who's not funny when you're sober, either.) But tonight's late show at Club Café, the latest in the Race to the Coffin Comedy series, is called Comedy Roulette: Drunk Comedy Holiday Edition. Presumably, that means that it's the comics, rather than the audience, who'll be tipsy. But you're about to find out, with John Dick Winters hosting a line-up including Alex Stypula, Matt Light, James J. Hamilton and Ray Zawodni. BO 10:30 p.m. 56 12th St., South Side. $5 (21 and over). 866-468-3401 or www.clubcafelive.com
Sat., Dec. 19 — Music
It's the second and final weekend for holiday tunes done big by the Pittsburgh Symphony Orchestra and friends. At the Highmark Holiday Pops, hear everything from Handel's "Hallelujah Chorus," by the Mendelssohn Choir of Pittsburgh, and selections from The Nutcracker, to Donny Hathaway's "This Christmas," sung by Pittsburgh native and The Voice finalist Chris Jamison. Other guests on the program of carols, holiday faves and seasonal orchestral pieces include Christopher Sanders, and The Three Rivers Ringers handbell choir. BO 2:30 and 8 p.m. Also 2:30 p.m. Sun., Dec. 20. 600 Penn Ave., Downtown. $24-99. 412-392-4900 or www.pittsburghsymphony.org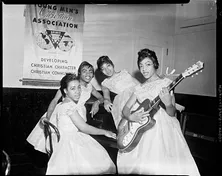 Sat., Dec. 19 — Art
The brand-new Ace Hotel Pittsburgh hosts the opening of East Liberty in Focus: The Photographs of Teenie Harris. The exhibition spotlighting work by the legendary Pittsburgh Courier photographer is a partnership with the Carnegie Museum of Art, which holds Harris' archive — a chronicle of African-American life at mid-century that's likely unmatched in scope. The show is doubly apt because the international boutique-hotel chain has re-animated the old East Liberty YMCA, where Harris shot some of the photos to be exhibited, including "The Davenport Sisters band posed in YMCA, 1962" (pictured). Tonight's reception features presentations by the Carnegie's Teenie Harris Archive specialist, Charlene Foggie-Barnett, poet Tameka Cage Conley and historian and author John M. Brewer, with music from Idasa Tariq, Jacquea Mae and DJ Soy Sos. BO 7 p.m. 120 S. Whitfield Ave., East Liberty. Free. www.acehotel.com
Sun., Dec. 20 — Food
How about some live acoustic tunes with your eggnog French toast? Just for today, Hambones yules up its weekly acoustic brunch as the Hambones Holiday Miracle on 42nd Street Acoustic Brunch Special. Performances by 15 or more local musicians — including Adam Levine, Amy Mmhmm, Sarah Halter and Jeremy Caywood — accompany a special holiday menu no less tasty, also including an herbivore omelet (with cranberrries, carrots, caramelized onion, rosemary and brie) and chicken and waffles with rosemary-sage turkey gravy. Menu items are the standard price; bring a nonperishable food item or two to donate to the Greater Pittsburgh Food Bank. BO 10 a.m.-3 p.m. 4207 Butler St., Lawrenceville. 412-681-4318 or www.hambonespittsburgh.com
Sun., Dec. 20 — Art
Fresh off an artist residency in Providence, R.I., and now doing a year-long residency at the Carnegie Mellon School of Art, D.S. Kinsell opens a solo show at Fieldwork Contemporary Gallery. A Place in Mind includes both new paintings — landscapes that Kinsell calls "galactic portals" — and photo-collage screenprints curated by Janera Solomon. Kinsell is also the co-founder of nearby BOOM Concepts artspace. Today's reception is free. BO 2-5 p.m. 4925 Penn Ave., Garfield. RSVP to info@fieldworkgallery.com.
Tue., Dec. 22 — Outdoors
Between the super-moon eclipse and the usual season meteor showers, it's been a pretty good year, astronomically speaking. Then there's tonight: the longest night of the year, and time for Venture Outdoors' Winter Solstice Stroll. With any luck, this moderately paced four-mile hike through the woods of Hartwood Acres will provide some good stargazing of its own, along with the sounds of nocturnal forest-dwellers. It's also the final Venture Outdoors event of the calendar year. BO 6:30-8:30 p.m. 200 Hartwood Acres, Allison Park. $10. Register at www.ventureoutdoors.org.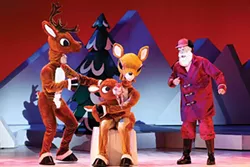 Tue., Dec. 22 — Stage
Given that it's arguably the most popular TV Christmas special ever, it's no surprise that 1964's stop-action-animated Rudolph The Red-Nose Reindeer has come to the stage. Rudolph The Red-Nosed Reindeer: The Musical, directed and conceived by Jeff Frank and Milwaukee's First Stage, debuted in 2013, a reproduction of that Rankin-Bass show complete with Rudolph, Hermey the Elf and Yukon Cornelius, and faithful down to the costumes and songs ("Have a Holly Jolly Christmas," et al.). Its 47-city North American tour comes to Heinz Hall courtesy of PNC Broadway in Pittsburgh and the Pittsburgh Cultural Trust. Who could deny its charms? Certainly no one who's ever said, "Misfit Toys — c'est moi." The eight family-friendly performances (including four matinees) begin tonight. BO 7 p.m. Continues through Dec. 27. 600 Penn Ave., Downtown. $26-62. 412-392-4900 or www.trustarts.org.