FREE EVENT: Thu., Dec. 29 - Comedy
Terry Jones had a confusing childhood. Not confusing for him; others just weren't sure what to make of a black comic-book nerd who liked hip hop.
"I lived in the suburb of Penn Hills, but because my parents worked, I went to school in Garfield so I could go to my grandmother's after school," Jones tells City Paper. "So in the suburbs I'd hear racial slurs because I was black, but in the hood I'd get bullied because I wasn't black enough. …
"One time I was playing the Star Wars Trilogy on my Game Gear and black people would make fun of me and yell shit like, 'Black people don't like Star Wars!' Then, once, a white friend had some Brett Hull hockey cards, and I loved hockey and he was like, 'You don't know who Brett Hull is, you guys like basketball.' So I kind of floated between both worlds, in limbo."
Jones' new comedy record, Limbo Negro, was recorded at the Pittsburgh Improv, in August. The Duquense University grad riffs, for instance, on that school's lack of racial diversity. He imagines himself as the last raisin in a bowl of Raisin Bran: "Hopefully I'll run into another raisin; nope, more milk."
While a video download offered a deluxe version of Limbo Negro, Jones envisioned a classic comedy album like the ones he grew up on. Living incompletely in two worlds had Jones feeling what he now knows was depression. However, a Bill Cosby album "changed my life."
"My three favorite comedians were Richard Pryor, Eddie Murphy and Bill Hicks," he says. "There was something about listening to those records and visualiz[ing] the guy on stage. It's a difficult art to paint a picture with words and that's what I'm trying to do here."
For its online release, the video version of Limbo Negro will be streamed for free 7 p.m.-midnight Thu., Dec. 29, at www.epicastnetwork.com. At midnight, the album and its audio/video version go on sale on Itunes, Amazon, Bandcamp, GooglePlay, Spotify and Tidal. www.TeamTerry.Tv

— Story by Charlie Deitch

Thu., Dec. 29 – Party
The Children's Museum of Pittsburgh is providing multiple options for marking the final few days of 2017. Today, from 1-2 p.m., sample New Year's foods from all over the world, with Fresh Picks: New Year's Traditions. Tomorrow, at 11 a.m. and 1 p.m., enjoy short sets by the Ishtar Band, which interprets traditional Middle Eastern and Mediterranean music (and employs a belly-dancer). And at 11:30 a.m. Sat., Dec. 31, experience Pittsburgh's earliest New Year's party: Countdown to Noon! The bedtime-friendly shindig lets you craft party blowers and party hats, and at noon features live music by Lee Robinson's jazz quartet. Bill O'Driscoll 10 Children's Way, North Side. Free with museum admission ($14-16; free for kids under 2). www.pittsburghkids.org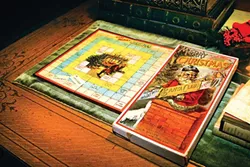 Fri., Dec. 30 – Exhibit
Christmas didn't start to get commercialized until the mid-1800s, and even by 1900, the Yuletide industry was just coming into its own. Perhaps Pittsburgh's best-preserved material record of this time is Clayton, home of tycoon Henry Clay Frick and family, and part of The Frick Pittsburgh. Through Jan. 8, the entire site in North Point Breeze (including the Frick Art Museum and café) continues its annual Holidays at the Frick programming, with expanded Friday hours until 9 p.m., plus strolling carolers, a holiday bar and more. At the museum, sample the exhibit The Frick Collects: From Rubens to Monet. A tour of Clayton, meanwhile, features a display of archival photographs and documents revealing how one notably affluent family marked the holiday. This year's exhibit focuses on Victorian toys and the period's evolving gift-giving traditions. (Reservations are strongly recommended for the tour.) BO 10 a.m.-9 p.m. 7227 Reynolds St., North Point Breeze. $6-12. 412-371-0600 or www.thefrickpittsburgh.org

Fri., Dec. 30 – Party
Down N Derby doesn't stop for New Year's Eve Eve. In fact, the monthly roller-skating disco party at Belvedere's Ultra-Dive has actually been rescheduled from its usual Saturday slot this weekend to accommodate twice the revelry. The tunes at this 21-and-over event are spun by JX4 and Eyejay. Down N Derby will even rent you roller-skates. BO 9 a.m.-2 p.m. 4016 Butler St., Lawrenceville. $5-7 (skate rental is extra). RSVP by 7 p.m. today at www.downandderby.org.
Sat., Dec. 31 – Party
If the Children's Museum's Countdown to Noon! is too early for you to celebrate tonight, and midnight is too late, try the New Year's Eve Family Celebration at Phipps Conservatory. Phipps staff and volunteers will lead a program of games and activities for guests of all ages. But if it's neither the earliest party nor the latest — the countdown is at 8:45 p.m. — it's surely the one with the most green leaves and flowering plants around. BO 6-9 p.m. 1 Schenley Drive, Oakland. Free with regular admission ($11.95-17.95; free for kids under 2). 412-622-6914 or www.phipps.conservatory.org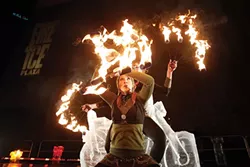 Sat., Dec. 31 – Festival
Dividing time into discrete years is a pretty arbitrary practice, especially in a culture where the seasons barely affect people's activities. But it does mean a good party every now and then. And on New Year's Eve for the past 22 years, there's been no bigger party here than Highmark First Night Pittsburgh. The Pittsburgh Cultural Trust's annual family-friendly, alcohol-free one-night festival takes over 14 Downtown blocks with more than 100 indoor and outdoor events, performances and activities, from live music, dance and comedy to visual art and dance lessons. It's all for the price of a $10 First Night button (free for kids under 5), though some seated events require free vouchers, obtainable in advance.

The most seasonally apt First Night attraction might be the annual combination of fire and ice: ice-sculptors Ice Creations juxtaposed with fire-dance troupe Steel Town Fire (pictured). This year, the two team up on a fire-breathing dragon that's sure to draw crowds. At 8 p.m., visitors will line Penn Avenue for the annual FedEx Ground Parade (think fire trucks, marching bands, giant puppets). A sample of what's elsewhere: at the Byham Theater, three shows by touring magician David Lawrence; at the August Wilson Center, a silent disco with DJ Hatesyou, DJ Inception and DJ Jesley Snipes; and art shows at venues including Wood Street Galleries and SPACE. Most of the vouchered comedy shows are long sold out, but you can still check out dance performances by Unsuk Bellydance, Pittsburgh Ballet Theatre School and Reed Dance II; outdoor soul line-dancing sessions; and ballroom, swing and Latin rhythm dance classes from Arthur Murray. Or visit with best-selling children's author Jonathan Auxier; try hands-on crafting; and stop by the hot-chocolate bar.
Perhaps most ubiquitously at the 23rd annual First Night, there's live music, from bagpipes to jazz. Some of the featured acts include Jim Donovan & Sun King Warriors, with three vouchered shows at the Byham Theater; Johnny Angel and the Halos, with two vouchered sets at the Benedum Center; touring roots-rock duo ViRAGO; local pop-rock stalwarts Meeting of Important People; and Dr. Herbert Jones and the Heritage Gospel Chorale of Pittsburgh. The headliner is nationally acclaimed soul act the Nigel Hall Band, who'll take the Highmark Stage at 10:45 and play till after the fireworks at midnight.
First Night buttons are available at the Box Office at Theater Square and participating Giant Eagles (where there's a $1 discount with an Advantage Card).
BO 6 p.m.-midnight. Downtown. $10 (free for kids under 5). www.firstnightpgh.trustarts.org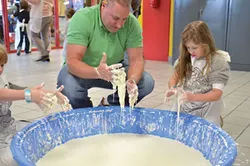 Mon., Jan. 2 – Festival
Among local New Year's traditions (at least the ones that happen after New Year's Eve), none are slimier, or gooier, than MessFest. The 10th incarnation of this Carnegie Science Center attraction — moved from Jan. 1 this year because of Sunday's Steelers game — is all about getting your hands on stuff you won't necessarily be able to hold on to, including the ever-amorphrous Oobleck. Try your engineering skills at keeping raw eggs from a sticky end on the Egg Zipline; try finger-painting; compete in a pudding "pi"-eating contest; and see explosions and other messy demos in the Center's three theaters. BO 10 a.m.-5 p.m. 1 Allegheny Ave., North Side. Free with museum admission ($11.95-19.95). 412-237-3400 or www.carnegiesciencecenter.org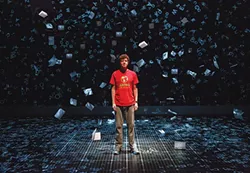 Tue., Jan. 3 – Stage
Simon Stephens' 2012 play The Curious Incident of the Dog in the Night-Time was a U.K. smash that also wowed critics and audiences stateside. For starters, it won five 2015 Tony Awards, including Best Play. The show, based on Mark Haddon's best-selling novel, concerns 15-year-old Christopher, a boy of high intelligence who has trouble processing everyday life (i.e., he's likely somewhere on the autism spectrum). When he's suspected of killing his neighbor's dog, he sets out to find the real killer. England's National Theatre brings its North American tour of the show, courtesy of PNC Broadway in Pittsburgh, for eight performances at Heinz Hall starting tonight. The production is known for its multimedia staging; its director is Marianne Elliot, who also directed the memorable War Horse. BO 7:30 p.m. Continues through Jan. 8. 600 Penn Ave., Downtown. $26-77. 412-456-6666 or www.trustarts.org