FREE EVENT: Fri., Dec. 23 – Art
With their overarching theme of spiritual resistance, the radical works of artist and Holocaust survivor Lazar Ran are on display at the Holocaust Center of Pittsburgh.
The gallery, located in Greenfield, also features work by Evgeny Tichanovich and Nikolay Duchic, two artists who like Ran attended the Vitebsk Fine Arts School in Belarus, founded by Mark Chagall in 1918. The Art of Lazar Ran is the largest exhibition of Ran's work in the U.S. to date.
Ran, born in Latvia in 1909, was in Moscow when Nazis took over Belarus and was unable to return to his wife and children in Minsk until 1944. By then, he discovered, his family had been killed. For the next several decades, while working as an official government artist, he secretly created art like etchings and lithographs illustrating Holocaust themes.
Ran's Great Thinkers series portrays the gravestones of Jewish artists and writers killed during the Stalinist purges from 1936 to 1938, as well as Jewish anti-fascist poets also killed in Moscow in 1952.
"For Lazar Ran to produce this work which has Yiddish characters in it — and has the faces of writers who were killed by Stalin — really was a subversive act and he endangered his life by doing it," said Holocaust Center director Lauren Bairnsfather.
The Holocaust Center of Pittsburgh, which was created in 1980, opened its new space in October 2015. Its first exhibit, The Celebration of Life, consisted of photographic portraits of and interviews with Holocaust survivors in Pittsburgh. The Center hopes to put on four exhibits annually, with a larger one every fall. The Art of Lazar Ran opened Dec. 12.
"This is the first time that we've had a gallery. What we want to do with our space is an ongoing conversation," says Bairnsfather. "I would like to do as much as we can with art and the Holocaust."
The Holocaust Center is open 10 a.m.-2 p.m. Mondays, Wednesdays and Fridays. Admission is free, but donations are welcome.

- Ian Flanagan
THE ART OF LAZAR RAN continues through Jan. 31. 826 Hazelwood Ave., Greenfield. 412-421-1500 or www.holocaustcenterpgh.org/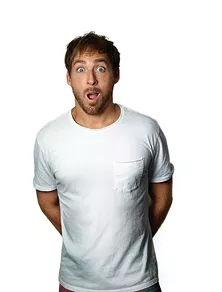 Thu., Dec. 22 – Comedy
"I had a girl cry after sex," recalls Eddie Ifft. "Not tears of joy … and that's not good. And then she goes, 'I have something to tell you.' That's never good after sex. That's never followed by, 'I had the best score on Candy Crush ever!'" Ifft, who graduated from Fox Chapel Area High School and Pitt, has a busy career as an internationally touring comic (he's especially big in Australia) with all kinds of TV appearances to his credit, including a Comedy Central special. Ifft, who's based in Los Angeles, returns for his annual Pittsburgh visit, with three shows at the Pittsburgh Improv, starting tonight. Bill O'Driscoll 8 p.m. Also 7:30 and 9:45 p.m. Fri., Dec. 23 ($17-20). 166 E. Bridge St., The Waterfront, West Homestead. 412-462-5233 or www.improv.pittsburgh.org

Thu., Dec. 22 – Comedy
The Pittsburgh Improv Jam offers a chance for audience suggestions to spark the creativity of experienced improvisers. Taking place at the Cabaret at Theater Square, the weekly show begins with suggestions in the form of a single word before the pros separate into teams. Then all the performers come to the stage for The Steel City Set. Presented by the Pittsburgh Cultural Trust, Improv Jams are 21-and-over shows right next to the Backstage Bar, which offers a casual-food menu. Ian Flanagan 10 p.m. 655 Penn Ave., Downtown. $3 (cash only). 412-325-6769 or www.trustarts.org

Fri., Dec. 23 - Comedy
The iconic A Christmas Story is a holiday classic, one that's earned its spot in the rotation of must-watch Christmas films every year. Tonight, The Roast of Ralphie From A Christmas Story brings together some of the best local comics and improvisers to play some of these beloved movie characters. Jeff Konkle will star as Ralphie; the roast also includes Aaron Kleiber, John Dick Winters, Susanne Lawrence, Alex Stypula, Shannon Norman and more. It all starts tonight at Arcade Comedy Theater. Stick around afterward for the comedy game show Stand-Up Get Down at 10 p.m. hosted by Kleiber and Jason Clark. IF 8 p.m. 811 Liberty Ave., Downtown. $10. 412-339-0608 or www.arcadecomedytheater.com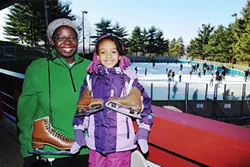 Sat., Dec. 24 – Outdoors
Now that you can make ice outside (without trying), we'd say ice-skating season is truly here — even on Christmas Eve. For many folks, the most accessible option is Downtown's Massmutual Pittsburgh Ice Rink at PPG Place; it's got that big tree in the middle, and it's currently open daily from 11 a.m.-10 p.m., and till midnight on Fridays and Saturday — but also until midnight tonight, and even 11 a.m.-10 p.m. on Christmas day. Among the area's big public rinks, Schenley Ice Rink is open daily, with family nights, adults-only night, and college-ID discounts sessions; it has evening hours most weekdays and all day on weekends, and today, Schenley is open from 1:30-11:30 p.m. The rinks at North Park and South Park are both open today from noon-5 p.m.; regular hours run Tuesdays through Sundays, and until 10 p.m. on Fridays and Saturdays. And all four of the aforementioned rinks offer lessons, too, for a fee. BO PPG Place: $7-8, $4 skate rental (412-394-3641 or www.ppgplace.com). Schenley: Schenley Park, Oakland; $3-5, $3 rental (412-422-6523 or www.pittsburghpa.gov/citiparks). North Park (McCandless Township; 724-935-1280) and South Park (South Park Township; 412-833-1499): $3-5, $2-3 rental; www.county.allegheny.pa.us/parks

Sun., Dec. 25 – Art
How to be good? Photographers Brian Cohen, Scott Goldsmith and Lynn Johnson try to show us with photographs, respectively, of Randy Gilson, Bill Strickland and Vanessa German. Artist and gardener Gilson created North Side landmark Randyland; ceramicist, educator and entrepreneur Strickland (whose hands are pictured here) founded the world-famous Manchester Craftsmen's Guild; and artist and performer German runs Homewood's ARThouse for kids. The Being Good exhibit is at the American Jewish Museum of the JCC of Pittsburgh, which is open today; the show closes Mon., Dec. 26. BO 8 a.m.-6 p.m. 5738 Forbes Ave., Squirrel Hill. Free. www.jccpgh.org

Mon., Dec. 26 – Sport
If it's Boxing Day (and it is), it must be the start of the Harlem Globetrotters' world tour, right here in Pittsburgh. While the year in which the talented squad of basketball clowns and tricksters began is well known (1925), we've lost track of how many years the team has visited Pittsburgh on Dec. 26. (It's a lot.) The Globetrotters are fresh off setting nine Guinness World Records for things like longest basketball hook shot (Big Easy Lofton, 72 feet, 6¼ inches), longest shot blindfolded (Ant Atkinson, 73 feet, 10inches) and farthest shot under one leg (Thunder Law, 52 feet 5½ inches). Those records were broken in San Antonio; today's stop at PPG Paints Arena finds the Globetrotters taking on those ever-hopeful Washington Generals in family-friendly matinee and evening shows. BO 2 and 7 p.m. 1001 Fifth Ave., Uptown. $22.50-134.50. www.harlemglobetrotters.com

Tue., Dec. 27 – Music
Benny Benack III lives in New York, N.Y., and he's played with groups including the Christian McBride Big Band and the Mingus Big Band. But Benack still counts Pittsburgh as home. Tonight, taking a break from making the rounds of New York clubs from The Django to Birdland and The Blue Note, the internationally touring singer and trumpeter returns to the town where he grew up. He and his band hit Backstage Bar for a program titled Benny Benack III: The Holiday Session. The free show — call it either a cool-down from Christmas or a warm-up for New Year's — is part of the JazzLive series, presented by BNY Mellon Jazz and the Pittsburgh Cultural Trust. BO 5-8 p.m. 655 Penn Ave., Downtown. Free. 412-456-6666 or www.trustarts.org

Wed., Dec. 28 – Screen
A little-seen classic film of all-too-perennial relevance gets a couple of screenings courtesy of Row House Cinema's Staff Picks series. The Battle of Algiers is Italian filmmaker Gillo Pontecorvo's stunning 1965 docudrama about Algeria's uprising against French rule in the 1950s. Shot on location in black and white using mostly nonprofessional actors and lots of hand-held camera, the film depicts guerillas, colonial soldiers and civilians both native and foreign with clinical detail, empathetic detachment and political insight. (The script treatment was written by a former rebel leader, who also co-stars.) The film, in French and Arab with subtitles, screens tonight; also Dec. 30-31, Jan. 1, and Jan. 3-4. BO 7 p.m. 4115 Butler St., Lawrenceville. $8-9. 412-904-3225 or
www.rowhousecinema.com
Thu., Dec. 29 - Cirque
With 30 performers from a dozen countries, 300 costumes and 20 acts — some of which have been featured on America's Got Talent — Cirque Dreams Holidaze lights up the Benedum Center for three performances starting tonight. Broadway director and producer Neil Goldberg created this critically acclaimed cirque production, Broadway musical, holiday spectacular and family show all in one. Holidaze employs ornate stage settings, enormous props, gravity-defying acrobatics and energetic production numbers. Cirque Dreams is in its eighth year of multiple simultaneous touring productions. IF 8 p.m. Also 2 and 8 p.m. Fri., Dec. 30. 237 Seventh St., Downtown. $40.25-60.25. 412-456-6666 or trustarts.org