SPOTLIGHT: Thu., Aug., 13 — Dance
If the New Hazlett Theater's Community Supported Art program lets subscribers sample new artists and works, it also gives artists a chance to branch out. For instance, the CSA launches its third season with The Reduction, a dance work by David Bernabo, until recently known primarily for his work as a musician and visual artist with groups including Host Skull. Inspired by pioneering choreographer Merce Cunningham and local dance talents like Gia Cacalano (with whom he's been working since 2007) and Maree ReMalia, Bernabo set his own lanky frame in motion in 2013. While he has no formal dance training, he's drawn attention for his early work, which might often be better described as expressive movement, or even performance art, than traditional dance. A series of structured, partly improvised works followed. Bernabo says that Reduction explores "what is real, what is on stage, and how what happens on the stage reflects real life." The hour-long work in three acts features live music by upright bassist Darin Gray (an old friend who's performed with Jeff Tweedy, of Wilco) and incorporates a narrator, four other movers/dancers and two on-stage cameramen. Both subscribers and individual ticket-buyers are welcome. The six-installment CSA season continues with singer and musician Matthew Tembo (Oct. 15) and dancer and choreographer Anthony Williams (Dec. 10), and more in 2016. Bill O'Driscoll 8 p.m. Thu., Aug. 13. 6 Allegheny Square East, North Side. $20. www.newhazletttheater.org
Thu., Aug. 6 — Comedy
Comedian Rodman, or Rod Thompson, delivers biting observations on daily life, race, relationships and the like with a laid-back Southern charm that will have you laughing even if you're the target. He's performed in clubs across the U.S. and appeared on television shows such as Def Comedy Jam and Showtime at the Apollo. Rodman opens a five-show run over weekend tonight at the Pittsburgh Improv. The event is 21-and-over with a two-item minimum. Joseph Peiser 7:30 p.m. Through Sun., Aug. 9. 166 E. Bridge St., Homestead. $25. 412-462-5233 or pittsburghimprov.com


Fri., Aug. 7 — Art
Tonight's Unblurred gallery crawl, on Penn Avenue, includes the start of a new series at BOOM Concepts. August Agenda finds Pittsburgh-based Jenesis Magazine further branching out from its usual music focus into art and fashion. Tonight, the online publication hosts an exhibition by New York-based photographer Courtney Jefferson. On Sat., Aug. 8, there's live painting and an art installation by rising local art star Baron Batch, of Studio A.M. On Aug. 14 and 15, look for a pop-up clothing exhibit by local designer Makayla Wray. Bill O'Driscoll 7-11 p.m. Batch exhibit: 2-5 p.m. Sat., Aug. 8. 5139 Penn Ave., Garfield. www.facebook.com/boomconcepts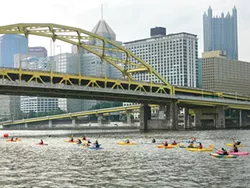 Fri., Aug. 7 — Sport
Doing a triathlon can take months of training even if you're at peak physical fitness; attending a triathlon simply requires getting out of bed. This year's Pittsburgh Triathlon, sponsored by First National Bank, will see more than 2,000 entrants from across the U.S. converge here for two days of competition. This year, the triathlon also has a slew of activities in Point State Park for those not pushing their bodies to the brink, including yoga lessons, a fitness class and vendor exhibits. The expo starts today, the race tomorrow. JP Fri., Aug. 7, through Sun., Aug. 9. Downtown. Free. 412-488-7716 or www.friendsoftheriverfront.org/triathlon

Sat., Aug. 8 — Festival
The arts and technology come together in the maker movement. Today is the third annual Pittsburgh Maker Party, meant to help tweens, teens and families get back-to-school ready. The free, two-hour festival in Arsenal Park features hands-on "making stations"; robots; games; projects you can take home or complete virtually; a backpack giveaway; free food and music and more (including a bounce house). This Back to School Bash is sponsored by Lawrenceville's Encounter Church, The Sprout Fund and Pittsburgh City of Learning. BO 11 a.m.-1 p.m. 39th and Butler streets, Lawrenceville. Free. RSVP at www.facebook.com (search "Pittsburgh Maker Party").


Sat., Aug. 8 — Art
Some artists might want more time to prepare a show. But this year, Richard Claraval decided speed was of the essence. Harking to an undergraduate printmaking class in the 1970s — when the need to produce a lot in a hurry fired his imagination — Claraval challenged himself to produce a drawing a week from February through July. Claraval, whose honors include a juror's award at the Associated Artists of Pittsbugh's 2010 Annual Exhibition, unveils the results tonight at Spinning Plate Gallery, at the opening reception for a show he calls FAST. BO 7-10 p.m. Exhibit continues through Aug. 29. 5720 Friendship Ave., Friendship. www.richardclaraval.com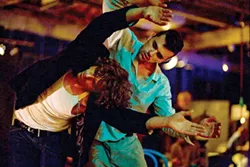 Sat., Aug. 8 — Dance
You never know exactly what you'll find at The Pillow's Project's monthly Second Saturdays — and that's just the draw. The long-running multimedia dance troupe's founder, Pearlann Porter, calls Second Saturdays a "jazz-happening series"; it incorporates improvisational performances, live multimedia experiments and more. Dance, music and visual art are all on the boho-flavored a la carte menu at the loft-style The Space Upstairs, and you can drop in any time through midnight. BO 8 p.m.-midnight. 214 N. Lexington St., Point Breeze. Suggested donation: $10. www.pillowproject.org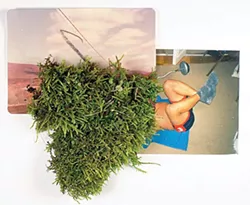 Sat., Aug. 8 — Art
Local artist Stephen Grebinski's work has taken him from the suburbs of the Midwest to the Balkan Mountains, and from abandoned houses in Appalachia to dusty Pittsburgh streets. In his photography, he uses appropriated imagery and juxtaposition to create a dialogue with what is hidden beneath. His first major solo Pittsburgh show, If One Won't Another One Will, opens tonight with a special reception at Braddock's UnSmoke Systems Artspace. JP 6-9 p.m. 1137 Braddock Ave., Braddock. Free. 415-518-9921 or unsmokeartspace.com

Sat., Aug. 8 — Art
Tonight for one night only, the Spirit Lounge in Lawrenceville will be transformed by the local art collective The Locomotive Explosive, who curate a monthly site-specific art installation. This month's art will feature the Stalag-Lights, which appear just as they sound and will turn the space into an illuminated underground cave. The night will also feature live DJing from local techno artist Jwan Allen and Locomotive Explosive member Tom Brown. JP 10 p.m. 242 51st St., Lawrenceville. Free (21 and over). 412-586-4441 or www.spiritpgh.com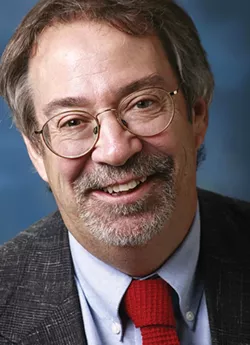 Wed., Aug. 12 — Fashion
Style Week Pittsburgh returns for its third year. Five days of events begin this evening with Cut & Sewn, a runway show at the Kelly-Strayhorn Theater featuring local designers like Diana Misetic and Jazmin Jackson, and international talent like Jamaica's Toya Taylor. On Thu., Aug. 13, come the Style Awards, at Perlé, followed on Friday by Pinstripes & Pearls, a business-professional fashion show at East Liberty's LUXE. Saturday afternoon brings an afternoon Pop-Up Marketplace at Market Square, and Saturday's Brunch En Blanc hat-fashion show is at Fieldwork art gallery, in Garfield. BO Cut & Sewn: 6-10 p.m. (5941 Penn Ave., East Liberty; $25-50). Admission prices vary. www.styleweekpittsburgh.com


Wed., Aug. 12 — Music

If you're looking for a casual (and free) new way to see one of Pittsburgh's jazz legends perform this summer, City of Asylum/Pittsburgh has several more opportunities for you. Jazz Wednesdays features Roger Humphries and RH Factor weekly through Sept. 16 in the group's Alphabet City Tent. For these concerts, the tent will be set up like a club, and it's BYOB. BO 7-9 p.m. Series continues through Sept. 16. 318 Sampsonia Way, North Side. Free. Reservations recommended at 412-323-0278 or ksimpson@cityofasylum.org.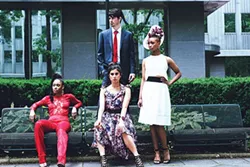 Thu., Aug. 13 — Words
The gruesome 1979 murder of 23-year-old Catherine Janet Walsh, in Monaca, seemed at risk of going unsolved, her murderer forever going free, until new DNA evidence emerged that pointed police in the right direction. Now, author Steve Hallock has documented the full timeline of the case in his new true-crime book, Justice Delayed. Hallock, who is graduate director at the Point Park University School of Communications, speaks on the case and signs copies of the book tonight at Mystery Lovers Bookshop. JP 6:30 p.m. 514 Allegheny River Blvd., Oakmont. Free. 412-828-4877 or www.mysterylovers.com.