SPOTLIGHT: Thu., Aug. 25 — Comedy

English has many words for laughter: chuckles, giggles, chortles, guffaws, snickers. You'll need all of them for Pittsburgh Comedy Festival 2016. Hosted by Comedy Arts Pittsburgh, the four-day festival features 34 comedy acts and eight workshops to strengthen your funny bone.
The third annual festival's headliners at the University of Pittsburgh's Henry Heymann Theater are standup comedian Quincy Jones (pictured) and long-form improv duo Sheldon (with Rob Belushi, and Second City member Tim Stoltenberg subbing for Jon Barinholtz). Jones recently had an HBO special, Burning the Light, and Sheldon has headlined improv festivals nationally. The festival also includes other touring comics and locally based acts including Molly Sharrow, Alex Stypula, John Dick Winters and Ed Bailey.
The festival is also working to increase accessibility regardless of age or income. Saturday's program includes a Kids Comedy Cabaret for children and kids at heart, and a workshop featuring family-friendly improv games accessible to people with special needs. Three of this year's workshops are pay-what-you-can. "Being able to lower the barrier — to take the workshop, to see more of the shows — was really important to us, being able to open the door to more folks who might not even take that first step and see what comedy is about," says the festival's community-programming director Brian Gray.
Many changes stem from the festival's new community committee. "Having the festival on a college campus at probably one of the busiest times of the year, which is move-in weekend, creates a sense of excitement and jogs people into a state that, for over three days, [they] can meet a lot of people that they wouldn't ordinarily," says the festival's Mary C. Parker.
For comedy newcomers, the pay-what-you-can workshops include a Pittsburgh Improv Crash Course where members of three local improv troupes provide their own unique takes on comedy and coaching as you join in the performance. Tyler Dague Thu., Aug. 25-Sun., Aug. 28. 4301 Forbes Ave., Oakland. $10-20 per show (ticket bundles available). www.pittsburghcomedyfestival.org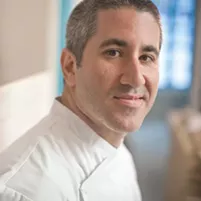 Thu., Aug. 25 – Festival
The Three Day Blow Writers Festival, a conference for food and drink writers, blows into Pittsburgh. The festival (named for a Hemingway story) features all kinds of foodie events around town, including some individually ticketed talks open to the public. Sadly, tonight's drinks keynote by Esquire cocktails expert Dave Wondrich is sold out. But tomorrow's food keynote features Philadelphia-based chef and restaurateur Michael Solomonov (who grew up in Pittsburgh and is pictured here), and Saturday's talk is by chef, educator and author Bryant Terry, a San Francisco-based advocate for a just, healthy and sustainable food system. Each talk costs $12.50 and takes place at the August Wilson Center. Bill O'Driscoll Tickets and passes: $30-275. Various venues. www.thethreedayblow.com

Fri., Aug. 26 – Outdoors
BikeFest 2016 wraps on Sunday with PedalPGH, the venerable event that lets you do one of three marked rides of different lengths through town, concluding with the Finish Line Festival. But till then, your other BikeFest options include today's Riverfront Bike Tour highlighting public art. The two-hour ride, hosted by the city's Office of Public Art, starts near the Carnegie Science Center — at R.M. Fisher's landmark Langley Observatory Clock sculpture — and winds through Downtown and the South Side, stopping at everything from Larry Kirkland's new World War II Memorial to the Industrial Arts Co-op's "The Workers." BO 6 p.m. North Side, Downtown and South Side. $10 donation requested. 412-391-2060, x237, or www.publicartpittsburgh.org
Fri., Aug. 26 – Art
Neu Kirche Contemporary Art Center keeps making waves, and tonight might be its biggest evening yet. The Center marks just how far it's come with In the Making, an evening of art openings that activates the whole historic former North Side church and its nearby grounds. In the Main Gallery, the In the Making exhibit spotlights the creative processes of the Center's Fallow Grounds for Sculpture artists, including M. Illuminato (Tripoli Street Bakery), Monique Redmond and Layne Waerea (Northside Civil Encounters) and Amy Masters, whose Roadside Attraction sculpture "Sammitch" (yep, a giant sandwich, pictured) also debuts. In the newly renovated Great Hall is work by digital artist Nathan Lorenzo. And Yinzer House Gallery (Neu Kirche's residency house and hostel) inaugurates its role as a space for local artists with Doll House, outsider artist Thomas Waters' exhibit of photographs, prints and sculpture exploring the world of dolls. BO 6 p.m. (free). 1000 Madison Ave., North Side. www.neukirche.org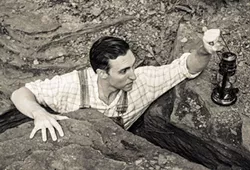 Fri., Aug. 26 – Stage
Long before ambush photography, 24-hour news and TMZ, the original American media circus occurred in a rural Kentucky cave, in 1925. Floyd Collins, the award-winning 1996 musical staged by Front Porch Theatricals at the New Hazlett Theater starting tonight, depicts the true story of Mr. Collins as he explores for a cave to exploit as a tourist attraction. When he becomes trapped 200 feet underground, reporters swarm from across the country, sensing their chance to grip the nation, while a desperate rescue effort forms. Floyd Collins features a score by Tony-winner Adam Guettel (The Light in the Piazza). Tyler Dague 8 pm. Continues through Sun., Sept. 4. 6 Allegheny Square East, North Side. $24-30. 412-320-4610 or www.frontporchpgh.com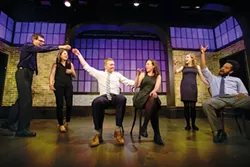 Fri., Aug. 26 – Comedy
American comedy just wouldn't be the same without The Second City. A touring company from the legendary Chicago troupe returns courtesy of Pittsburgh Public Theater for three performances of a new show, Free Speech! (While Supplies Last). Skewering the heightened absurdity of this campaign season, Second City's next generation of talent performs new sketches, songs and improv along with political satire made famous by alumni Tina Fey, Stephen Colbert and Keegan-Michael Key. The first show is tonight. TD 8 p.m. Also 5:30 p.m. and 9 p.m. on Sat., Aug. 27. O'Reilly Theater, 621 Penn Ave., Downtown. $35-60. 412-316-1600 or www.ppt.org
Sat., Aug. 27 – Festival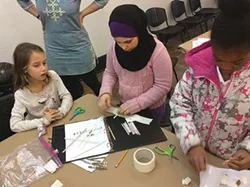 For five years, Assemble, a community space for arts and technology, made do in a storefront that was neither quite large enough nor properly outfitted. In June, the well-regarded nonprofit shut down — but only to prepare for its big re-opening two blocks down Penn Avenue, in a space that's bigger, newer and more accessible to all (central air included). At today's Community Open House, meet Assemble's teachers, learn about its free after-school and Saturday programs, make projects to take home, and even sign up for programs like Assemble Afterschool and Girls Maker Night. BO 1-4 p.m. (free). 4824 Penn Ave., Bloomfield. RSVP at 412-254-4230 or nina@assemblepgh.org.
Sat., Aug. 27 – Art
Two new exhibits have artist receptions tonight at BoxHeart Gallery. Painter and sculptor Thomas Bigatel's show Giving Up the Ghost (and select visual reflections) showcase the local artist's approach to releasing and harnessing difficult emotions and experiences through rushes of color and motion. Meanwhile, Bethlehem, Pa.'s Keith Garubba captures the intersection between art and science in Understanding Drips: A Dr. Armbruster Adventure in Research. Garubba uses the fictional Armbruster as a framework to explore the relationships between the overlapping disciplines though sculpture and screenprinting. TD 5-8 p.m. Exhibits continues through Sept. 30. 4523 Liberty Ave., Bloomfield. Free. 412-687-8858 or www.boxheartgallery.com
Sat., Aug. 27 – Words
"All possible feelings about Jesus," promise organizers of tonight's Free Jesus Poems About Jesus, "will be treated with equal respect and seriousness." Note that the program might include poems about anything from "Jesus loaves and fishes and wine from water" to "Jesus music, Jesuses from space, Jesus burlesque [and] Jesus painting." Yes, the folks who brought you 2014's Free Snake Poems About Snakes and last year's Free Monster Poems About Monsters return — taboos be, um, darned. Abject Pictures, Hyacinth Girl Press and Most Wanted Fine Art host; headliners include Cherri Baum, Rachael Deacon, Art Ettinger and Hyacinth Girl's Margaret Bashaar. There's also a Jesus-poems book-release and an open mic (kind of like the Sermon on the Mount). BO 7-11 p.m. 5015 Penn Ave., Garfield. Free. www.facebook.com (search "free Jesus poems")
Tue., Aug. 30 – Music
Any short list of contemporary Pittsburgh jazz talent would include Dwayne Dolphin. As a veteran of Wynton Marsalis' band who's played with everyone from Maceo Parker to Abby Lincoln and Stanley Turrentine, Dolphin is known nationally, but remains a stalwart of the local scene. Tonight, see Dolphin and friends play live outdoors as part of the BNY Mellon JazzLive series, in Katz Plaza. After today, the Pittsburgh Cultural Trust program has one more show al fresco (the Sept. 6 Roger Humphries Jam Session) before heading indoors for the season. BO 5-7:30 p.m. Penn Avenue at Seventh Street, Downtown. Free. 412-456-6666 or www.trustarts.org
Wed., Aug. 31 - Words
New York-based nonprofit The Moth is devoted to upholding the art of storytelling through live performances, a bestselling book, podcast and public radio's award-winning The Moth Radio Hour. Tonight, Pittsburgh Arts & Lectures sponsors the annual visit of the Moth Mainstage. The aptly named host Katie Tellers will introduce nationally touring Moth raconteurs Adam Edmund Linn, Abbas Mousa, Catherine Palmer and Suzi Ronson, as well as locally based storyteller Kelly Parker. The show will feature music by violinist Sena Jane Thompson. The evening's theme at the Byham Theater is Between Worlds. TD 7:30 p.m. 101 Sixth St., Downtown. $20-45. 412-622-8866 or www.pittsburghlectures.org