FREE EVENT: Fri., Sept. 1 – Art
Ellen Chisdes Neuberg has run Gallerie Chiz for 22 years, almost all of it in the gutted former laundromat she bought and renovated two decades ago on Ellsworth Avenue. While art sales rise and fall, Neuberg (pictured) says the past two years were the first when she was unable to at least break even. Add the recent departure of assistant gallery director Fred Blauth, and Neuberg's own desire to spend more time painting, and it seemed wise to call it a day at Chiz. The show opening Sept. 1 will be the gallery's last; after it closes, Neuberg will temporarily move her studio into the storefront while she looks for a buyer for the building.
Neuberg, a New York native, came to Pittsburgh in 1969; she lives in Shadyside with her husband, David Greenlee. She says a rise in online art sales has made life harder for brick-and-mortar galleries. The gallery's closure will leave a gap on Ellsworth, where it was one of a handful of venues on the monthly FirstFriday ArtWalk. Likewise, Neuberg's tastes — typified, though hardly limited to, an interest in outsider artists like Daniel Belardinelli and Scott Griffin — will be missed, as will her enjoyable opening receptions (usually featuring live music) and attractions like live artmaking by exhibiting artists. Iconic local artist Bob Qualters calls the atmosphere at Chiz "more open [and] lively" than at most galleries. Chiz featured artists from both Pittsburgh and around the world. One former assistant gallery director at Chiz, who still sells her jewelry and drawings there, is local artist Lizzee Solomon. Says Solomon of Neuberg, "She has stuck [it out] and kept an aesthetic that I feel is pretty unique. Definitely eclectic."
Chiz's final show is Inside US, Outside US, featuring hand-crafted wooden furniture, painting and graphic art by Jason Shell, Manuela Holban, Tadao Arimoto, and JAPA, four artists who are either emigrants from or immigrants to the U.S.
— Bill O'Driscoll
Reception: 5:30-8:30 p.m. (free). Exhibit continues through Sept. 30. 5831 Ellsworth Ave., Shadyside. 412-441-6005 or www.galleriechiz.com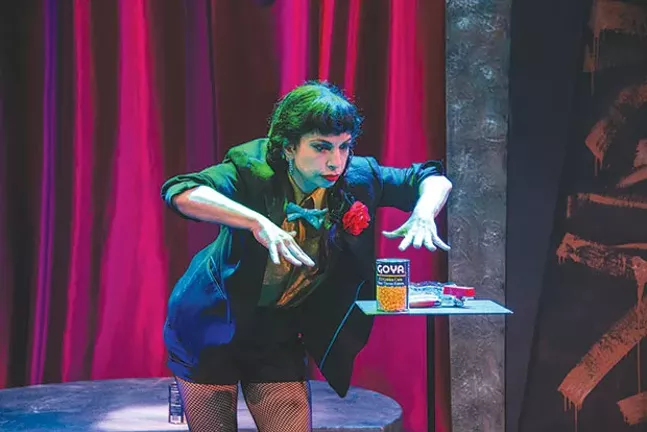 Thu., Aug. 31 - Magic
Tanya Solomon, a Brooklyn-based magician who has found success in the male-dominated magic scene, hits up The Glitter Box Theater tonight on her national Truth Assassin tour. The hour-long show features a variety of familiar tricks, like blindfolded knife-tossing, but Solomon is known for injecting shows with her distinct quirky and comedic personality. She also offers unique tricks, like one where she miraculously creams some corn in a can. Pittsburgh-based cellist Midge Crickett opens with nerdy and comedic songs. Matt Petras 8 p.m. 460 Melwood Ave., Oakland. $10. theglitterboxtheater.com

Thu., Aug. 31 – Stage
Sometime in the mid-20th century, a producer gambles it all that a wünderkind playwright will turn out another hit comedy. But ensconced at a luxury Arizona resort, the writer's a wreck who can only do tragedy; an anxious assistant and duped starlet are also involved. So goes Robert Caisley's A Masterpiece of Comic … Timing, a new comedy getting its local premiere starting tonight at Little Lake Theatre Company. James Critchfield directs local favorites Art DeConciliis and Greg Caridi. Bill O'Driscoll 8 p.m. Continues through Sept. 16. 500 Lakeside Drive South, Canonsburg. $12-20. 724-745-6300 or www.littlelake.org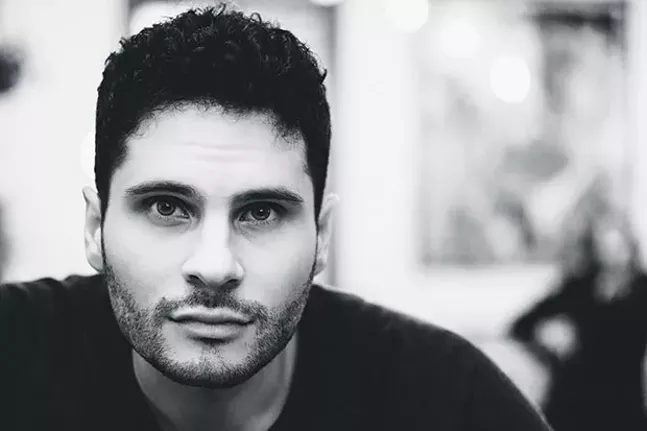 Thu., Aug. 31 – Comedy
On Comedy Central's The Half Hour, Drew Michael explains his confusion about marriage. He imagines a couple in bed professing their love. One says "Holy shit, we should let the people who run the DMV know." The Chicago-based comic comes to the Pittsburgh Improv for six shows starting tonight. Michael, a writer for Saturday Night Live, has released comedy albums including Funny to Death. MP 8 p.m. Continues through Sun., Sept. 3. 166 E. Bridge St., The Waterfront, Homestead. $20. 412-462-5233 or www.pittsburgh.improv.com

Thu., Aug. 31 - Screen
Beginning tonight and running through the weekend at the Melwood Screening Room are multiple opportunities to catch Takashi Miike's Dead or Alive trilogy. The prolific and controversial Japanese filmmaker is known for his outrageous, darkly comic and often violent work, including this gangster epic. The first Dead or Alive (1999) pits yakuza gangs against Chinese triads in Tokyo; Dead or Alive: Birds (2000) shuffles the first film's actors into new characters; and Dead or Alive: Final (2002) re-sets the gang conflicts in the future, adding cyborgs. All three films screen, in sequence, all four nights. Al Hoff Films at 6, 8 and 10 p.m. Continues nightly through Sun., Sept. 3. 477 Melwood Ave., Oakland. $8 (single screening); $15 for all three films. www.pghfilmmakers.org
Fri., Sept. 1 – Art
In a Town by the Forest on the Shore: The Life of Urmo Hipock is Murphi Cook's new performance work. Cook, of the nationally touring, wildly imaginative Pittsburgh-based puppetry duo Miniature Curiosa, tells the story of the lost final film of an obscure filmmaker; Cook's show takes the form of "an illustrated lecture performed hourly" and employs both artifacts from the film and "a sizable hand-puppet collection." Her show is Bunker Projects' piece of Unblurred, tonight's monthly gallery crawl on Penn Avenue, involving a dozen or more venues all along this East End corridor. Cook's performance will repeat during her Sept. 14 gallery talk. BO 7-10 p.m. (free). 5106 Penn Ave., Bloomfield. bunkerprojectsinfo@gmail.com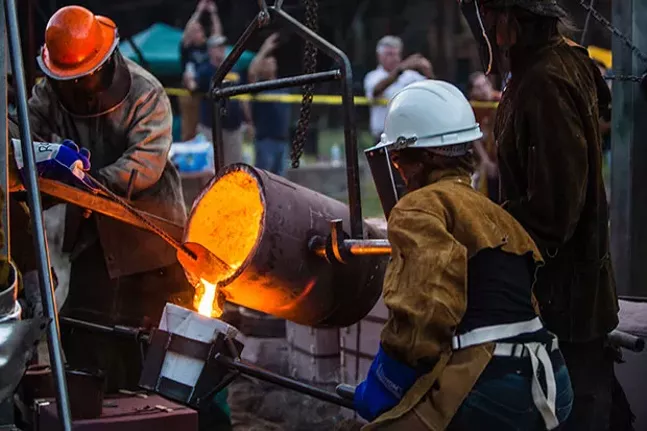 Sat., Sept. 2 - Festival
Fire and metal: Those are your themes at Rivers of Steel Arts' annual Festival of Combustion. Today, in the shadow of the decommissioned blast furnaces of the Carrie Furnaces National Historic Landmark, observe the practice of various fire-based crafts — glass-flame working, raku ceramics, metal fabrication, welding, aluminum and iron casting — and even sword-swallowing and fire-breathing by CoffinBox Sideshow Team. Go hands-on by designing your own glass mosaic or firing your own ceramic vase. There's also refreshments for sale, and live rock by The Seams. BO Noon-7 p.m. Carrie Furnace Boulevard, Rankin. $10-15 (free for kids under 18). www.rosarts.org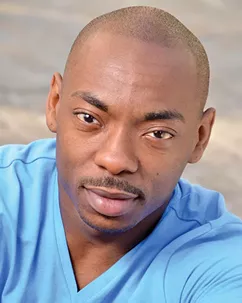 Sat., Sept. 2 – Stage
Pittsburgh's longest-running project to bring Shakespeare to the people, for free and outdoors, launches its 13th season with Henry V. Pittsburgh Shakespeare in the Parks stages a family-friendly 90-minute version of the famed wartime drama over the next four weekends in three different city parks. Alan Irvine directs the happy few — a cast of eight, all in multiple roles save Lamar K. Cheston, a New York-based Off-Broadway veteran, in the iconic title role. There's also some audience participation. The production debuts with shows today and tomorrow at Frick Park's blue-slide playground. Bring refreshments, and chairs or blankets. BO 2 p.m. Also 2 p.m. Sun., Sept. 3 (Beechwood Boulevard and Nicholson, Squirrel Hill). Continues through Sept. 24 at Highland, Arsenal and Frick parks. Donations encouraged. www.pittsburghshakespeare.com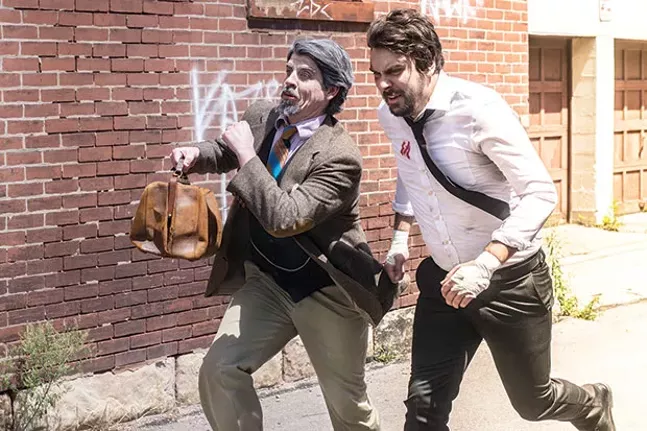 Sat., Sept. 2 – Screen
In August 2016, Pittsburgh's Locust Street Entertainment raised more than $6,000 on Kickstarter to fund a comedy-horror web-series called Theo and the Professor. The whole series — six 25-minute episodes —debuts tonight at the Oaks Theater before hitting Amazon Marketplace. An online trailer gives a taste of the titular investigative duo: The professor is certifiably strange, and poor Theo is left constantly frustrated. In classic genre-show fashion, the two hunt a different monster every episode. Matt Petras 6 p.m. 310 Allegheny River Blvd., Oakmont. $10. 412-828-6322 or www.theoakstheater.com

Sun., Sept. 3 – Exhibit
Just as it's the final weekend for the Carnegie Museum of Natural History's The Power of Poison (an interactive exhibit about poisonous plants and animals in nature and culture), so is it the first full weekend to see the museum's newly renovated Age of Mammals: The Cenozoic Era. The exhibit, tracing the evolutionary history of mammals over 66 million years, includes fossil skeletons of a Columbian mammoth, a saber-toothed cat, dire wolf and giant ground sloth. It also features the hands-on Bonehunter's Quarry, where kids can dig for dinosaur fossils. The Carnegie is also open on Labor Day. BO 10 a.m.-5 p.m. 4400 Forbes Ave., Oakland. $11.95-19.95 (free for kids under 2). 412-622-3131 or www.carnegiemnh.org

Mon., Sept. 4 – Birds
While many of us are acting like sloths to celebrate Labor Day, the National Aviary is one local cultural institution that's keeping its doors open. As per usual, you can visit loads of birds there. There are also several feedings throughout the day, including sessions for rainbow-colored lorikeets and bats, and even one for a sloth named Valentino. Some events cost extra on top of general admission — for example, for $75 per person, you can be surrounded by a flock of flamingos. Matt Petras 10 a.m.-5 p.m. 700 Arch St., North Side. $14-15. 412-323-7235 or www.aviary.org

Thu., Sept. 7 - Talk
You may know Jonathan Scott and Drew Scott from the HGTV series Property Brothers, where they turn everyday homes into something extraordinary. But they're more than house renovators. The Scotts come to the Byham Theater tonight as part of their national "House Party" tour. In the spirit of their new collaborative memoir, It Takes Two, the brothers will speak about their lives and share behind-the-scenes details from their shows. All ticket-holders will receive a copy of the book. Matt Petras 7:30 p.m., 101 Sixth St., Downtown. $49.75-69.75 (VIP: $150). 412-471-6070 or www.trustarts.org