SPOTLIGHT: Sat., Aug. 26 - Stage
Even in late August, Pittsburgh these days is full of arts happenings. But few this summer will be as cutting-edge as the annual Performance Art Festival. For its fourth season, PAF moves to Oakland's Melwood Avenue, where it takes over three venues — Pittsburgh Filmmakers, Glitter Box and Babyland — and nearby outdoor spaces with some two dozen acts, plus continuous video screenings, on Aug. 26 and 27.
Performances range in length from a few minutes to hours-long "roaming" outdoors shows. The performers hail from around the U.S. and from as far away as Austria and Japan. Highlights include Calling All Divas, Los Angeles-based, internationally touring Tyler Matthew Oyer's "exploration of actual and imagined queer ancestries." (Expect fabulous costumes.) In "The Struggle," British performer Riikka Enne addresses labor struggles while wrapped in clear plastic, trying to scale a wall similarly wrapped. Alex D'Agostino (pictured), of Baltimore, employs a tutu, clothespins and audience participation to manifest "an invisible queer rage" in "The Swan." Japan's Fumi Amano creates an installation-based performance to examine women's role in society. Berivian Sayici, of Austria, does a piece "where she is waterboarded by milk," says PAF founder and organizer Abagail Beddall.
Pittsburgh-based performers include Princess Jafar, exploring her identity as a mixed-race trans woman of Arab descent. Other local contributors include Leavitt Summer, slowdanger, Sofia Sandoval, Anna Azizzy, Dave English and Middle Children, Valerie Kuehne, Tara Fay, and Ru Emmons.
New this year are screenings of performance films and documentations. But the focus, says Beddall, remains on the corporeal presence of a performer in a given space. "People are really impacted by body," says Beddall. There's nothing like it for exploring topics like racism, she says — or for sheer intimacy.
The PAF is presented by Bunker Projects. Admission is by donation.
— Bill O'Driscoll
4-11 p.m. Sat., Aug. 26, and 1-9 p.m. Sun., Aug. 27. 400 block of Melwood Avenue, Oakland. Admission by donation. www.pghpaf.com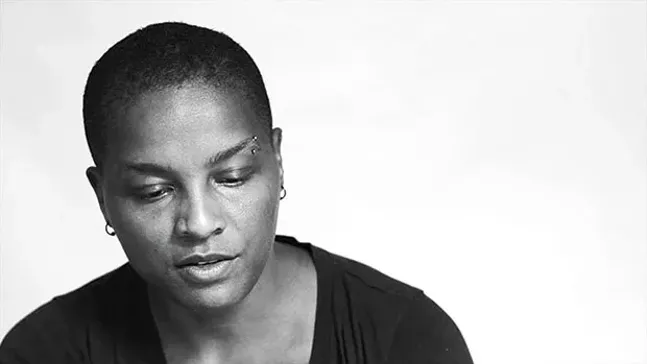 Fri., Aug. 25 – Words
Autumn House Press wraps this season's Pittsburgh Parks Summer Reading Series tonight in Highland Park with readings by four notable local writers. Poet and educator Jan Beatty has been a keystone of the scene for years. University of Pittsburgh professor Dawn Lundy Martin (pictured) is an acclaimed poet, and co-founder of the Pitt-based Center for African American Poetry and Poetics. Marc Nieson is an educator, fiction writer and memoirist. And Deesha Philyaw is an author, blogger and freelance writer with credits including The New York Times and Essence. The reading is free; bring a blanket. Bill O'Driscoll 6 p.m. 1024 N. Highland Ave., Highland Park. Free. www.facebook.com ("pittsburgh parks summer")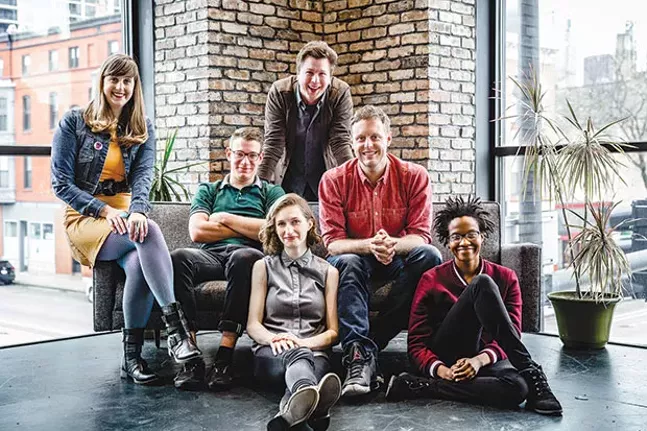 Fri., Aug. 25 - Comedy
You've heard of Bill Murray, John Candy and Stephen Colbert, but maybe you didn't know that early in their careers they worked with The Second City. This weekend, the venerable improv-comedy troupe's touring show makes its annual summer visit, as The Second City's Summer Blockbuster comes to Pittsburgh Public Theater for three shows tonight and tomorrow. Visiting performers include Adam Archer and Alison Gates. Who knows — maybe the folks you're watching this weekend will be tomorrow's movie stars or late-night hosts. Matt Petras 8 p.m. Also 5:30 and 9 p.m. Sat., Aug. 26. 621 Penn Ave., Downtown. $35-60. 412-316-1600 or www.ppt.org

Sat., Aug. 26 – Art
Probably Pittsburgh's biggest neighborhood art-and-craft festival returns with the 21st Annual Shadyside ... the Art Festival on Walnut Street. Today and tomorrow, for several blocks along Walnut, some 150 regional and national artists will personally display their jewelry, hand-crafted apparel and décor, and artworks, ranging from paintings, sculpture and photography to ceramics, glass and mixed-media. The long-running festival is produced by Florida-based Howard Alan Events. BO 10 a.m.-7 p.m. Also 10 a.m.-5 p.m. Sun., Aug. 27. 730 Bellefonte St., Shadyside. Free. www.artfestival.com

Sat., Aug. 26 – Talk
You know his work, especially public sculptures like "Joy of Life," on the East Liberty fountain, and "The Man," on the University of Pittsburgh Graduate School of Public Health building. But odds are you know little about Virgil Cantini. The late artist worked in many media and helped establish the Department of Studio Arts at Pitt, where he taught for four decades. Today, Cantini's daughter Lisa Cantini-Seguin and special guests lead a tour (starting in Highland Park) highlighting both his public artworks and his studio pieces. The tour, organized by Design Nation and Penhollows, takes place via restored vintage transit bus, and is followed by a reception. BO Tour: 2-4:30 p.m. Reception: 5-7:30 p.m. $30-60 (reception only: $40). www.design-nation.org
Sat., Aug. 26 – Art
BoxHeart Gallery offers another duo of art exhibits, this time William DeBernardi and Dale Huffman and Andrew Ooi: IOI OOI New Primitives. The former show features the work of two artists who are both art professors at Carlow University; DeBernardi is primarily known as an oil painter and Huffman works with ceramics. The latter show features painted and folded paper pieces from Ooi, who is from Toronto. An opening reception with the artists is this evening. MP 5-8 p.m. (free). Exhibits continue through Sept. 22. 4523 Liberty Ave., Bloomfield. 412-687-8858 or www.boxheartgallery.com

Sat., Aug. 26 – Comedy
Vickie Shaw, a loud, often exasperated comedian from Texas, brings her comedy tonight to Cruze Bar. Shaw draws much of her material from her family, whether it's her partner or her parents. In one bit, seen during a standup routine at the Triple Door in Seattle, she is frustrated by her mother's reluctance to eat unhealthy foods. "You're 90!" she screams. "You're 90 years old! Eat the cobbler!" Opening for Shaw are local comics Whitley Baker and Michael Buzzelli. MP 7 p.m. 1600 Smallman St., Strip District. $20-30. 412-471-1400 or www.cruzebar.com

Sat., Aug. 26 – Screen
It's impossible to consider online culture without also considering cute cats, many internet-dwellers' refuge from hard days at work and catastrophic political news. Turns out, however, that people liked cute cats even before the days of internet memes. Frank and the Wonder Cat, a documentary about the Oakmont-based performing cat Pudgie Wudgie, from the 1990s, screens tonight at The Oaks Theater. At 7 p.m., Humane Animal Rescue will have cats available for adoption. After the screening, meet Frank Furko, the late Pudgie Wudgie's owner. MP 8 p.m. 310 Allegheny River Blvd., Oakmont. $8-10. 412-828-6322 or theoakstheater.com

Sat., Aug. 26 - Party
Nothing beats the warmth of nostalgia, whether it be eating your favorite childhood snack or rewatching the cartoons you obsessed over. PGH Rewind hopes to kindle those nostalgic feelings of the '70s, '80s and '90s at Downtown's Trust Arts Education Center. The event, on three floors, includes drag performers dressed as stars like Tina Turner, nostalgic treats, live music, a makeup station and more. Retro outfits and hairstyles are encouraged. Your ticket also nets you a one-year Cultural Trust Partners membership, which gets you access to exclusive events and more. MP 9 p.m.-midnight (VIP 7:30-9 p.m.). 805-807 Liberty Ave., Downtown. $35. (VIP: $75-85). 412-471-6070 or www.trustarts.org

Sat., Aug. 26 - Comedy
I don't like people who wear community-college sweatshirts," says Quincy Jones. "They're a little too cocky in life, and I don't know why. Get your bachelor's and then rock the apparel." The Los Angeles-based comic with the laid-back manner (and publicized for his battle with cancer) headlines tonight's Lexfest II, at Club Café, the latest in former Pittsburgher Norlex Belma's quarterly comedy show pairing local and national talent. Belma, now based in New York, also hosts local comics Ed Bailey and Phil Forrence and visitors Eman El Husseini and Jess Salomon. BO 10:30 p.m. 56 S. 12th St., South Side. $10. 412-431-4950 or www.clubcafelive.com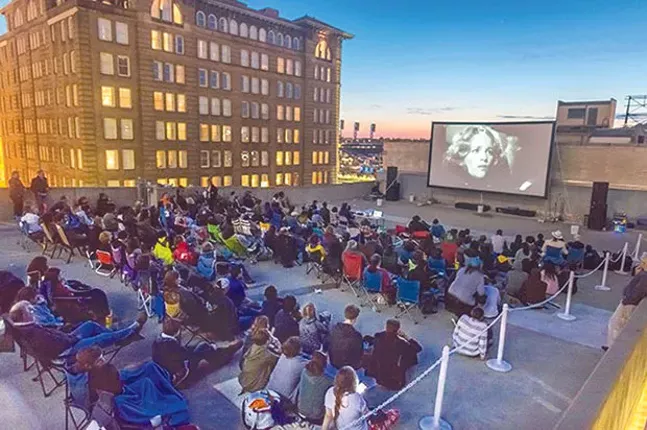 Tue., Aug. 29 – Screen
Among the golden-age Hollywood stars worshipped by the young Andy Warhola, perhaps none shone brighter than Greta Garbo. So it's only appropriate that tonight's special Stars of the Silver Screen Rooftop Shindig held in conjunction with a current Andy Warhol Museum exhibition is 1931's smash hit Mata Hari, with Garbo as the infamous World War I spy. The evening atop the Theater Square Garage — courtesy of the Warhol, Pittsburgh Downtown Partnership and Pittsburgh Filmmakers — includes live entertainment by singer Phat Man Dee, food, themed cocktails, and a vintage fashion market by Second Shift Crafters. Bringing your own seating is advised. BO 5:30 p.m. (film at dusk). Rain date is Wed., Aug. 30. 667 Penn Ave., Downtown. Free. www.warhol.org

Thu., Aug. 31 – Art
Carnegie Mellon University's Center for the Arts in Society is wrapping its current three-year CAS Performance Initiative, with three faculty-led projects exploring how people performatively frame their lives to reinterpret history, protest and more. Tonight's the reception for Causing a Scene, the Miller Gallery exhibition of materials from those projects, including a dot map illustrating sectarian divisions in Belfast (from John Carson and Jennifer Keating's Performing Peace); augmented-reality events from Pittsburgh history (Larry Shea's Ghosts in the Machine); and elements of Edda Fields-Black's Requiem for Rice, which explores the lives of Africans enslaved on low-country rice plantations. BO 4:30-6:30 p.m. (free). Exhibition continues through Sept. 3. CMU campus, 5000 Forbes Ave., Oakland. Free. millergallery.cfa.cmu.edu