FREE EVENT: Sat., Aug. 15 — Outdoors
Whether you spend your weekends fashioning your backyard into the grounds of Versailles or don't know a spade from a shovel, it's pretty hard to pass up a summer day wandering around a beautiful flower garden. On Sat., Aug. 15, the Penn State Extension, which offers the university's resources and expert knowledge to citizens of Pennsylvania through specialized programs, holds its annual Garden in the Parks event. Hosted by the Penn State Master Gardeners of Allegheny County, Garden in the Parks invites visitors on guided tours of the demonstration gardens at North and South parks.These gardens are primarily flowerbeds — only potatoes are grown in the North Park site — and gardeners are welcome to peruse the selection to see if any would work in their own home gardens. Visitors can also vote for their favorite flowers, and afterward the winner will be distributed to the Extension's local nursery partners. In addition, there will be a tasting of basil and garlic grown in the gardens and a scavenger hunt for children. The North Park demonstration garden is located at the corner of Wildwood and Ingomar roads in front of the Veterans Memorial, and the South Park garden is located at the intersection of Corrigan Drive and McConkey Road, down the road from the wave pool. Joseph Peiser 9 a.m.-1 p.m. Sat., Aug. 15. Free. 412-482-3451 or www.extension.psu.edu
Fri., Aug. 14 — Art
Some day, when everyone's treated equally, we won't need to hold special exhibits to make sure all artists' work is appreciated. Until then, we have shows like As Good as the Guys: Women Photographers in Pittsburgh. It's a FrameHouse & Jask Gallery showcase for more than a dozen local talents including Lori Hepner, Karen Kaighin, Sue Abramson and Pulitzer-winner Martha Rial. The show, curated by Graham Shearing and Elizabeth Brophy, also includes original work by two late, pioneering photographers, Rosalie Gwathmey and Aaronel de Roy Gruber. The opening reception at this Ice House venue is tonight. Bill O'Driscoll 6-9 p.m. Exhibit continues through Sept. 26. 100 43rd St., Unit 107, Lawrenceville. Free. www.framehouseonline.com
Fri., Aug. 14 — Art
We're surrounded by patterns hidden in the world around us. Now, local artist Jakob Marsico has harnessed the everyday movements of traffic for a new light-and-sound installation. Traffic Lights, the product of the latest Trespass residency at Future Tenant, uses real-time CCTV traffic footage to create an immersive experience employing custom software and dynamic lighting and sound design. Tonight's opening reception features live music by Evan Richards and Natural Bottom. Joseph Peiser 6-9 p.m. Exhibit continues through Sept. 13. 819 Penn Ave., Downtown. Free. 412-567-8861 or www.futuretenant.org
Fri., Aug. 14 — Exhibit
It's a big weekend at the Carnegie Science Center — if you like beer, bubbles or both. The Center's latest 21+ Night is tonight's The Science of Beer; tickets include 10 regional beer samples, a presentation from Draai Laag Brewing about wild beer (made with wild yeast), live music and access to all four Center floors. Also featured is a performance of BubbleMania, actor Casey Carle's internationally touring show blending the art, comedy and science of making giant bubbles. If you can't make it tonight, BubbleMania returns on Saturday and Sunday, for three shows daily on the Science Stage during regular Center hours. No beer at those shows, though; the kids'll have to wait till they get home. BO Science of Beer: 6-10 p.m. ($19). Bubblemania only: Noon, 2 and 4 p.m. daily Sat., Aug. 15, and Sun., Aug. 16 (free with admission: $11.95-18.95). One Allegheny Ave., North Side. 412-237-3400 or www.carnegiesciencecenter.org
Fri., Aug. 14 — Words
Northeast Ohio-based author Nancy Christie visits Classic Lines bookstore for a reading, discussion and signing. Christie is the author of books including her latest, Traveling Left of Center and Other Stories (Pixel Hall Press), a collection of 18 stories about characters who, according to press materials, "are unable or unwilling to seize control over their lives." Christie's work has also appeared in literary journals including Wild Violet and Talking River. BO 7-9 p.m. 5825 Forbes Ave., Squirrel Hill. 412-422-2220.
Sat., Aug. 15 — Music
Just after his 87
th
birthday, Andy Warhol is still inspiring from beyond the grave. Today and tonight,
The Andy Warhol Museum
offers two performances of
Of Ordinary Things
, a collaboration between musical trio
Anime'BOP
and
Mid-Atlantic Contemporary Ballet
. Anime'BOP (bassoonist Linda Morton Fisher, oboist Robin Driscoll and pianist Robert Frankenberry) performs short compositions, accompanied by MAC dancers; the music is inspired by Warhol images and quotes that will be projected behind the performers. Today's shorter (hour-long), family-friendly matinee is free. The show continues the Warhol's Sound Series.
BO
2 p.m. (free) and 7 p.m. ($15). 117 Sandusky St., North Side. 412-237-2300 or www.warhol.org
Sat., Aug. 15 — Comedy
Longtime followers of the local comedy scene might have noted that in recent years, Gab Bonesso's gotten more attention for The Josh & Gab Show — her nationally touring comedy-and-music anti-bullying duo with Josh Verbanets — than for the standup with which she made her name here. Well, Bonesso is still battling bullying, but for tonight, anyway, she'll be cutting up for adults at Arcade Comedy Theater. Gab Bonesso — Livin' Life is 18-and-over, whether you're a bully or not. BO 8 p.m. 811 Liberty Ave., Downtown. $10. 412-339-0608 or www.arcadecomedytheater.com
Sat., Aug. 15 — Festival
Sailor Moon is a popular Japanese anime series about a young girl whose talking cat gives her a magical brooch that transforms her into a superhero destined to save the world from evil. Local fans will certainly descend upon Victory Pointe Gaming Lounge to celebrate International Sailor Moon Day, presented by House of Broken Needles cosplay. Festivities include lip-sync battles, a sweets-eating contest, fan-art, costume contests and more. JP 5-10 p.m. 1113 E. Carson St., South Side. $10-15. 412-251-5150 or www.victorypointe.com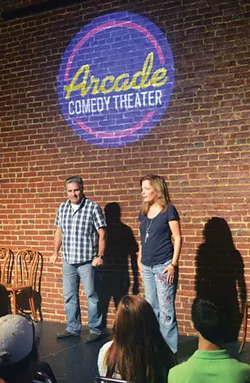 Sun., Aug. 16 — Comedy
Tonight, at Arcade Comedy Theater, Laura and Rick Hall lead a night of musical improv that will get the whole room involved. Laura Hall has been the featured pianist on Whose Line Is It Anyway? since the show's inception, and her husband, Rick, has acted on Curb Your Enthusiasm, Arrested Development and Key & Peele. Together with their Advanced Music Improv workshop, they'll lead a performance, and afterward join the Arcade house team, the High Scores, for a long-form musical-improv set. JP 7 p.m. 811 Liberty Ave., Downtown. $10. 412-339-0608 or www.arcadecomedytheater.com
Sun., Aug. 16 — Burlesque
Apparently there are at least a couple Games of Thrones-themed burlesque shows out there — who knew? — but only one claims "the personal approval of author George R.R. Martin." Nationally touring Virginia-based troupe Burlesque Is Coming brings its "sultry and sexy, fun and farcical" take on the HBO hit to Cruze Bar tonight. Stars include Cherie Sweetbottom, Lily Liqueur and boylesque performer Dante the Inferno, with in-character standup comedy from Ray Bullock, as Varys. A press release notes: "No one will be seated during the Dothraki funeral pyre scene." You've been warned. BO 8 p.m. 1600 Smallman St., Strip District. $12-15. www.burlesqueiscoming.com
Wed., Aug. 19 — Outdoors
If "fishing" still sits unchecked on your summer bucket list, don't squander these last few weeks. With opportunities like Venture Outdoors' TriAnglers, there's no reason not to get out there. Trianglers is a free, weekly mid-day fishing experience on the Allegheny River that meets at Kayak Pittsburgh, under the Clemente Bridge near PNC Park. Bait and equipment are provided, fishing experts are on hand to help out, and all skill levels are welcome. Any participant over age 16 is required to have a fishing license, which can be acquired online. JP 11:30 a.m.-1:30 p.m. North Side. Free. Reservations required at 412-255-0564 or www.ventureoutdoors.org.