FREE EVENT: Fri., April 29 - Art
Have anything to say to Donald Trump? You're in luck. This Friday and Saturday (on the 99th and 100th days of his presidency), artist Sheryl Oring brings her public performance piece I Wish to Say to Pittsburgh for the first time, in partnership with the Pittsburgh Downtown Partnership and the Office of Public Art. Head to Market Square and you'll be welcomed by 10 old-fashioned typists, dressed in 1960s office garb and ready to transcribe your thoughts using vintage manual typewriters.
Your letter will join more than 3,200 others that have already been sent to the White House as part of the project, which, despite the topical coincidence, was not conceived in response to the current administration. First performed in 2004, the piece has been staged more than 70 times throughout the country.
Oring, currently based in North Carolina, says interest in I Wish to Say surged in connection with Trump's election. "Usually, there's an ebb and flow," Oring says by phone. "Typically after an election the demand goes down for some time. I'm really busy in an election year, up through the election and then maybe a little after. But then there's no interest; people are kind of over it, they're done with politics for a while. That hasn't happened at all [this time], I've been really busy." She hopes the project can offer catharsis to those overwhelmed by the present political climate. Oring will hold a lecture following Saturday's performance.
Oring asks participants to deeply consider what they'd like to say to the president before talking to a typist. Carbon copies of the letters are compiled in an online archive, to be used later in other projects and books, renewing the passion of today's citizens into a lasting historical record of the voice of the people.
Amani Newton 4-7 p.m. Fri., April 28. Also 11 a.m.-2 p.m. Sat., April 29 (artist's talk: 5:30-7 p.m). Market Square, Downtown. Free. www.publicartpittsburgh.org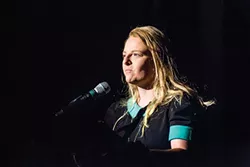 Thu., April 27 – Talk
The Jewish Federation of Pittsburgh hosts the Pittsburgh stop of Israel Story. Think of the radio program/podcast as "This Israeli Life": Each week's show has a theme, and is composed of stories exploring that theme, all connected to the people of Israel. (The podcast began after the host binged This American Life on a road trip; deciding Israel needed its own version, he reached out to Ira Glass and Nancy Updike.) The live show, which visits the New Hazlett Theater tonight, combines storytelling with photos, film clips, sound effects and live music. Amani Newton 7 p.m. 6 Allegheny Square, North Side. $12. 412-681-8000 or www.jfedpgh.org

Thu., April 27 – Words
City of Asylum shelters writers in exile; the latest is Osama Alomar, a Syrian author who's spent recent years working as a cabbie in Chicago. Alomar writes super-short stories — flash fiction, but coming out of an Arabian tradition that reflects poetry and fable. Tonight's reading at Alphabet City marks the launch of The Teeth of the Comb, his new book of stories in English translation from New Directions press. A Q&A follows the free reading. Bill O'Driscoll 8 p.m. 40 W. North Ave., North Side. Free. www.alphabetcity.org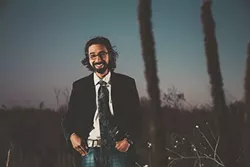 Thu., April 27 - Comedy
When people belligerently ask Indian-born Krish Mohan where he's from, he tells them "Croatia," because they "don't know enough information about Croatia to hate anything about me." In his new show, Approaching Happiness, the socially conscious Washington, D.C.-based comic explores racism, immigration, drugs, guns and other issues, and how they relate to mental health in our society. The performance is tonight at Unplanned Comedy Warehouse. BO 8 p.m. 5601 Butler St., Lawrenceville. $5. www.unplannedcomedy.com

Thu., April 27 – Comedy
The standup comedians of CAKE Comedy took a novel approach to funding their 2017 tour. Carrie Gravenson, Abbi Crutchfield, Kaytlin Bailey and Erin Judge (the tour's title is based on their initials) launched a Kickstarter in which fans in a given city could buy tickets, and if they sold enough, they'd book the gig. CAKE hit its Pittsburgh goal and performs at Arcade Comedy Theater tonight. Their names might not ring a bell (yet), but if you're familiar with Comedy Central, Funny or Die or Full Frontal With Samantha Bee, you know their work. Alex Gordon 10 p.m. 811 Liberty Ave., Downtown. $25. 412-339-0608 or www.arcadecomedytheater.com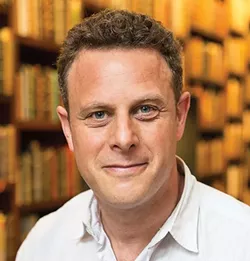 Fri., April 28 – Words & Music
Sculptor James Simon once again opens his studio for a public event, a hybrid reading/music performance by author Josh Barkan and musicians Michael Howard and Caroline Cotter. Barkan, who lives in Roanoke, Va., and Mexico City, will read from his acclaimed new collection, Mexico: Stories. Alaska-native folk singer Howard performs songs off his newest album, Gasoline Dream, and troubadour Cotter, fluent in several languages, performs tunes inspired by her global travels. AN 8 p.m. 305 Gist St., Uptown. Recommended donation: $15. www.joshbarkan.com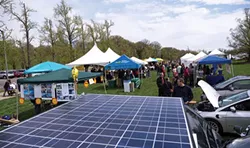 Sat., April 29 – Festival
Seen through an environmental lens, the years ahead do not always look promising. Local nonprofit Communitopia seeks to change that, with initiatives like FutureFest. This year's edition demonstrates and celebrates our paths to a sustainable future, with art, science, live music, food and hands-on fun. Check out eco-minded vendors and the electric-vehicle showcase, or (if you're 16 or older) test drive an e-bike. The day-long fest is on the front lawn of Phipps Conservatory and Botanical Gardens, where a FutureFest hand-stamp gets you half-price admission today. BO 10 a.m.-3:30 p.m. 1 Schenley Drive, Oakland. Free. www.futurefestpgh.com

Sat., April 29 – Art
Aficionados of contemporary photography and vintage photos get a treat this weekend as the PGH Photo Fair returns to the Carnegie Museum of Art. Today and tomorrow, the city's lone fair for the contemporary and fine-art photos hosts 13 internationally known dealers and projects, including New York's Aperture Foundation and Toronto's Stephen Bulger Gallery. The free event in the Carnegie's Hall of Sculpture includes sales of photo books and photo-based magazines, and tonight's special event: legendary documentary photographer Bruce Davidson ("Brooklyn Gang," "Subway") in conversation with Aperture executive director Chris Boot. BO 10 a.m.-5 p.m. Also noon-5 p.m. Sun., April 30. 4400 Forbes Ave., Oakland. Free. www.pghphotofair.com

Sat., April 29 - Festival
August Wilson's childhood home is undergoing renovation, and today Daisy Wilson Artist Community, Inc. (named for the Pulitzer-winning Fences playwright's mother) holds its big annual event. The August Wilson Birthday Celebration Block Party (Wilson would have turned 72 on April 27) includes dancers, drummers, a DJ, children's activities, dozens of vendors from around town, tours of the new August Wilson Park nearby and — of course — theatrical performances hourly. It's free, but an RSVP is requested. BO Noon-5 p.m. 1727 Bedford Ave., Hill District. Free. RSVP at happybirthdayaugustwilson.eventbrite.com
Sat., April 29 – Art
All day today, people will be dropping off their artworks at Lawrenceville's cavernous Wilson McGinley building. All night, and into Sunday, everybody else will visit the 20th annual Art All Night. Pittsburgh's biggest annual art exhibit is unjuried, uncensored and free for artists and visitors alike. There's also live music and live art-making; kids are welcome, with art activities for them and adults alike. Grassroots volunteers organize Pittsburgh's most democratic art show, which last year was visited by some 15,000 attendees. BO 4 p.m.-2 p.m. Sun., April 30. 85 36th St., Lawrenceville. Free. www.artallnight.org

Sun., April 30 – Drag
This afternoon, it's a special edition of Kierra Darshell's Drag Brunch at James Street Gastropub. The festivities include the 10th annual Mr. Tri-State All-Star Contest, a chance for male impersonators to strut their stuff in competition for cash prizes in interview, talent and formalwear categories. The
day's honoree is reigning Mr. Tri-State All-Star Sebastian Armonte (pictured). BO Noon-2 p.m. 422 Foreland St., North Side. $10. 412-904-3335 or www.jamesstreetgastropub.com

Mon., May 1 – Exhibit
A North Side gem, the Pittsburgh Antiquities Museum of Photographic History shines a little brighter today, the first day of what it calls the largest-ever display of photographs of Abraham Lincoln. The museum's Bruce M. Klein curated the show, with 260 photos and artifacts sourced internationally, some getting their first-ever public display. The exhibit — including the last check Lincoln wrote — coincides with the opening of the museum's new ground-floor exhibit room. BO 10 a.m.-4 p.m. Exhibit continues through December. 531 E. Ohio St., North Side. $8-10 (free for children 12 and under). 412-231-7881 or www.photoantiquities.org


Wed., May 3 – Talk
"Every ride, it's the same conceit: agonizingly slow boat trip through robot wonderland. Like that ride It's a Small World, which by the way is just a horror of narcotized puppets doing the same rote tasks over and over in what I'm sure Disney totally did not intend to be an accurate and prescient vision of third-world labor." That's Nathan Hill's lacerating summation of amusement parks from his postmodern debut novel The Nix, a New York Times bestseller and 2016 Notable Book. Pittsburgh Arts and Lectures welcomes Hill tonight for a talk. AN 7 p.m. Carnegie Library Lecture Hall, 4400 Forbes Ave., Oakland. $10. 412-622-8866 or www.pittsburghlectures.org