SPOTLIGHT: Thu., April 20 - Festival
If you care about the environment, these are daunting days: With missionary zeal, the Trump administration is reversing protections against things like dangerous pesticides and air and water pollution, and undoing even the modest advances we've made on climate change. So this Earth Day, April 22, make your first stop the PGH People's Climate March Art Build. The event, at Oakland's Blumcraft, is to create posters and other visuals for the April 29 People's Climate March, in Oakland, which will echo locally the big climate protest planned that day in Washington, D.C. The event is hosted by the Education Rights Network and One Pennsylvania.
More purely festive ways to mark the holiday include Pittsburgh Earth Day, a three-day series of events Downtown. The annual festival begins with the Thu., April 20, Ecolution Fashion Show ($25), at the Farimount Hotel; this Richard Parsakian-organized event highlights designers using recycled and reused materials. Free events include a Solar-Powered Food and Fashion Truck Festival at midday Friday and Saturday, on Fourth Avenue near Market Square. And all day Friday and Saturday, Paint the Square Green offers an outdoor Market Square venue for vendors with earth-friendly products and services, plus a new live musical act every hour. There's also an April 21 Sustainability Business Breakfast, featuring a panel discussion (free; reservations required); April 21's ticketed Lunch + Learn event; and April 22's Great Lakes Brewing Sustainable Sips Pub Crawl (you drink, the brewery plants trees). The Pittsburgh Earth Day finale is La Vie en Vert ($42-75), a dinner at Coterie Company with a focus on locally sourced produce, with signature cocktails and live entertainment.
— Bill O'Driscoll

Climate March Art Build: 10:30 a.m.-1 p.m. Sat., April 22 (460 Melwood Ave., Oakland; www.facebook.com, "pgh climate art build"). Pittsburgh Earth Day: Thu., April 20-Sun., April 22 (www.pittsburghearthday.org)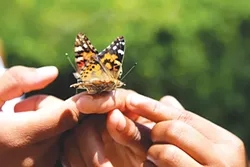 Fri., April 21 – Exhibit
Phipps Conservatory and Botanical Gardens goes all-out for Earth Day, with four days of events. Today through Sunday, write a pledge to care for nature and place it on the "upcycled tree," or help your kids pot a plant to take home. Today only, watch Inhabit, a feature-length documentary about permaculture. Saturday, enjoy the grand opening of the annual Butterfly Forest, where more than 20 species of our favorite pollinators flutter. And all four days, learn how to switch to 100 percent green electricity. Amani Newton 9:30 a.m.-10 p.m. Earth Day activities continue through Mon., April 24. 1 Schenley Park, Oakland. $11.95-17.95 (kids under 2 free.) 412-622-6914 or www.phipps.conservatory.org

Fri., April 21 – Art
A skein of human hairs — 80,000 of them, one for each African forcibly taken at the height of the transatlantic slave trade. A Confederate flag, into which is woven the pattern of the U.S. flag in braided black hair. Nationally exhibited, Virginia-based artist Sonya Clark explores history and politics through materials like human hair, thread and gold. Oaths and Epithets: Works by Sonya Clark, an exhibit at Contemporary Craft, opens tonight with a reception. Bill O'Driscoll Reception: 5:30-8 p.m. (free). Exhibit continues through Aug. 19. 2100 Smallman St., Strip District. 412-261-7003 or www.contemporarycraft.org

Fri., April 21 – Art
Tonight, the Pittsburgh Cultural Trust's spring Gallery Crawl in the Cultural District features new shows at Wood Street Galleries — bios [bible] and the big picture, highlighting robots that draw, and transcribe the Bible — and 707/709 Penn Galleries (Steve Prince's Communal Resurrection, about the history of African-American music). Ongoing shows hold the floors at SPACE (with an album-release concert by Pittsburgh legends Carsickness), the August Wilson Center and ToonSeum. Also enjoy the Love Without Labels PGH Photo Booth; a performance of "Supernatural Shakespeare" scenes; live music and more. Ticketed Crawl After Dark attractions include improv at Arcade Comedy Theater and a post-crawl party at Future Tenant. BO 5:30-10 p.m. Downtown. Free. www.trustarts.org

Fri., April 21 – Music
The Pittsburgh Symphony Orchestra offers the opportunity to "choose your own Mozart" this week. Music director Manfred Honeck combines the music of Haydn, Beethoven, Schubert and Mozart into three distinct concerts, each featuring one of Mozart's final three symphonies. Choose among Symphony No. 39 on Friday, Symphony No. 40 on Saturday, and Symphony No. 41 for Sunday's matinee. Fellow Austrian Till Fellner performs Beethoven's Piano Concerto No. 3 during all three performances. AN 8 p.m. Heinz Hall, 600 Penn Ave., Downtown. $20-94. 412-392-4900 or pittsburghsymphony.org

Fri., April 21 – Stage
Playwright Sarah Kane was a rising star before her death in 1999, at the age of 28. Her final play, 4.48 Psychosis, about a character waking in the early morning and grappling with a psychiatric crisis, debuted 16 months after her death, at London's Royal Court Theatre. The Guardian called it "haunting," "uncompromising" and a "poetic meditation on suicide." Starting tonight, Off the Wall Productions stages a production starring Siovhan Christensen, Erika Cuenca and Tammy Tsai, and directed by Robyne Parrish. AN 8 p.m. Continues through May 6. Carnegie Stage, 25 W. Main St., Carnegie. $25-40. 724-873-3576 or www.insideofthewall.com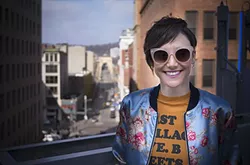 Fri., April 21 – Comedy
Over its 23 years, The Andy Warhol Museum has hosted anything and everything — everything but standup comedy. That changes tonight when local fave Gab Bonesso headlines the release party for her first album. Everyone's Dead (recorded live a week after her brother's funeral) highlights Bonesso's eccentric, high-energy, aburdist takes on everything from politics to mental illness. Comic and Pittsburgh Post-Gazette sports columnist Gene Collier opens. BO 8 p.m. 117 Sandusky St., North Side. $8-10. www.warhol.org

Sun., April 23 – Outdoors
Allegheny Cemetery is among the oldest incorporated cemeteries in the U.S. Ever been there — for a stroll? Venture Outdoors leads today's easy two-mile Allegheny Cemetery Walk, which includes a talk about the cemetery's history and such famous residents as Stephen Foster and Lillian Russell. BO 1-4 p.m. Lawrenceville. $12. www.ventureoutdoors.org
Mon., April 24 – Stage

Valerie Sweeney Prince, the Allegheny College English professor and author of Burnin' Down the House: Home in African American Literature, headlines a special night at Pittsburgh Theological Seminary. The Seminary's Metro-Urban Institute joins local arts, advocacy and education organizations to present a lecture and dramatic reading of Prince's Waterbearer, historical fiction contemplating laundry in the lives of African-American women. A presentation follows by Living Waters of Larimer, a group working to integrate green infrastructure into urban spaces. AN 6:30 p.m. 616 N. Highland Ave., East Liberty. Free. 412-924-1449 or www.pts.edu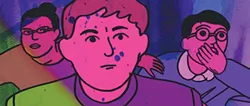 Tue., April 25 – Screen
Last fall, indie-comics star Dash Shaw (New School, Cosplayers), premiered his animated feature film My Entire High School Sinking Into the Sea at the Toronto International Film Festival. The epic dark comedy follows a group of high school kids trying to survive the titular disaster. Shaw wrote and directed, with some background art by Pittsburgh's own Frank Santoro; the all-star voice cast includes Jason Schwartzman, Lena Dunham, Reggie Watts, Maya Rudolph and Susan Sarandon. Shaw himself visits Row House Cinema tonight for the Pittsburgh premiere; a regular run at Row House begins April 28. BO 7:15 p.m. 4115 Butler St., Lawrenceville. $12-20. www.rowhouse.com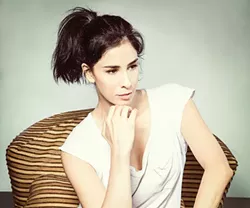 CANCELLED


Tue., April 25 – Comedy
If you didn't get acquainted with Sarah Silverman in 2005, the year the comedian and actress released her solo show Jesus Is Magic, or in 2008, the year of her viral, Emmy-winning video "I'm F*cking Matt Damon," you might know of her memorable public admonition during the 2016 DNC: "To the 'Bernie or Bust' people, you're being ridiculous." Silverman brings her quick-witted, odd and audacious sense of humor to Heinz Hall tonight. AN 7:30 p.m. 600 Penn Ave., Downtown. $39.50-75. 412-392-4900 or www.pittsburghsymphony.org
Wed., April 26 – Fundraiser
Break those piggy banks for a good cause: The Pittsburgh AIDS Task Force, Southwestern Pennsylvania's oldest and largest HIV/AIDS service organization, is holding its 31st Annual Benefit evening. Tickets start at $150, and proceeds support PATF's free HIV, STI and hepatitis C testing, treatment and prevention outreach services. The evening's highlights include Broadway performers Constantine Rousouli and Ginifer King, contortionist Topher Bousquet (pictured), and painted live models by Caleb Green. Drag queen Miss Thea Trix will emcee and host the Parisian-themed evening, titled "A Moulin Twist." AN 6-10 p.m. Jay Verno Studios, 3030 Jane St., South Side. www.patf.org

Wed., April 26
At the Bridge Series, monthly literary readings by local talent raise money for local causes. Tonight, at Brillobox, readers include Veronica Corpuz, a poet and artist working on a memoir of prose poems about her late husband's battle with brain cancer. Also reading are Deesha Philyaw, a nationally published writer on parenting, race, gender and pop culture who's working on a novel, and novelist and playwright Sarah Shotland, who's writing an essay collection about her experiences teaching writing in jails and prisons. Tonight's beneficiary is World Without Walls, the nonprofit that Shotland co-founded to teach creative writing to prisoners and women in residential treatment facilities. BO 8 p.m. 4104 Penn Ave., Bloomfield. $5. www.facebook.com ("bridge series corpuz")