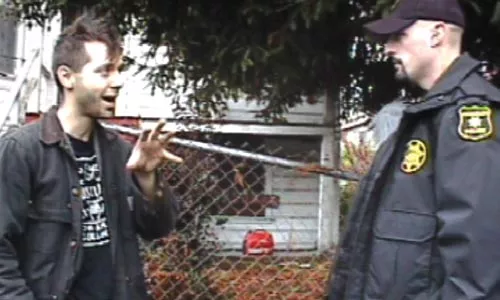 With a documentary about squatters and a short narrative about a rich kid with a house to himself, the Feb. 10 installment of the Film Kitchen series explores contrasting ideas about living space.
In "Shelter: A Squatumentary" (45 min.), filmmaker Hannah Dobbz takes an insider's look at three California Bay Area squats. Shot on video, "Shelter" has a raw and scrappy look, partly the result of being shot over four years. The project began when Steve DiCaprio, who took over and named Berkeley's Banana House, asked her to document his struggles with cops and lawsuits. Inspired, Dobbz later helped turn an abandoned industrial plant in nearby, heavily strip-malled Emeryville into a squat called Power Machine. Dobbz also documents Oakland's Hellarity House, a particular refuge for transient dropouts and radicals.
Dobbz notes that U.S. property law is especially antagonistic to squatters, who are often anarchists and other freedom-seekers scorning rent and jobs. In Great Britain, Dobbz says, the police can't even evict you unless they can prove you actually broke into a secured building. "If the window's open, you can just move in," she says.
But squatters face challenges besides eviction and gentrification: The Power Machine segment, for instance, documents threats from a former squatmate that prompt Dobbz and a friend to take self-defense measures rather than compromise anarchist principles by calling the cops.
Dobbz, who recently relocated to Pittsburgh to join her partner, currently lives in Larimer, but not in a squat. "There's a time to squat and a time not to squat," she says.
Meanwhile, the main character in Edward Bursch's short comedy "Son of Richard" (15 min.) is the same age as Dobbz (24) -- and his spacious house (owned by his father) seems to symbolize his inability to get a life. Over the course of two days, he attempts to turn things around by taking a job with his friend, an auto mechanic.
Bursch, an Ithaca College (N.Y.) senior majoring in cinema production and philosophy, says "Son" was inspired by the "particularly wide income bracket" in his hometown of Labtrobe. Dave Niedoba, a friend from high school, wrote the script, while the handsome cinematography (originated on Super 16 mm film) is by Ithaca classmate Ashley Connor.
Bursch cites as a chief cinematic touchstone Stanley Kubrick's Olympian detachment from his characters (which explains the preponderance of watchful wide shots in "Son"). But Bursch gladly accepts a comparison to Wes Anderson (Rushmore), whose films also wryly explore aimless, privileged young lives. In fact, Bursch briefly interned on Anderson's Darjeeling Express (in New York) and -- while studying in London -- on Anderson's upcoming animated feature, Fantastic Mr. Fox, an adaptation of the Roald Dahl book.
Watching Anderson direct actors Owen Wilson and Jason Schwartzman in Darjeeling was especially memorable for the budding filmmaker. "It was hugely inspiring to see him on set," says Bursch.

Film Kitchen 8 p.m. Tue., Feb. 10 (7 p.m. reception). Melwood Screening Room, 477 Melwood Ave., N. Oakland. $5. 412-681-9500 or www.filmkitchenpgh.org