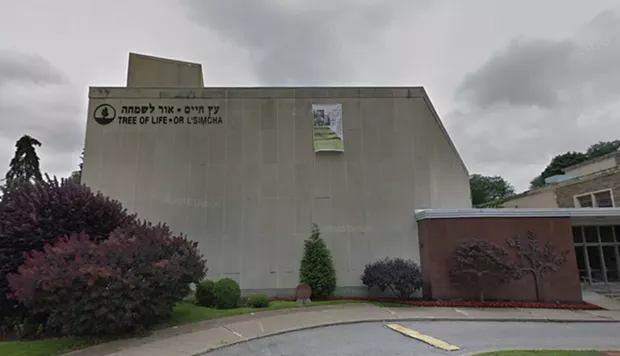 UPDATE: 11 are confirmed dead by Pittsburgh Public Safety Director Wendell Hissrich, speaking at a 4 p.m. press conference on the shooting.
________________________________________________________________________
On Saturday, Pittsburgh Police responded to a shooter at the Tree of Life Synagogue in Squirrel Hill. According to reports, four individuals were deemed dead when police arrived. At a press conference, Pittsburgh Public Safety Director Wendell Hissrich confirmed that 11 people were killed during the shooting. Several more were shot, including three Pittsburgh Police officers, but were not killed.
The shooting reportedly took place during a bris, a Jewish baby-naming ceremony.
Authorities shut down the corner of Wikins and Shady avenues in response to the shooting.
ALERT: There is an active shooter in the area of WILKINS and Shady. Avoid the area. More info will be released when it is available.

— Pgh Public Safety (@PghPublicSafety) October 27, 2018
City Paper
associate publisher Justin Matase lives very close to the site of the shooting and was listening to the police scanner as authorities responded to the shooting.
According to Matase's Twitter account, shots rang out through the neighborhood for several minutes during the police response. There were two survivors.
8 people now found dead with 2 survivors. https://t.co/Wjl5EPh2xd

— Justin Matase (@jgMADvertising) October 27, 2018
After about 30 minutes, the suspected shooter, describe as a white male, surrendered to authorities. Matase tweeted that he was wearing a red shirt. During his surrender the police reported over the scanner that he said "all Jews need to die."
Shooter is surrendering. Wearing red shirt. Different from intital reports. Police reporting shooter Said "all Jews need to die" https://t.co/HgRAoS4xHU

— Justin Matase (@jgMADvertising) October 27, 2018
The shooter is currently in custody. KDKA reported the suspect's name is Robert Bowers.
Pittsburgh Mayor Bill Peduto tweeted that three officers were also shot. He advised people who live near the site of shooting to remain in doors until the area is announced secure.
Actor is in custody. Multiple casualties. Three Officers have been shot. Area is NOT secure. All residents required to stay inside their homes until further notice.

— bill peduto (@billpeduto) October 27, 2018
Pennsylvania Gov. Tom Wolf issued a statement calling the shooting an "absolute tragedy." He said he is providing any resources necessary to local law enforcement and first responders.
"These senseless acts of violence are not who we are as Americans," said Wolf. "My thoughts right now are focused on the victims, their families and making sure law enforcement has every resource they need. We must all pray and hope for no more loss of life."
Wolf also called for action in response to the mass shooting. "But we have been saying 'this one is too many' for far too long," added Wolf. "Dangerous weapons are putting our citizens in harm's way. And in the aftermath of this tragedy, we must come together and take action to prevent these tragedies in the future. We cannot accept this violence as normal."