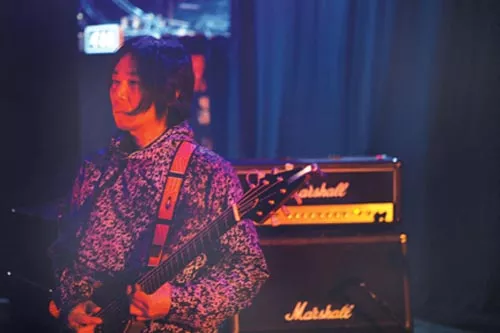 How cool is Shinji Masuko? Let us count the ways: As founder of DMBQ and a member of Boredoms, he's been one of Japan's most unassailable guitarists for more than 20 years. He also builds guitars, including two versions of the Sevena, a seven-neck guitar which he somehow keeps tuned and maintained during Boredoms shows. He's a respected reviewer of both music and comics, and a columnist for several subculture magazines.
And for his hypnotic new instrumental record, Woven Music, he forced himself to take up the piano by thinking of it as not really a piano.
"I don't like to play keys," he says via email, "but I found a piano that has great steel strings [that] sound like a vintage Fender Jazz Bass with modern hi-fi bass amp."
Woven Music was originally meant to be something completely different. Three years ago, Masuko was working on a heavily multi-tracked composition to blend with the mayhem of a nine-drummer Boredoms performance. Between rehearsals, he played some of the tracks for one of the drummers, Kid Millions of Oneida, who insisted that they should be heard on their own.
Masuko reworked the pieces. "I got great inspiration from a TV documentary about nature in East Asia," he explains. "Light, darkness, wind, wave, ground, water." He was struck by how perfectly everything in nature works together like "woven stuff." The resulting two-part record clocks in at less than 18 minutes -- barely enough time to contain the vast landscape Masuko creates.
Side one, "Woven Music for Blue Steppe," layers acoustic instrument upon acoustic instrument, at first gently nudging Masuko's better-known rock side with a Jimmy Page flourish, then continuously swelling like a widening stream, to a point of extended meditative dissonance. Side two, "Woven Music for Silver Oceans," builds from where Blue Steppe leaves off, with a swarm of electric guitars engulfing the listener in thick, shoegazing buzz.
Beyond the sounds of nature, Masuko also cites a less obvious influence: '50s rockabilly. "It is very strange music for me," he says. "Reverb, ambient, echo, crazy sounds are there."
The record, Masuko's first solo release, seems a striking departure from the wild, bluesy psychedelia of DMBQ and the frenetic, noisy unpredictability of Boredoms. But Masuko, who played in both bands while recording Woven Music, doesn't see it that way. "It is the same thing for me basically," he writes. "Boredoms, DMBQ, and my solo works, everything is made in my house, with my cat. All my music is made under the calm and peaceful mind. For me, noise music is not loud or extreme; both are the inevitable musical stream, the continuous score."
SHINJI MASUKO WITH WHITE GHETTO, TAICHI NAKATANI. 10 p.m. Thu., Oct. 6. Gooski's, 3117 Brereton St., Polish Hill. $5. 412-681-1658