crumb.

In December, Smallman Galley was home to an all-vegan concept, crumb. The stall, only open for a month, was a popular spot for both plant and meat eaters with a menu of vegan comfort food

On Friday, May 17, the pop-up is making a comeback. Run by Abigail Hansel, who also founded vegan pop-up bakery Relish Co., crumb. is taking up a residency at the Gluten Free Goat Bakery & Café in Garfield.
The restaurant will be open from 10 p.m.- 2 a.m on Fridays and Saturdays. Plates will not only be vegan, but also gluten, soy, corn, and peanut free. Hansel's new late-night menu is a play on fast food, featuring four burgers named Lil Cheese, Junior Cheese, Big Cheese, and Cheese Thicc, three fugget — fake chicken nugget — options, fries, and a chocolate almond-based shake.
BBQ, anyone?
National BBQ Day is almost here! And according to GrubHub, Pittsburghers are bonkers for barbecue.

The most popular BBQ order, city-wide, is a whole chicken. Barbecue chicken sandwiches rank second (Pittsburghers really like chicken), followed by pulled pork in third place. Brisket, the U.S. favorite, barely makes the top ten, sliding in at ninth place.

If you're looking for barbecue to celebrate the holiday on May 16, stop by one of these joints for guaranteed goodness.

Wilson's Bar-B-Q 700 N. Taylor Ave., North Side.
Wilson's menu is made up of two items: chicken and ribs. You can't go wrong.
Z-Best Barbeque
1315 Fifth Ave., Uptown.
Craving BBQ chicken? Pittsburghers are crazy for Z-Best's sauce-smothered version.
Showcase Barbeque
6800 Frankstown Ave., Homewood.
Sides are as good as the ribs. Try the yams.
Walter's Southern Kitchen
4501 Butler St., Lawrenceville.
Walter's has it all: mac n' cheese, tacos, and frito pie.
Burk's Barbeque
319 Maryland Ave., Oakmont
From the Oaks theater to Oakmont storefront, Burk's meats are not to be missed.
Sheetz Coffee Hopz

Sheetz fans, it's true: there's a Sheetz-brand beer coming exclusively to Pennsylvania. The convenience store has branched out into the world of craft brewing and announced their first brew, Sheetz Coffee Hopz, early this week.

The family-owned chain, established over 60 years ago in Altoona, collaborated with Rusty Rail Brewing Company, located in Mifflinburg, to create a limited-edition coffee IPA, Project Coffee Hopz.
"We wanted to find someone who not only had PA roots, but somebody who shared the same commitment to quality and innovation that we do. And we found that perfect partner in Rusty Rail," said Ryan Sheetz, during the official brew-unveiling.

The reveal of Project Coffee Hopz marks another step in Sheetz's fight to "free the beer" in Pennsylvania. Sheetz is pushing for responsible, more convenient ways to get alcohol in the state, moving past what Sheetz calls "nonsensical, prohibition era laws," preventing the store from providing full services to their customers.

Coffee Hopz (it wouldn't be Sheetz without the trademark "z") is made with Sheetz Sumatra coffee beans. It's a light, drinkable IPA with a surprisingly clear taste of coffee on the finish, the brew described as "tropical, citrusy, and hop-forward" by Rusty Rail's Brewery Director. At only 5.6 percent alcohol, the brew is just right for summer drinking.

The Sheetz-branded beer will be available for a limited time in various locations across the state, sold in four-packs for $7.99. Locally, the cans will be sold at the Sheetz on Mt. Nebo Road starting May 21, after the official launch party on May 16 at the store's location in Bethel Park. Once Coffee Hopz is gone, it's gone. Snag a brew while you can!
Scratch's Revival Night
On May 13, Scratch Food & Beverage is holding their second Revival Night featuring Chef Vincent Perri of the soon-to-open Supper on Penn Avenue.
Perri launched Supper in 2017 at Federal Galley. The vegetable-forward restaurant played with flavors and concepts from around the world, a tribute to the "melting pot" of U.S. culture. He left his stall at Federal Galley in April with plans to open Supper on Penn in the late summer.

For the upcoming Revival Night, Perri and Scratch Executive Chef Chris O'Brian have created a menu to please all eaters, featuring a chilled melon soup, cavatelli with fennel sausage, a vegan strawberry cheesecake, and strawberry shortcake.

To make reservations for this one-night only showcase of fresh, summer flavors, visit OpenTable.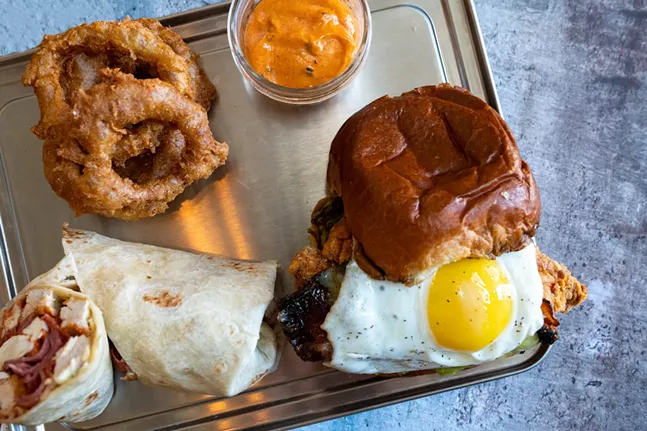 Which Came First?
Federal Galley's latest concept asks one of life's most pressing questions: Which came first, the chicken or the egg?

Which Came First? is a concept from Phil Milton, who also runs Home in Smallman Galley. As the name suggests, the menu is built around chicken and eggs, build-your-own-style.

Start by choosing from which came first, a list including chicken tenders, chicken breasts and thighs, and eggs. Then pick a "nest," a choice of potato bun, wrap, salad or gluten-free bun. Finally, choose from a list of sandwich styles. Milton's styles range from Nashville hot (hot sauce, pickles, and spicy remoulade) to Havana (pickles, ham, mustard, pork, and Swiss cheese).