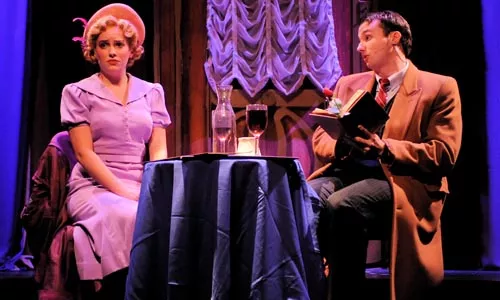 As my Sparkle Season gift, won't you please enjoy this big box of chocolates ... go on, have one. Yes, it is good, isn't it -- try another. And here, try this one. Go on, try another. And then have some more. Sorry, you can't stop until the box is completely empty!
That's what the voices in my head were saying as I watched Point Park University's production of She Loves Me, the 1963 musical with a book by Joe Masteroff, and a score by Jerry Bock and Sheldon Harnick.
It starts out so well. Hot on the heels of the resounding success of Point Park's extraordinary Thoroughly Modern Millie, the cast of She Loves Me proves every bit the equal. Director Jack Allison brings forth amazingly strong performances by Breanna Pursell and Justin Fortunato as the quintessential musical-comedy lovebirds. No less impressive are Kevin O'Leary and Emily McVicker as the secondary comedy characters, who never miss a comedy beat. Michael Thomas Essad has designed the perfect setting for this jewel box of a show, and music director Carmille Rolla and her band have no trouble putting across Bock's music.
For a long time it's sweet fun watching Pursell and Fortunato play two store clerks who hate each other while pining away for anonymous pen pals ... who of course turn out to be each other. It's a cute idea with several iterations: The Shop Around the Corner, In the Good Old Summertime, You've Got Mail and She Loves Me are all adaptations of the same play, Parfumerie, by Miklos Laszlo. She Loves Me is all about charm and sweetness and niceness and charm and charm and charm and charm.
And it just keeps going and going. While the idea's sweet, there's nothing to justify sustaining it for more than 90 minutes ... and yet it goes on for 150. The running time only points out the thinness of the plot and the creeping sameness of Bock's music. Half the songs in the first act could be cut, and there's little in Act Two we hadn't guessed in the first 15 minutes.
It's only this top-flight production that makes the whole thing bearable. There is, after all, such a thing as too much charm -- as people tell me all the time.
She Loves Me continues through Sun., Dec. 19. Pittsburgh Playhouse, 222 Craft Ave., Oakland. 412-621-4445 or www.pittsburghplayhouse.com