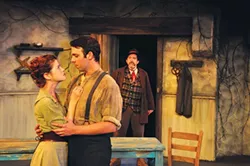 It is fashionable to compare John B. Keane's Sharon's Grave (1960) and the work of fellow Irishman Samuel Beckett. But PICT Classic Theatre's production has more in common with ancient Greek tragedy than with any postmodernist search for meaning. It's as if the cast had studied Nietzsche's The Birth of Tragedy instead of Stanislavski's An Actor Prepares. Envy, lust, drunkenness, deceit and all the naked qualities of the Dionysian spirit are set to battle against the simple Apollonian ideals of constancy, order and harmony.
Set in County Kerry in 1925, the play depicts the interlocking stories of a family fighting over land inheritance, lovers who meet by chance, and the legend of pagan princess Sharon, her grave marked by a mysterious and sonorous plume of water rising from a hole near the coastline.
Director Aoife Spillane-Hinks nurtures Keane's rich language and Celtic mythos with harshness as well as tenderness through the staging, lighting, music and intimacy of the Henry Heymann Theatre.
Byron Anthony portrays Peadar Minogue (the strong-souled, itinerant roof-thatcher, who is drawn to landowner Trassie Conlee) with sensitivity and restraint: Words flow from his body as if he had just thought of them — not as if he were a character repeating them — which makes his naivety utterly genuine.
Dinzie Conlee is the frightening homunculus who tries to steal Trassie's land. Many actors would play him at full throttle, but James FitzGerald lets the huge fear and tiny piece of humanness hiding inside his dark soul peek out briefly, daringly and without warning, which makes for an exciting performance.
Likewise, Alec Silberblatt avoids the easy interpretation of the simpleton Neelus Conlee, which enables us to believe him in the crucial scene where he proves himself smarter than treacherous Dinzie.
And Karen Baum astutely plays Trassie for steadfastness, not beauty, as it is the only way she can truly attract the moral Peadar. But when her resolve breaks she almost loses him, and her land, which is the simple metaphor of this riveting and visceral production. How refreshing to see a play performed for what it is, instead of what it might mean.