"I've done bad things," Joshua Miller admits, sitting inside a visiting room at the State Correctional Institute in Somerset. "People know I've done bad things."
But Miller, 33, maintains that he didn't do the worst thing he's been accused of — the thing that has landed him in prison. He did not, he says, shake his infant son Rhys until Rhys' brain began to bleed one winter night three years ago. 
A jury ruled otherwise, based in no small part on medical testimony by Dr. Janet Squires, a Pittsburgh-area pediatrician and a leading courtroom expert on "shaken-baby syndrome." A piece of medical guesswork 30 years ago, the syndrome is now widely recognized as a dangerous form of abuse. Pennsylvania maternity wards are legally required to show new parents videos warning of its dangers.
But defense attorneys, and some doctors, have begun to express misgivings about the diagnosis — especially in a courtroom setting. Even Squires, who helped put Miller behind bars, worries that prison sentences may do more harm than good. 
If Rhys Miller was shaken, the impact remains unclear: At least outwardly, his development appears normal. But the diagnosis has clearly had an effect on his father. Miller is a large man — 6'2" and nearly 250 pounds — but his conviction has humbled him. He acknowledges as much in a letter sent from prison:
"To explain to your children their father won't be there for football games, birthdays, driving lessons and every bump, bruise, question or hug is a crushing blow to any man." 
"He won't wake up!"
In January 2009, Miller and his girlfriend, Amy McCullough, were the parents of a seven-week-old boy: Rhys (pronounced "Reese"), the third of Miller's four children. Life wasn't simple. Though they lived together in a house her parents owned, they often didn't see much of each other; Miller worked from 8 a.m. to 5 p.m. most days, changing oil and detailing cars at a shop near the University of Pittsburgh's Johnstown campus. McCullough, meanwhile, worked from 3 to 11 p.m. as an Eat'n Park shift manager. Before going to work, she'd often drop off Rhys with Brandi Mangus, Miller's ex-wife and the mother of his two earlier children, until Miller picked him up.
There was no reason to think Jan. 14 would be any different. Mangus brought Rhys to Eat'n Park so Miller could pick him up. Employees doted on the infant; one later testified that Rhys "seemed like a happy little boy."
Miller took his son home. He and McCullough spoke by phone shortly after 8 p.m. Rhys was calm then, if a little sleepy, Miller says today.
But soon after, Rhys started fussing. Then came the crying and the screams. 
Though McCullough apparently told police Rhys was a "happy baby ... not fussy," both she and Miller say Rhys had been colicky. Miller says the boy "would have screaming fits where he would cry so hard he'd lose his breath." That night, Miller says he tried everything to quiet Rhys: changing his diaper, feeding him, rocking him, swaddling, shushing. Nothing worked. Finally, he gave the boy a bath, and Rhys stopped crying.
But Rhys wasn't soothed. He was unconscious. 
Miller called 911 a little after 10 p.m.
"He won't wake up!" Miller told the dispatcher, according to a transcript of the call. "His eyes are just rolling back in his head."
Rhys was breathing, he said, but unresponsive: "I'm like, you know, tapping his belly and blowing in his mouth to try to wake him up — and nothing. ... He's limp."
Within minutes, an ambulance arrived to take Rhys to Conemaugh Hospital. Lacking the tools to treat Rhys, doctors there sent him by ambulance to Children's Hospital in Pittsburgh. There, a brain scan showed he was bleeding behind the eyes and in the front of his brain. Rhys was treated with anti-seizure drugs, and placed in intensive care, where he was hooked up to breathing machines and other equipment — "the most terrible sight one can imagine," his father later wrote.
Rhys regained consciousness two days later. And while he remained at the hospital under observation for a week, he recovered steadily. Today, he shows little sign of lasting harm. He is, his mother says, a "perfectly normal little kid." 
Except, of course, for the fact that his father is in prison. 
"The justice system has failed me"
Shortly after Rhys arrived at Children's, Dr. Janet Squires was called in — as she always is when a child arrives with significant injuries.
Squires, who heads the Child Advocacy Center at Children's, has an extensive background in pediatrics. In Texas, she ran an emergency room and became director of general pediatrics at a Fort Worth hospital, where she focused on babies born with HIV. As she later testified during Miller's trial, "I consider myself a pediatrician and pediatric infectious-disease doctor."
Squires came to Pittsburgh in 2003 when her husband took a job at Children's; she later found work in the Child Advocacy Center, whose mission, as UPMC puts it, is to "assure that there are ongoing medical and social services for children who have been abused or are at risk of abuse." While she is not a brain specialist — and while her opinions rely in part on consultations with other doctors — she is one of fewer than 200 doctors nationwide licensed by the American Board of Pediatrics in Child Abuse Pediatrics. Squires has consulted on 20,000 cases of potential child abuse, she says, and has testified in more than 800 child-abuse trials — almost always for the prosecution.
According to a police report, when Rhys was brought in, Squires reviewed his brain scans with an unnamed radiologist. The scans "look worse than the baby does," she told a caseworker at Children and Youth Services in Cambria County, where Johnstown is located. Rhys' bleeding is widely regarded as an indication a baby may have been violently shaken.  
Squires told Miller and McCullough that Rhys had suffered "inflicted trauma" — physical abuse. 
Suspicion quickly focused on Miller, in part because of his rap sheet: He had two convictions for small-time drug offenses, one for harassment.
Miller recalls Squires asking, "Does anyone who cared for Rhys have a criminal record?" When Miller admitted he had, the change in mood "was obvious and immediate," he says in a letter. "I said to Amy later that night, 'Be prepared, they're gonna point this at me.'"
Investigators found other grounds for suspicion. According to a police report, McCullough told a CYS representative that she "can see [Miller] 'slapping' the baby in the face, but not hitting him on the head." McCullough said Miller had "anger-control issues," the report added; when an investigator asked "when the last time was that [Josh] hit her," the report said, McCullough answered "it had been quite awhile, before the baby was born."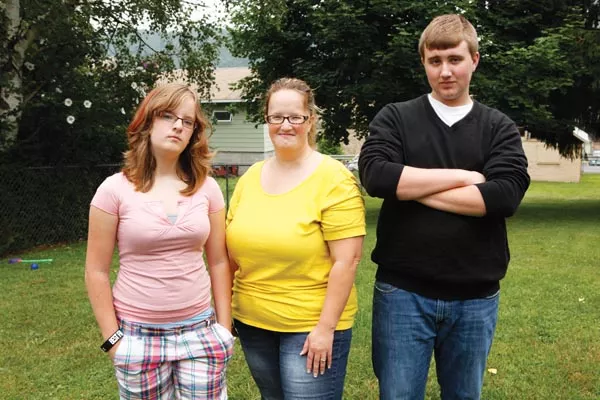 Miller, the report added, had not been enthusiastic about having another child. And McCullough's supervisor reportedly told an investigator that McCullough "doesn't trust [Miller] with the baby"; co-workers worried about domestic violence. 
Neither Miller, Mangus nor McCullough would deny the violence accusations outright. "We had our problems," Mangus says.
But McCullough says police jumped to the wrong conclusions. She later told investigators the face-slapping remark was "blown out of proportion," that she was "looking at someone to point the finger at" while Rhys was unconscious. The police report doesn't pin down McCullough's concern about leaving Rhys with Miller: "She stated that although ... Josh's temperament was good, she never left him alone with the baby. ... I asked her what she was afraid of. She said she wasn't afraid of him."
 As for why she wanted her mother to stay with Rhys as long as possible, she says today, "I would tell her to wait ... to drop the baby off to give Josh a chance to come home, to shower, to eat supper. [It wasn't] because I didn't trust Josh."
For his part, Miller staunchly denies ever shaking Rhys. And both McCullough and Mangus say they believe him. Rhys "was supposedly shaken by a guy who was 250 pounds, yet the baby has no black-and-blue marks, no broken bones?" McCullough asks. "It doesn't make sense."
Still, Miller was arrested two weeks after the incident. And in November 2010, following a three-day trial in which Squires was the key prosecution witness, a jury convicted Miller after three hours of deliberation. 
Miller received a maximum sentence of 10 years in prison on convictions for child endangerment, reckless endangerment, aggravated assault and simple assault.
"I feel the justice system has failed me," Miller wrote from prison. Prosecutors "had no evidence or witnesses" concerning the events of Jan. 14 — just the testimony of Squires. "[T]his case boiled down to me having to prove my innocence, not [prosecutors] having my guilt proven."
The Triad
The diagnosis of "shaken-baby syndrome" dates to a 1968 medical paper by lead author Dr. Ayub K. Ommaya. Ommaya's researchers weren't studying child abuse, or children at all: They were studying whiplash. To simulate a rear-end car wreck, they strapped rhesus monkeys into wheelchairs, which were struck from behind by a piston. 
But observers detected additional significance in the test results: Even when monkeys suffered brain and neck injuries, there were no corresponding bruises or fractures — because the pistons had struck the wheelchairs, not the monkeys themselves. 
Building on that discovery, other researchers began reviewing literature about child abuse, and suggested that violent shaking might explain how babies suffered mysterious head and neck injuries with no bruising or other outward signs of abuse. Further studies have expanded upon that theory. Utilizing case studies and confessions from caregivers who admitted to shaking children, researchers concluded that such injuries are almost always related to abuse. 
Shaken-baby syndrome went from a medical hypothesis to a key weapon in fighting child abuse. According to the National Center On Shaken Baby Syndrome, more than 300 babies per year die from being shaken. Hundreds more are injured.
Three types of injury — known as "the triad" — are broadly understood as warning signs: a subdural hematoma (brain bleeding), retinal hemorrhaging (bleeding behind the eyes) and cerebral edema (brain swelling). Spinal injuries are another tell-tale sign: Since infants have weak necks, doctors look for damage to the neck and spine, as well as fractures of the ribs and other long bones. 
Rhys Miller was not a textbook case. While his brain had bled, and blood had gathered behind his eyes, he showed no indication of brain swelling. As Squires noted in a Jan. 23 medical report, there were also no signs of neck trauma or spinal injury, and no broken bones or "unusual bruises or scars or marks." 
But Squires says it wasn't just the bleeding that led to her diagnosis. It was the fact that witnesses had seen Rhys, symptom-free, at Eat'n Park shortly before his collapse. "If the child was seen by multiple persons ... eating normally," her report argued, "it is highly likely that the injury event occurred after this time period." 
"No physician would say that [the triad injuries] alone are the signs" of SBS, Squires tells City Paper. Every case is unique, and demands looking at "a very wide spectrum" of clues. 
"More art than science"
Some critics believe the spectrum may be too wide. A small group of skeptics is calling for an independent study of SBS.
Among other findings, they point to a 1987 study conducted by a neuroscientist, Dr. Ann-Christine Duhaime. In a review of 48 diagnosed cases of SBS, she noted that of the 13 fatal cases, all involved a blunt impact to the head — not just injuries due to shaking. Duhaime's team constructed baby-sized dummies fitted with sensors to determine how much force could be felt on a baby's brain when shaken. "All shakes" the study concluded, "fell below injury thresholds established for subhuman primates." She concluded that SBS "is not usually caused by shaking alone"; while shaking may take place, "it is more likely that such infants suffer blunt impact" by being struck against a crib or other hard object.
More recently, forensic pathologist Evan Matshes told a 2010 gathering of forensic scientists that in a review of 123 autopsies performed on infants, more than half of those with retinal hemorrhages had died of natural causes.
In a paper to be published later this year, Dr. Patrick D. Barnes, a pediatric radiologist at Stanford University's School of Medicine, and three other experts argue that the medical — and legal — framework of SBS should be reconsidered. "The medicine is uncertain and evolving, and the cases are complex," the paper argues.
Diagnosing a shaken baby "is more art than science," one of the authors, Keith Findley, tells City Paper. "And there's so much problem with the art."
That's a minority viewpoint. When The New York Times Magazine reported last year on controversies arising from the work of Matshes and others, The National Center on Shaken Baby Syndrome responded by attributing such views to "a handful of experts who frequently testify for the defense." The Center noted that shaken-baby was recognized by groups including the American Academy of Pediatrics, the Centers for Disease Control and the Association of Medical Examiners. 
Defense attorneys have seized on the debate, not surprisingly. (Findley himself is the co-director of the Wisconsin Innocence Project, which seeks to exonerate those wrongfully convicted of crimes.) Some doctors too have voiced concerns in court: At trial, Miller's defense team called on Dr. Ronald Uscinski, a Georgetown University Hospital neurosurgeon who publicly voiced doubts about the SBS diagnosis. 
It was one of many such court appearances Uscinski has made: The New York Times reported that Uscinski has earned $200,000 a year for testifying. (Uscinski, who says he testifies for free when defendants cannot pay him, says he can't recall what he earned from Miller's case.) 
Uscinski gave jurors his own diagnosis of Rhys' collapse: The blood on Rhys' brain, he argued, was the result of a prior injury stemming from "the most traumatic moment of every seven-week-old's life" — the moment of birth. A baby's head is squeezed on its way through the birth canal, and Uscinski says such a trauma can "show up differently in different children."
Uscinski says that left unchallenged, the prosecution's medical testimony can sound convincing to jurors, who aren't aware of the scientific debate.
"Without highly disputable testimony from so-called child-abuse advocates," he tells City Paper, "prosecutors wouldn't have a leg to stand on." 
And sometimes — as in the case of Scott Drayer — jurors don't buy the medical argument. 
"I don't really want anyone to go to jail"
Drayer, of Erie, was also accused of shaking a child — his girlfriend's 14-month-old son, Kamar. Last May, Drayer called the boy's mother minutes after she left the child with him: According to the Erie Times-News, Drayer later testified that he'd heard "a clattering sound from the metal kitchen chairs" — and found Kamar lying on the floor. 
Kamar had suffered brain and retinal bleeding; unlike Rhys Miller, he has not recovered. The Times-News reports that he "cannot walk or sit up by himself." Drayer's trial was held this past May, and again, prosecutors called Squires. She testified that Kamar's injuries were consistent with SBS: His brain and eyes bled and, what's more, he'd suffered bruising that indicated physical abuse. Her conclusion: In the five minutes or so that Drayer and Kamar were alone, Drayer shook the baby hard enough to cause severe injury.
But a medical expert for the defense testified that Kamar's injuries were consistent with him falling to the floor by accident. This time, jurors voted to acquit.
Gene Placidi, Drayer's defense attorney, calls Squires' testimony "unbelievable," adding, "I don't even know how [Squires is] allowed to give the opinions she gives."
For one thing, Placidi notes that Squires herself is not a brain specialist. Instead, "[s]he says to the jury, 'I talked with a bunch of neurologists and they all agreed with me,'" Placidi says. "Well guess what? That's hearsay" — testimony in which a witness makes statements of fact by quoting someone else. 
Hearsay is usually disallowed in trials, since defendants have the right to confront accusers. And Placidi says that in a case like Drayer's, where "it's pretty clear the kid fell, you gotta wonder about the strength of her arguments elsewhere."
In Miller's trial, Squires acknowledged her opinions were based on discussions with radiologists. Accordingly, Miller's current attorney, Cambria County chief public defender Ryan Gleason, has appealed the conviction. Squires appeared before jurors as an expert witness and testified on brain scans, Gleason has argued, even though brain scans are not her area of expertise.
But the legal standard for being an "expert" is looser than you might expect. In denying Gleason's appeal, the Superior Court noted that an expert need only "possess more expertise than is within the ordinary range of training, knowledge, intelligence or experience." As long as a witness can reasonably claim "specialized knowledge on the subject," the court ruled, jurors can hear the testimony, and decide its value for themselves. 
Squires would not directly discuss her testimony in the Miller or Drayer cases. But she brushes off concerns about the validity of the shaken-baby diagnosis. 
"I think we as a society should stop arguing whether or not you can shake a baby and hurt them," she says. 
Still, while she testifies in criminal cases out of an obligation to the "medical truth," she adds, "I don't really want anyone to go to jail."
Shaken-baby cases, she says, "are not premeditated." Perpetrators may simply be parents who are overwhelmed by the rigors of raising a child. "These are tough times. People lose their jobs, people are stressed." And whatever else they are, "Babies are very annoying." 
But imprisoning a parent, she worries, may only add to household stress, potentially putting a child at further risk. 
"What should happen to those people [convicted of shaken-baby offenses]? Maybe they shouldn't be going to jail," she says.
"This has made me a single mom"
Yet jail is where Joshua Miller finds himself. Miller has not seen his son while in prison, or his other children: While he and Rhys had supervised visits prior to his trial, his sentence prohibits him from seeing anyone under 18.
Amy McCullough says that separation makes her a victim too. 
"Not having Josh around is hard," McCullough says. "This has made me a single mom, you know?"
McCullough hopes to change that someday: She and Miller are engaged, with plans to marry when he is released.
That may seem hard to believe, given Miller's conviction and the suggestions of domestic violence in police reports. McCullough admits Miller "definitely had anger problems before." Still, she says Miller "definitely was getting better. ... [H]e was changing because he had a kid on the way."
"Jail is a big test of your patience," she adds. "[The] old Josh would have snapped by now. We all believe him, we support him through this, and I think that's done a lot to help him." 
"I was young and dumb," Miller wrote of his prior convictions in a prison letter. "I feel these mistakes have made me a better man." While he was awaiting trial, he notes, he attended court-ordered anger-management and parenting classes. Between that and his visits with Rhys, he wrote, "Things were starting to look up" — until the trial and the guilty verdict. 
Rhys, now 3, is getting ready to enter pre-school. McCullough says he's doing fine. But he "doesn't really remember his dad all that much.
"Josh draws Rhys pictures and sends them home from prison. [And] we talk with him on the phone. ... Which isn't much, I know."
But it may be all that Miller gets for another eight years. 
After the Superior Court rejected Miller's argument in June, his attorney, Gleason, began working on an appeal, which may eventually go to the state Supreme Court.
But he's not optimistic. "[W]hile there may be a continuing debate within the scientific community about [shaken-baby syndrome], there is no real movement within the legal arena," Gleason says via email.
Miller himself acknowledges that he's unlikely to have his conviction overturned. And he knows many people think that's what he deserves. 
Still, he says, "I would never do anything to hurt my son. I just hope that someday, people can believe me when I say that."