One Day in Town
With its restored Victorian mansions and high-end shops, Shadyside gives off an upscale vibe. And, while some homes and places are posh, there is a funky, hip and fun side of the neighborhood, notably its boutiques and nightlife along Ellsworth Avenue. However, if you're game to both embrace your fancy-schmancy side and let loose, enjoy Shadyside's range of choices.
First, treat yourself to high tea or gourmet hot cocoa and cookies at the Inn on Negley (703 S. Negley Ave., 412-661-0631). This restored 1880s Victorian home offers eight rooms and suites, named after types of apples, and luxury amenities include L'Occitane toiletries. But you don't have to spend the night (or the cash) to feel special. Make an appointment to sip Earl Grey tea and eat finger sandwiches, or enjoy warm milk poured over chocolate lace with homemade marshmallows.
If you're still hungry, or you need to shake off the fanciness, head to The Elbow Room (5744 1/2 Ellsworth Ave., 412-441-5222) for an "Average Joe" burger or some mac-and-cheese topped with fried chicken. If you get there before 4:30 p.m. on a weekday, take advantage of the happy hour, which includes half-off starters and beers, as well as $2 off glasses of wine. Even if you're late, no worries, because The Elbow Room embraces happy hour again from 9-11 p.m. Mondays through Thursday. For dessert, head to Millie's Homemade Ice Cream (232 S. Highland Ave., www.millieshomemade.com) for, well, homemade ice cream! Flavors rotate, but keep an eye out for "Chad's Vanilla," "The Best Chocolate," "Salted Hazelnut," "Coconut Lime Sorbet" and many more.
With a full belly, now there's entertainment to be had. Head down Ellsworth to the Steel City Improv Theater (5950 Ellsworth Ave., 412-404-2695). It's small — only 99 seats — but the shows pack a lot of laughs. See a more seasoned troupe, or one in training, as the space is also home to improv classes.
Food
Adda Coffee & Tea House. Named after a Bengali word that means friendly conversation, Adda serves up fairly sourced coffee and international teas, as well as light fare. 200 S. Highland Ave., 412-404-8403
Café Moulin. This cozy crepery nestled on a side street can hit the spot for lunch or satisfy the sweet tooth. 732 Filbert St., 412-347-8508
Casbah. Enjoy Mediterranean cuisine and fine wine inside a chic dining room or on a covered patio. 229 S. Highland Ave., 412-661-5656
Eden. A restaurant for the allergy-conscious diner, with vegan, raw and 100 percent gluten-free options. 735 Copeland St., 412-802-7070
Girasole. Dine as if you were in Italy in this cozy basement restaurant, and drink a bottle of rossi with your insalata, paste and secondo. 733 Copeland St. 412-682-2130
Harris Grill. Bring your appetite and humor to this laid-back restaurant, where the menu is filled with creative, and funny, food descriptions. And, don't forget, #tuesdayisbaconnight. 5747 Ellsworth Ave., 412-362-5273
Inn on Negley. Book an appointment for afternoon tea or cookies and cocoa in this restored 1880s Victorian house turned inn. 703 S. Negley Ave., 412-661-0631
Prantl's Bakery. Everybody loves the burnt-almond torte, but the bakery also sells fruit danish, nut-filled coffeecakes and various pies. 5525 Walnut St., 412-621-2092
Shadyside Market & Deli. Specialty foods can be found on the grocery-store shelves, but there are also just good old-fashioned deli sandwiches to be had. Service is friendly. 5414 Walnut St., 412-682-5470
Soba. Eat Pan-Asian cuisine in Soba's swanky setting. And from 5-7 p.m. on weekdays, you can feel fancy with $6 cocktails in the lounge bar. 5647 Ellsworth Ave., 412-362-5656
Stack'd. Grab a check sheet and tick off exactly what you want "stacked" on your burger. Veggie options, fried sides and salads available. 728 Copeland St., 412-682-3354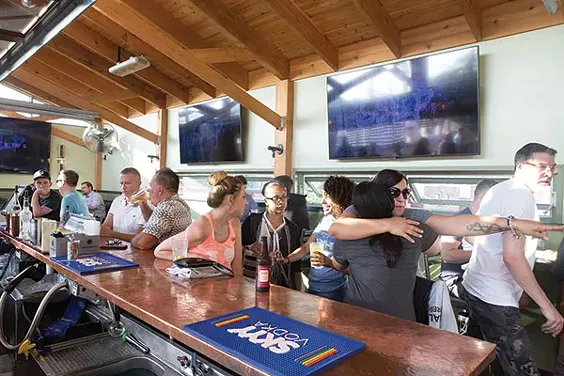 Bars & Clubs

5801 Video & Lounge. Watch classic music videos on several screens in this LGBTQ-focused bar and restaurant. 5801 Ellsworth Ave., 412-661-5600
Bites and Brews. With 30 craft beers on tap and a menu focused on pizza, sandwiches and salads, it's a great place for a casual night. 5750 Ellsworth Ave., 412-361-4425
Cappy's Cafe. Low-key corner bar where solid Friday night of wing bites and karaoke (a.k.a. Cappyoke) can be had. Trivia happens on Wednesdays, and sports are generally on the television. 5431 Walnut St., 412-621-1188
Le Mardi Gras. This establishment squeezes fresh orange and grapefruit juice daily, so grab a bar stool and pick your liquor. 731 Copeland St., 412-683-0912

William Penn Tavern. Wings and chicken tenders are the main features at this tavern, but enjoy burgers, hot dogs, gyros and hoagies as well. And, oh yeah, beer! 739 Bellefonte St., 412-621-1000
The Yard. A gastropub and eatery with 42 beers on tap and 20 kinds of whiskey. 736 Bellefonte St., 412-709-6351
Arts & Culture
Pittsburgh Center for the Arts. Visit the galleries or take classes ranging from digital animation to metalsmithing. Summer camps for kids also available. 6300 Fifth Ave., 412-361-0873
Shopping
Eons Fashion Antique. Shop vintage clothing and jewelry from the 1930s-1980s. 5850 Ellsworth Ave., 412-361-3368
Hey Betty! Vintage Clothing. Chic vintage clothing shop with bragging rights — celebrities have stepped through its doors. 5890 Ellsworth Ave., 412-363-0999
The Picket Fence. Boutique offering clothes for babies, kids and women as well as home decor and novelty gifts. 5425 Walnut St., 412-246-0350
Schiller's Pharmacy. An independent business since 1903, Schiller's serves the neighborhood's medicinal needs, but it's also a great place to find fine lotions and cosmetics. 811 S. Aiken Ave., 412-621-5900