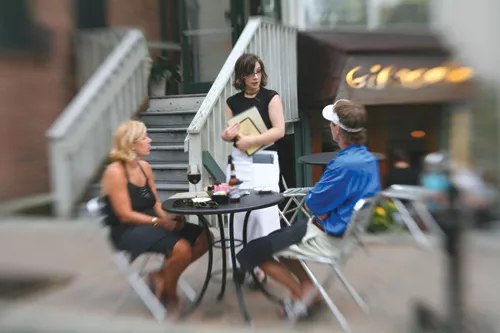 Shadyside's an easy neighborhood to hate, at least for those of us who don't live there -- especially when we can't find parking. Its very name, originally given to a nearby railroad stop, speaks of gentility and ease. And indeed, Shadyside is one of the city's wealthiest neighborhoods. You can't throw a brick around here (and believe us, we've tried) without hitting a yuppie, a professional, or a grad student trying to become one or the other.
Buyer beware: Monthly housing costs will run you a few hundred dollars more than comparable properties elsewhere. (Landlords have also been known to extend Shadyside's boundaries in classified listings: The neighborhood is properly defined as lying east of Oakland, between Fifth Avenue and the East Busway.) Still, much of the neighborhood retains a village feel, with wide streets and plenty of charming, unostentatious homes mixing with apartment buildings and the occasional manse.
There's much to be said for a walk or bike ride through the area's quiet streets, and Shadyside is convenient to the East Busway: Commuting Downtown by bus from the Negley Avenue stop is faster than driving by car.
The part of Shadyside everyone thinks of, though, is Walnut Street.
The old-timers say Walnut was once Pittsburgh's Haight-Ashbury. But just like a boomer who got a haircut and hired on with an investment bank, Walnut Street cashed in its counterculture, taking to capitalism with a vengeance.
What can I tell you that you don't already know about the five-block stretch between S. Aiken and S. Negley avenues? You've got your Williams-Sonoma, your J. Crew, your American Apparel, your Pottery Barn, your Sephora ... all the usual high-end suspects.
But say this for Walnut: Most everyone here is expensively good-looking (no doubt due to the numerous boutiques nearby) and in some ways it is surprisingly diverse. Affluent Euros and Asians mix easily with the Fox Chapel aristocracy -- globoconsumers whose identities transcend national boundaries. Even one-of-a-kind boutiques cater to a globally-minded clientele. If, for example, you only have half the air fare for that trip to Tuscany, you could use the money to shop at Molto Bella Ceramica (5529 Walnut, 412-682-1277), which specializes in Italian ceramics.
Walnut Street and environs do, however, also boast a number of distinctive neighborhood locations.
Start with Prantl's Bakery (5525 Walnut, 412-621-2092), a Pittsburgh institution that inspires a loyalty as intense as a sugar high. A few doors down you'll find Record Village (5519 Walnut, 412-682-1984), whose focus on world music makes it a global citizen too. Classic Video (735 Copeland St., 412-621-3232) similarly survives in the age of Netflix by cramming an impressive selection of foreign and other film into its cozy downstairs space. The coffeehouse Jitters (5541 Walnut, 412-621-2316) helps keep Starbucks at bay. (The Seattle behemoth has a location here, though it's easily overlooked.)
Walnut Street also offers a handful of Thai restaurants and genuine neighborhood hangouts. Joints like Cappy's, Le Mardi Gras, and Doc's are described in the club section of this guide. Suffice it to say that given the toniness of Walnut's retail, drinking and dining here are surprisingly unpretentious.
If Walnut still isn't distinctive enough, visit Ellsworth Avenue a few blocks to the northeast. Ellsworth runs roughly parallel to Walnut ... and seems to exist in a roughly parallel universe too. The scene here is retail-driven, but the vibe is funkier, and between Spahr and Summerlea streets you'll find not chain stores but upscale independent boutiques, often clustered together.
You don't, for example, even have to cross the street to visit two of Pittsburgh's most popular vintage spots: Eons (5850 Ellsworth, 412-361-3368) and Hey Betty! (5892 Ellsworth, 412-363-0999). A group of antique and home-furnishing stores is clustered around the intersection with Spahr; you'll also find accessory shops like jewelry designers Wax (5901 Ellsworth, 412-363-9299), and the perkily named Bling It On! (5880 Ellsworth, 412-361-1795). Side-by-side fashion boutiques Iman B (5894 Ellsworth, 412-661-3324) and Little Black Dress (5896 Ellsworth, 412-363-6442) have an even more synergistic relationship, each Soho-like location feeding off the other and several others nearby.
More adventurous gourmands will seek out Ellsworth too. Reigning over the street is the axis of Soba (412-362-6198) and Umi (412-362-5656), which share digs at 5847-9 Ellsworth; they offer Pan-Asian and Japanese fare respectively in some of Pittsburgh's most admired interiors. Big Burrito, which owns both locations, also operates the highly regarded Casbah (229 S. Highland Ave., 412 661-5656) Mediterranean restaurant and wine bar nearby.
Closer to hand you'll find Fajita Grill (5865 Ellsworth, 412-362-3030) which serves up Mexican fare with an outdoor dining area; just up the street is La Casa (5884 Ellsworth, 412-441-3090), a modish tapas bar. Around the corner is Café Zinho (38 Spahr St., 412-363-1500) offering the incongruous -- but tasty -- experience of fine dining in a former gasoline station.
A longtime Ellsworth institution is the spacious Dancing Goats coffeehouse (5830 Ellsworth, 412-441-9344). Dodge traffic to cross the street for the neighborhood's entry in the boutique-cupcake trend: Coco's Cupcake Café (5811 Ellsworth, 412-361-2626).
The Ellsworth bar scene is active as well. Captained by the Harris Grill (5747 Ellsworth, 412-362-5273), Ellsworth offers a mix of trendy upscale bars and neighborhood favorites, many of which are catalogued in the clublist portion of the guide.
About all that's missing is an active music scene. Although Buffalo Blues, a renowned wing joint at 216 S. Highland Ave., 412-362-5837, features jam bands, one bar does not a scene make. Nearby is a popular urban fashion store The Time Bomb Spot (200 S. Highland, 412-661-2233), which raises a question: As neighboring East Liberty becomes more gentrified, is it possible that Shadyside might become a bit more urban, a bit harder to stereotype? Stranger things have happened: Just ask a Walnut Street hippie, if you can find one.