If you've ever driven down South Aiken avenue on a sunny spring day, chances are you've seen The 'Fro, aka John Spellman. He's the charming owner and chef behind the neighborhood's legendary hot dog cart, The Shady Dog LLC. From early spring through late fall, Spellman dons his neon tee and visor, and sets up shop on the corner of Morrow Park, grilling better-than-the-ballpark, too-good-for-a-cart dogs.
Spellman began his hot dog career on the North Side in 2010, parked outside of Allegheny Health Network. He moved to Shadyside just a few years later, after petitioning the city to make Morrow Park a vendor-approved location.
Since then, The Shady Dog has garnered a loyal following. Eating a dog from Spellman is like barbecuing with friends; his spirit is intoxicating. He laughs and pokes fun at his customers, welcomes regulars back with warm handshakes, and calls everyone "bro" as he dances up and down the line with tongs, the 'fro bobbing with every step.
The 'Fro — yes, it's his real hair — serves as an unofficial mascot.
"Those who know, come see the 'fro" is the cart's motto.
Every day of the week has a 'fro counterpart. Wednesday is Over-the-Fro day, Thursday becomes Throwback Fro-day, and Friday is TGI—'Froday. Except Tuesday, which is just plain Tuesday.
Taking care of customers is Spellman's first priority. Don't have cash? He'll cover the day's dog, rather than watch you walk away hungry. He calls himself a friend to all, "like a brother, an uncle, or nobody, if that's what you need me to be," he laughs.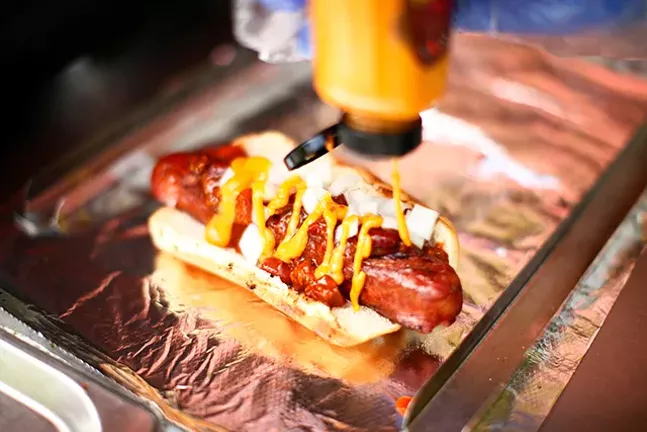 The Shady Dog's menu is made up of two hot dogs, a jumbo kielbasa, hot sausage, two vegan options, and the most recent addition, a kielbasa bowl (called the 'Fro bowl). Spellman notes that it hasn't changed much in the last 10 years, and it doesn't need to. His backyard barbecue food is simple and satisfying, as it should be.
Spellman cooks every dog to order. It's like watching art in the making as he turned and scored my kielbasa and quarter-pound dog, crafting the char and toasting the buns (you don't want a dog to be "mush on mush," he points out) while memorizing orders from the next five people in line.
I stuck to my roots on the hot dog, topping it with sauerkraut and onion. My kielbasa was done "John's Way," with a douse of sweet barbeque sauce. I finished it off with onions and peppers, sautéed and slightly caramelized. Unwrapping it was enough to put me in a kielbasa-trance. It had a little bit of everything: sweet, savory, and piping hot with the trademark snap of a good dog.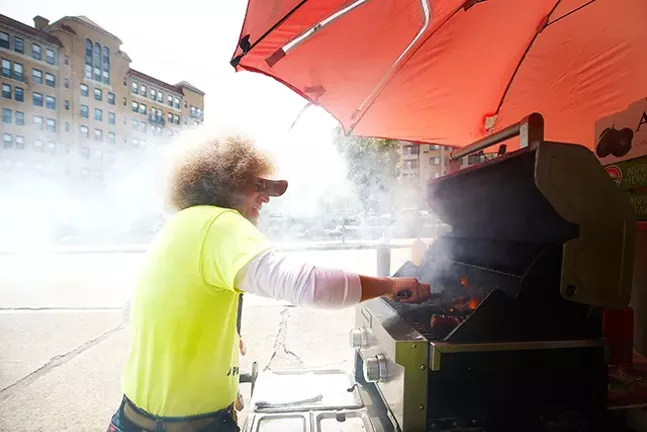 There's pretty much nothing like Spellman and The Shady Dog anywhere in Pittsburgh. It's easy to see why Spellman sells out in the few short hours he's cooking. The cart lives up to its fame, serving up supreme dogs with spirit. But Spellman, despite his celebrity status, still sees himself as "just a hot dog guy," serving up his best from behind the grill.
Favorite Features

1. Hot dogs are NOT sandwiches
According to The Fro, hot dogs are not sandwiches. You wouldn't ask for a hot dog sandwich, would you? Hot dogs are their own thing.

2. Lunch for less than $10
Nothing at The Shady Dog, including combo meals, exceeds six dollars.

3. Toppings

Toppings know no boundaries at the cart. Cover your dog with chili, cheese, or garden-fresh jalapeños.