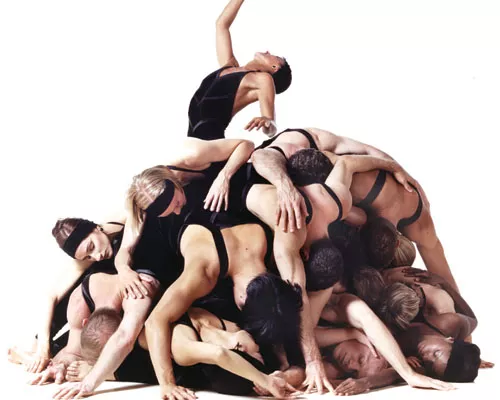 While he's often referred to as the master of dark and light, dance icon Paul Taylor says that his works are more nuanced than they might appear on the surface.
"It is easy to classify my works as dark and light, but most of them I believe are mixtures," says Taylor.
For the Paul Taylor Dance Company's Oct. 7 performance at the Benedum Center, Taylor, age 76, has programmed four works -- all Pittsburgh premieres -- that illustrate that double-edged outlook. Nowhere is this approach more evident than in 1991's "Company B." Set to a lively selection of hit songs sung by the Andrews Sisters -- "Bei Mir Bis du Shon," "Pennsylvania Polka" and "Boogie Woogie Bugle Boy (of Company B)" -- the work centers on World War II and soldiers sent away to the battlefield.
Another of Taylor's early works on the program, the revival of 1979's "Profiles," with original music by Jan Radzynski, has been described by one critic as "an evocation of evil." Taylor disputes that characterization. "It is about two couples and their relationships with each other," says Taylor, speaking by phone from New York City. "It is not a character study, but a very formalized and stylized dance."
The work utilizes a two-dimensional, Egyptian frieze-like style that Taylor says he has also drawn on for other pieces.
Of the remaining two works on the program, one is Taylor's latest effort, "Troilus and Cressida (reduced)." The play about love, sex and intrigue during the Trojan War gets a Taylor-esque makeover that turns it into an abbreviated send-up of the original. "The whole thing is supposed to be a comedy, not like the original play at all," says Taylor.
Actually, although he's an avid reader, Taylor says that he hasn't read much Shakespeare. In the case of the program's final work, 2002's "Promethean Fire," the Shakespeare quote he appended -- "Fire that can thy light relume," from Othello -- came only after the work was completed.
In creating new works, Taylor doesn't await inspiration. He's more of a pragmatist, assessing the company's repertory needs in terms of a fast or slow, lighter or more serious work, and only then beginning to formulate a new dance.
With "Promethean Fire," one of his most heralded works, his approach involved a bit of both. The work -- often cited as his response to the events of 9/11, even though it was choreographed prior to the terrorist attacks -- is about "recovery after some kind of collapse," says Taylor. Set to the music of Bach, including "Toccata & Fugue in D minor," the work's myriad architectural and patterned body movements are stunning, and a testament to Taylor's genius. Sixteen dancers cascade in falls to the stage floor and pile onto one another in a heap, implying some sort of catastrophe, while in the middle of the work Taylor suggests hope in a tender and emotional duet.
As he prepares for his company's first Pittsburgh performance in six years, Taylor admits that it is important to him that audiences see what he sees in his dance works. Yet, he says, while he knows the content is there, audiences and critics alike might see them, inherently, as merely either light or dark.
"Dance, like a painting, is a visual thing. It doesn't have much to do with words, but ideas," says Taylor. "Communication is the main object, and different people draw on different experiences of their own to relate to what they see."
Paul Taylor Dance Company 8 p.m. Sat., Oct. 7. Benedum Center, 719 Liberty Ave., Downtown. $22.50-50.50 ($17.50-45.50 children). 412-456-6666 or www.pgharts.org