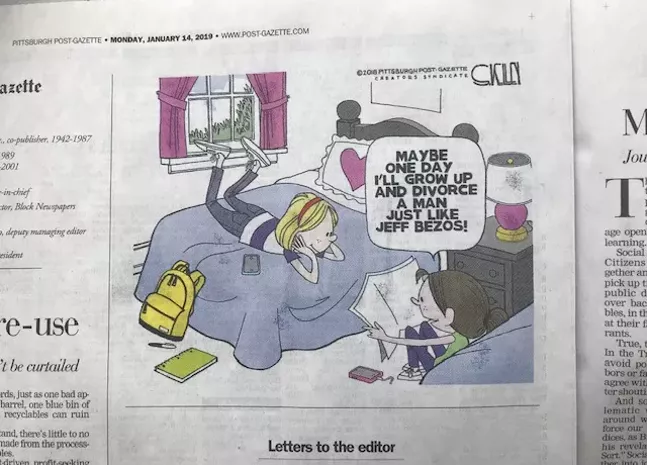 For the past two days, Pittsburgh readers looking for some biting satire and political laughs in the
Pittsburgh Post-Gazette
were treated to some
tone-deaf sexism instead
.
Two political cartoons illustrated by cartoonist Steve Kelley attempt to joke about gender relations, one actually drawing from headlines about Amazon CEO Jeff Bezos' divorce.
The first was printed on Jan. 13 and depicts a straight couple at a fancy dinner. The woman says "As a modern woman, I'm all for eliminating traditional gender roles, at least until the waiter brings the dinner tab …"
The apparent joke is attempting to accuse feminists of being hypocritical for not wanting to pay for dinner on dates. The cartoon operates on a stereotype that
studies show is false
.
Of course, the cartoon was apropos of no recent news event, so readers will just have to guess what it was attempting to skewer. Even so, Pittsburgh's readers weren't pleased.
Can we find anything more tired and offensive? From the look of the paper's pharma and retirement-home ads, I'd say the PG is now going for the 80-something bigot-sexist demographic.

— Patty Boyd (@Dottyeyes) January 14, 2019
Another Twitter user called the cartoon a "tone-deaf piece of shit." And others called it old and tired.
P-G
editorial director Keith Burris did not respond to comment for this story.
The next day, the paper printed another sexist cartoon. On Jan. 14, the Kelley cartoon depicted two young girls sitting in a room, with one reading a newspaper, then exclaiming "Maybe one day I'll grow up and divorce a man like Jeff Bezos!"
Readers condemned this cartoon for being "sexist" and "misogynistic."
For shame @PittsburghPG! The cartoon is neither funny nor ironic - especially in the same issue where you laud the work of @WgfGirlGov! It is backward looking and misogynistic. Our daughters and sisters deserve so much better! pic.twitter.com/V39bCYblJa

— Carolyn Grady (@carolyngrady) January 14, 2019
And as
City Paper
's editor
Lisa Cunningham points out on Twitter
, the cartoon is so out of touch they can't even depict the little details of modern reality correctly. In the cartoon about Bezos' divorce, the two young girls are ignoring their phones and reading the story on a print newspaper.
Kelley replaced former
P-G
cartoonist Rob Rogers when he was fired in 2018.
Rogers claimed he was fired for criticizing decisions to pull his cartoons about President Donald Trump
.
P-G
publisher John Robinson Block said in
Politico
that Rogers was fired for "a lack of diversity of subjects."
"I wanted clever and funny instead of angry and mean," Block told
Politico in June 2018
.
I'm still trying to figure this out. Maybe the point is Bezos is so reprehensible that any girl would dream of divorcing him? But even then, that "joke" would trade on outdated stereotypes of what little girls want for themselves. It's just bad bad bad.

— Chris Potter (@CPotterPgh) January 14, 2019