Before Mediterra Café, there was Mediterra Bakehouse. The family-run bakery opened in 2001 with artisan bread and pastries and soon became a household name. Their commitment to baking the "old way" and the stone hearth-baked dark, nutty crust were unprecedented in the city.
In the summer of 2018, Mediterra Café opened in Sewickley. The bakery branch took Mediterra's original principles — simple, fresh baked goods held to high standards — and transformed them into an intimate eatery and gourmet market.
Both Mediterra operations are run by the Ambeliotis family. Nick Ambeliotis, the founder, has been at the helm since the beginning. His sons, Anthony and Nicholas, handle all bread production and baking; Mike, the oldest and the first to join his father, is Mediterra's general manager. Their sister, Nicole, manages the books and assists in the cafe. Her husband, Garrett, is head of sales.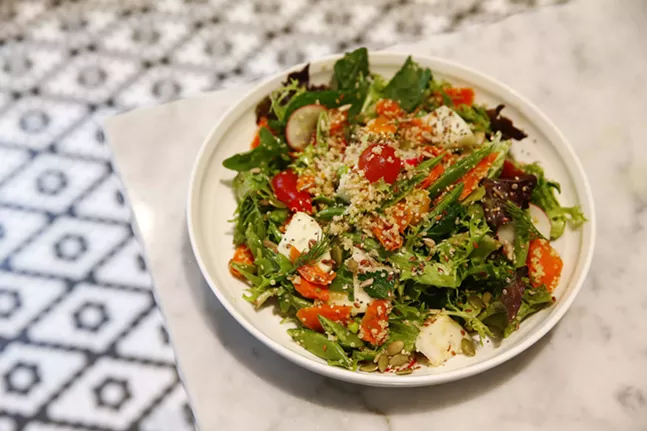 Mediterra Café is fast-casual fancy. The cozy eatery, also a specialty shop, features imported oils and spreads, dry goods, and local products, along with a display of meats and cheeses. Every available space is filled, the shelves of gourmet goods just toeing the line between chaotic and enticing.
Jacqueline Schoedel, of Smallman Galley concept Josephine's Toast, leads the kitchen of Mediterra Café. Her minimalist approach to cuisine — there are only so many things you can fit on one piece of toast — shines on the menu. The list is a mix of simple sandwiches, salad and grain bowls, pizza by the slice, a few options for toast, and for breakfast, there's French toast, porridge, and baked eggs.
I stopped by the cafe at lunchtime on a Friday. The space was alive with a bustling lunch crowd, flying past with to-go containers, bakers balancing trays of pizza overhead, fast-moving baristas, and the soft chatter of friends meeting for a two-hour lunch. I chose to mix breakfast and lunch, picking the breakfast sammie and a cheese board.
The cheeseboard alone was memorable. Before opening Mediterra, Nick worked as a cheese and meat importer and his expertise was evident. Each board was selected and cut to order, then paired with slices of a Mediterra baguette.
I wanted to love my breakfast sandwich, but it fell short. The makings were all there — a fried egg, cheddar, Sicilian pesto, arugula, and bacon on a fluffy brioche bun — but there was a touch of unexpected sourness from the pesto. It didn't quite meld with the peppery arugula or sweet bun, instead overpowering the sandwich entirely.
Unable to resist the bakery's pastry case, I finished off my meal with a housemade take on the Little Debbie classic Zebra Cake. This mix of playfulness and high cuisine was one of my favorite things about Mediterra.
Mediterra is inventive without being inaccessible. There are expensive, French cheeses and limited-edition olive oils for sale in the same store that sells coffee with lucky charms and popsicle lemonade. It's a charming, inviting mix.
Favorite Features
1. Crazy Coffee
Searching for a deconstructed latte? Looking for a rose latte, or one with actual pieces of carrot cake as a garnish? Mediterra has it.

2. Bread Art
Behind the counter at Mediterra there are nine loaves of bread branded with letters that read "MEDITERRA." If you don't already know that bread is their specialty, it's spelled out for you.

3. Kids Menu
Mediterra welcomes all ages with a kids menu. Treat your little one to a PB&J while you stuff yourself with cheese.