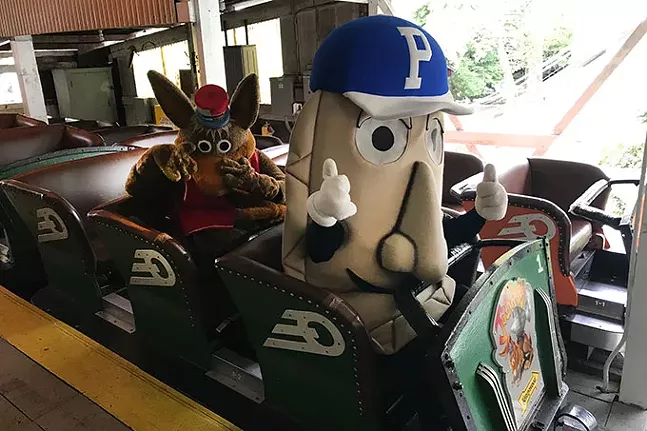 This Sunday, the Pittsburgh Pierogi Festival returns to Kennywood Park for their seventh year of dumpling-themed food fun. The fest, in addition to rides, a marketplace, contests, and celebrity appearances, has added 10 new vendors to their delicious lineup.

In the midst of all the pierogi fun, how do you choose which pierogies to actually eat? We've narrowed down the long list of dishes down to seven unique, can't-miss creations.
Happy Camper Cakes: This cute camper-bakery is serving up pierogi themed cupcakes. Try the Crafty Saul, a sauerkraut chocolate cake with stout ganache, chocolate frost, and topped with a chocolate chip sauerkraut truffle.


Grandma Cyl's Homemade Pierogi: This year, Grandma Cyl's is bringing a better-than-a-mozzarella stick creation to the table: a deep-fried pepper-ogi and cheese log.


Las Chicas Food Truck: Las Chicas is putting a Latin spin on the Polish dumpling. They're taking a pierogi, deep-frying it, and smothering it with sour cream, salsa, and avocado cilantro sauce.


Michele's Mobile Meals: Michele's is bringing back a fest favorite: Pittsburgh in a cup! Handmade pierogies, sausage-style kielbasa, cabbage, onion, and lots of cheese get thrown together in a souvenir cup. It's all of Pittsburgh's culinary comfort in one place.


Mobile Chef: This food truck is taking pierogies around the world. Their world tour sampler features six flavors: American buffalo chicken dip, Carribean pulled pork, Japanese seafood, Indian grilled chicken, Italian hummus, and Mexican grilled steak.


Pietrzyk Pierogi: New to the festival this year, Pietrzyk Pierogi is pulling out all the stops. Try the Becky, dumpling filled with egg, cheese, and jalepeño, or the spin me right, a spinach and artichoke dip-turned pierogi.


Sugar & Spice Truck: Pierogies… and ice cream? Sugar & Spice mixes dessert with dumplings in their sweet cheese sundae. Two cheese pierogies are topped with vanilla ice cream, cinnamon apple compote, and finished with a caramel drizzle.

Did we miss one of your favorites? Let us know! Email mweaver@pghcitypaper.com.