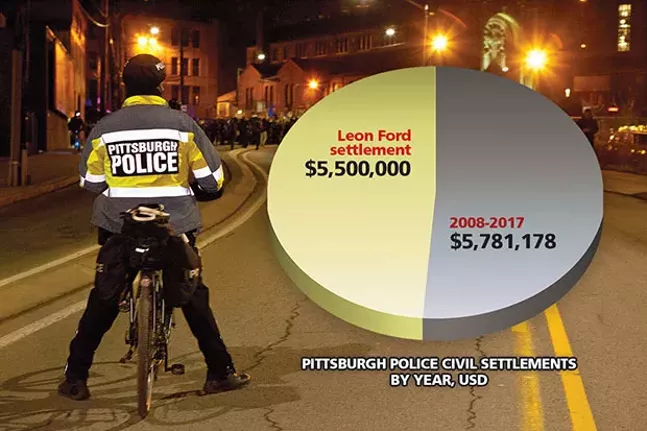 In 2009, the City of Pittsburgh approved a $3.7 million settlement for musician Thomas Doswell. The settlement was the result of Doswell's decades-long struggle to clear his name after he was falsely arrested and imprisoned in 1986.
Doswell spent 19 years in prison after being wrongly convicted of rape. He was ultimately freed following the results of a DNA test in 2005.
His $3.7 million settlement was the highest the city had seen in recent years, until now. This month, the city announced it had reached a $5.5 million settlement with Leon Ford, a man who was paralyzed after a Pittsburgh police officer shot him during a routine traffic stop in 2012.
Last year, Ford's civil suit against the Pittsburgh police officers involved in the stop went to trial. The jury deadlocked on a claim of excessive force against David Derbish, the officer who shot Ford five times, paralyzing him. The other officers at the scene were cleared of wrongdoing by the jury, and the suit against Derbish was expected to go back to court this month before it was settled.
"After five years of arduous litigation, all parties are pleased to announce that we have reached an amicable resolution in the federal lawsuit Leon Ford brought following the November 11, 2012 shooting incident," Pittsburgh Mayor Bill Peduto said in a statement. "The City has agreed to pay Mr. Ford and his attorneys $5.5 million dollars. This settlement is in the best interest of Mr. Ford, Officer Derbish and the City of Pittsburgh, and will provide all involved the closure needed to move forward in a positive direction."
City Paper asked the city for records of all settlements resulting from civil-rights complaints over the past 10 years. According to those numbers, from 2008-2017, the city had paid out $5,781,178.26 in settlements. At $5.5 million, Ford's settlement alone nearly equals the price tag for police settlements doled out over the prior decade.
In light of the financial challenges facing the city, Ford's multimillion-dollar settlement might be hard to swallow. Since 2004, the city has been operating under Act 47, a recovery program designed to help distressed municipalities strengthen their finances. And many city sectors — including the Pittsburgh Water and Sewer Authority, which has been in the news regularly for problems resulting from crumbling infrastructure — are in need of costly updates.
Many believe Ford's settlement is necessary to repair the damage he has suffered. But should taxpayers carry the burden of alleged police misconduct? Whether it's making police officers personally liable for their actions or requiring changes to police-department policies and procedures, advocates say the city must do more to hold police accountable, not taxpayers.
"You can't help but look at the settlement of Leon Ford and be grateful that that young man is going to be taken care of," says Beth Pittinger, director of the Citizen Police Review Board. "It's outrageous that we're paying $5.5 million to settle a case that resulted from a police officer's conduct. You can never make Leon Ford whole, but we sure as hell cannot tolerate officers acting in such a cavalier fashion."
From 2008-2017, the city paid 43 settlements resulting from claims of police misconduct including excessive force, false arrest and imprisonment, and free-speech violations. The payment amounts ranged from $995 to $250,000, the highest amount of any settlement from the past decade, not counting Doswell's.
"Mr. Ford is just one example," says attorney Todd Hollis, who represented an individual who received a $40,000 settlement from the city in 2015. "Payments like these are to compensate victims for injuries they have sustained at the hands of police. I don't know that you can put a price tag on it.
"If the community is upset about these large payouts, they should be upset about the police officers in the department. They should restructure the rules so they can get rid of bad police officers."
Hollis' client Paul Parrish was involved in a police chase in 2012. Hollis says Parrish eventually came to a stop and exited the vehicle with his hands up in a gesture of surrender when he was pistol-whipped by a Pittsburgh police officer.
"If you want to avoid these situations, perhaps they should be more cognizant of hiring better-trained police officers who work within the boundaries of the law," Hollis says. "There is no excuse for a police officer to pistol-whip anyone. Particularly someone who has their hands up and has surrendered. There are some very good police officers who have never had to use their guns."
(Two years after Parrish received the settlement, a 3-year-old girl shot and killed herself with a gun found in his home. Parrish was barred from owning a firearm due to a prior conviction. A few months later, he was arrested by Pittsburgh Police's Narcotics and Vice Unit after a month-long drug investigation.)
Hollis says the police bureau must do more to discipline officers, including firing them. For example, Derbish, the officer who shot and paralyzed Ford, remains on the force.
Certainly after they spent that money, why in the world are those police officers still enforcing the law? Why are they still there?" Hollis says. "The solution to the problem should begin with the government no longer employing these police officers."
Pittinger, of CPRB, says the bureau has seen improvements in holding officers accountable in recent years. She says former Chief Cameron McLay set the bureau on a path to correct these problems, and current Chief Scott Schubert is continuing that work.
"What we're seeing is holding officers to standards and making sure they're trained to meet those standards," Pittinger says. "It's different from where we were maybe 15 or even 10 years ago. Over the last several years they have improved the relationship with the community. You can't always measure these things, but you can notice that there is a difference with the tension level. They're making a concerted effort to professionalize the officers."
In addition to these changes, CPRB has suggested requiring all officers to carry the equivalent of law-enforcement malpractice insurance. The recommendation was discussed with Mayor Bill Peduto's administration when he first took office, but Pittinger says she was told it wasn't an option for officers in Pennsylvania. The mayor's office and the police bureau declined to comment for this story.
"Several years ago, we looked at whether you can hold someone responsible for the amount of civil damages a city absorbs because of their actions," Pittinger says. "If there's no finding, what do you do? How do you still hold that person responsible if no one has determined if they are responsible? That's an incredibly gray area."
But the city has tried to hold an officer personally responsible, at least partially, in recent years. In 2011, the city paid $40,000 to Kaleb Miller following a claim of excessive force against Pittsburgh police officer Paul Abel. In June 2008, Abel allegedly assaulted Miller and shot him in the hand while off duty. Abel's homeowner's insurance was supposed to pay out an additional $4,500 as part of the settlement for Miller, but the decision was ultimately overturned and the city ended up picking up the tab for the additional $4,500. Following the incident, Abel was fired, charged criminally, acquitted by a judge and then given his job back by an arbitrator.
"It's time for some policies that make it clear that there's going to be some personal responsibility when any employee acts beyond the scope of their duties or outside of policy, and there's going to be some consequence for it," says Pittinger. "Right now, that's not the world we live in."
Instances of alleged police misconduct aren't the only cases where the Pittsburgh Bureau of Police has cost the city money over the past decade. In 2015, the city reached a $985,000 settlement with a group of African-American applicants to the police force. The federal class-action lawsuit against the city alleged that the police department had a "longstanding pattern and practice of racial discrimination against African-Americans in its hiring process for entry-level police officer positions."
That case was handled by the American Civil Liberties Union of Pennsylvania. The group has been involved in several civil-rights suits against the police bureau over the past 10 years, including four that resulted from the international G-20 summit in Pittsburgh in 2009.
The G-20 cases were not included in the numbers the city sent CP because these settlements were paid by an insurance policy the city took out to cover the summit. According to the ACLU, these settlements totaled approximately $800,000.
The ACLU often works on free-speech cases where clients say the police department has infringed on their First Amendment rights. Over the past decade, the city settled five civil-rights claims involving free speech or religious freedom.
"We've had numerous complaints about police officers citing people for disorderly conduct for using profanity," says Sara Rose, senior staff attorney with ACLU Pennsylvania. "We had a case where a guy was driving and had given another driver the middle finger, and a police officer saw him, pulled him over, and issued him a citation."
In that case, the ACLU obtained a $50,000 settlement for its client, David Hackbart. But the group also had the city agree to change its training policies.
"Part of the settlement was the city would provide additional training to all officers on the constitutional rights of individuals using profane languages or gestures, that they would adapt a procedure whereby supervising officers review citations for summary offenses written by officers or personnel in the field on a regular basis," says Rose.
As a result of this change, Rose says the ACLU has received significantly fewer complaints about police officers issuing citations for the use of profanity in Pittsburgh.
"When we settle a case, we can ask to incorporate anything, so that's one of the reasons we bring these kinds of damages cases, with hope that we'll be able to settle them with some kind of changes to training and policy," Rose says.
The ACLU also worked on the case of Dennis Henderson, a Pittsburgh Public Schools teacher who was arrested after he made a comment to a police officer whom he says was speeding down a residential road. Henderson received a $52,500 settlement in 2015, and the city ended up changing its procedures for tracking pedestrian stops.
"At the time, if an officer stopped a pedestrian on the street and even frisked them, they weren't even tracking those stops," Rose says.
These kinds of policy changes tied to settlements are something Rose would like to see more of. Only in this way, she says, can the city ensure that such incidents don't continue.
"We have limited resources, so we try to use our litigation to achieve broader goals," says Rose. "Obviously, we want to represent the interests of the person whose case it is, but we don't just want to get relief for them. We want to get broader relief for everybody so we don't have to go back to court again in two years."