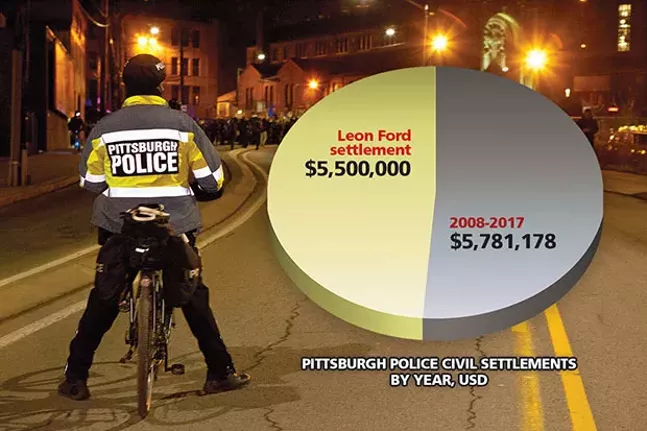 In 2009, the City of Pittsburgh approved a $3.7 million settlement for musician Thomas Doswell. The settlement was the result of Doswell's decades-long struggle to clear his name after he was falsely arrested and imprisoned in 1986.
Doswell spent 19 years in prison after being wrongly convicted of rape. He was ultimately freed following the results of a DNA test in 2005.
His $3.7 million settlement was the highest the city had seen in recent years, until now. This month, the city announced it had reached a $5.5 million settlement with Leon Ford, a man who was paralyzed after a Pittsburgh police officer shot him during a routine traffic stop in 2012.
Last year, Ford's civil suit against the Pittsburgh police officers involved in the stop went to trial. The jury deadlocked on a claim of excessive force against David Derbish, the officer who shot Ford five times, paralyzing him. The other officers at the scene were cleared of wrongdoing by the jury, and the suit against Derbish was expected to go back to court this month before it was settled.
"After five years of arduous litigation, all parties are pleased to announce that we have reached an amicable resolution in the federal lawsuit Leon Ford brought following the November 11, 2012 shooting incident," Pittsburgh Mayor Bill Peduto said in a statement. "The City has agreed to pay Mr. Ford and his attorneys $5.5 million dollars. This settlement is in the best interest of Mr. Ford, Officer Derbish and the City of Pittsburgh, and will provide all involved the closure needed to move forward in a positive direction."
City Paper asked the city for records of all settlements resulting from civil-rights complaints over the past 10 years. According to those numbers, from 2008-2017, the city had paid out $5,781,178.26 in settlements. At $5.5 million, Ford's settlement alone nearly equals the price tag for police settlements doled out over the prior decade.
In light of the financial challenges facing the city, Ford's multimillion-dollar settlement might be hard to swallow. Since 2004, the city has been operating under Act 47, a recovery program designed to help distressed municipalities strengthen their finances. And many city sectors — including the Pittsburgh Water and Sewer Authority, which has been in the news regularly for problems resulting from crumbling infrastructure — are in need of costly updates.
Many believe Ford's settlement is necessary to repair the damage he has suffered. But should taxpayers carry the burden of alleged police misconduct? Whether it's making police officers personally liable for their actions or requiring changes to police-department policies and procedures, advocates say the city must do more to hold police accountable, not taxpayers.
"You can't help but look at the settlement of Leon Ford and be grateful that that young man is going to be taken care of," says Beth Pittinger, director of the Citizen Police Review Board. "It's outrageous that we're paying $5.5 million to settle a case that resulted from a police officer's conduct. You can never make Leon Ford whole, but we sure as hell cannot tolerate officers acting in such a cavalier fashion."
From 2008-2017, the city paid 43 settlements resulting from claims of police misconduct including excessive force, false arrest and imprisonment, and free-speech violations. The payment amounts ranged from $995 to $250,000, the highest amount of any settlement from the past decade, not counting Doswell's.
"Mr. Ford is just one example," says attorney Todd Hollis, who represented an individual who received a $40,000 settlement from the city in 2015. "Payments like these are to compensate victims for injuries they have sustained at the hands of police. I don't know that you can put a price tag on it.
"If the community is upset about these large payouts, they should be upset about the police officers in the department. They should restructure the rules so they can get rid of bad police officers."