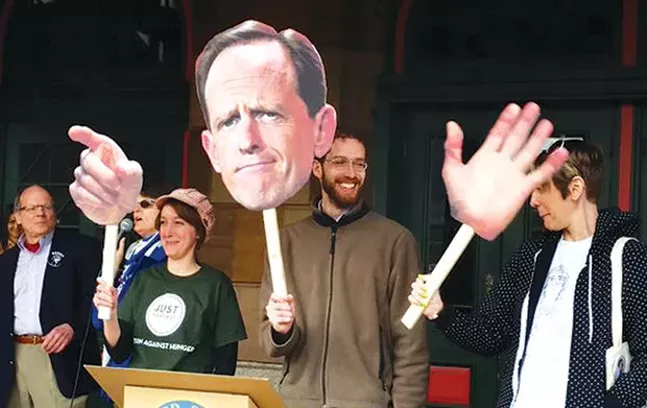 On Aug. 31 in Bethlehem, Pa., U.S. Sen. Pat Toomey finally held an in-person town hall. Only 54 constituents were granted tickets to attend, but unscreened questions were allowed. However, it didn't really go the way constituents who oppose the Republican senator's views might have hoped.
Toomey answered questions on tax reform, health care, gun control, the minimum wage and other topics. He provided some answers slightly out of line with some conservative views, including a defense of some LGBTQ rights, but for the most part he emphasized his well-known right-leaning values.
One constituent even appealed to Toomey's record of advocacy for local police when asking him to support police departments who practice so-called "sanctuary city" polices. Toomey didn't take the bait. He said he "disagreed with the characterization of sanctuary cities," and then detailed his opposition to them. Unsurprisingly, no other questions from the town hall appeared to change Toomey's mind.
"In general, Toomey is exactly who he portrays himself to be," says Hannah Laurison of PA Together and one of the original organizers of Tuesdays With Toomey (TWT) protests in Philadelphia. Laurison says that even with large groups of protesters asking him to reconsider his positions on several issues, Toomey isn't changing. For example, Toomey voted to confirm Secretary of Education Betsy DeVos, even though thousands of calls, and 1,600 faxes, flooded his offices asking him to reject her nomination.
But that doesn't mean organizers are giving up. In fact, Toomey's reluctance to consider the requests of his protesting constituents is not only energizing opposition to his agenda, it appears to be increasing opposition against other Republicans in Pennsylvania.
Mary Dallas, an organizer with TWT in Philadelphia, says rallies will continue outside Toomey's offices, but protesters are now doing more than just waving signs. "Even if it seems useless to be having these rallies, there are things going on behind the scenes," says Dallas. "We are getting involved at the local level, even at the ward level."
Dallas says TWT is evolving, and beginning to target efforts to unseat local Republicans in the U.S. House, and even the state house. "To affect changes with Sen. Toomey, we need to weaken his bench and his influence," says Dallas.
Laurison agrees. She says a town hall with Toomey would be good, but "there are other areas where fights need to be raised that will be more effective." TWT has already inspired groups like Mondays With Murphy, in opposition to U.S. Rep. Tim Murphy (R-Upper St. Clair) and Where's Rothfus Wednesdays, in opposition to U.S. Rep. Keith Rothfus (R-Sewickley). But Laurison says that's just the start, and she's begun to organize opposition to other Republican politicians, like state reps Martina White (R-Philadelphia) and Daryl Metcalfe (R-Cranberry), as well as state Speaker Mike Turzai (R-Marshall).
Jill Helbling, of TWT Pittsburgh, says a new focus on Turzai is also growing within his district. In July, TWT joined with another grassroots political group, PA 12 Progressives, to hold two rallies with dozens of constituents and protesters outside of Turzai's McCandless office. Helbling says the frustration with Toomey is "trickling out to other reps and congresspeople" and bringing the heat to them. And it might be having an effect. A PoliticsPA reader poll taken shortly after the Turzai protests showed that 67 percent of readers blamed Turzai for the state budget stalemate.
Additionally, TWT is looking to provide support for interests currently under attack by Republican lawmakers, like health care. On Sept. 4, TWT asked its followers on Facebook to share an open-enrollment ad for the ACA, because President Trump is slashing 90 percent of its advertising budget. The post was shared more than 540 times, and has been viewed about 33,000 times.
"Groups like ours will try to do more," says Helbling. "If the government is not going to help people get health care, then activist groups like ours are going to step in."
Also TWT has joined forces with many longstanding activists, government-reform organizations and labor unions throughout the state. TWT is currently working with anti-gerrymander group Fair Districts PA, Allentown's social-justice group POWER Northeast, Reading's immigrant-rights group Make the Road, Service Employees International Union and others. Helbling says TWT wants to follow these longstanding groups' lead and provide them support in numbers.
Other smaller grassroots groups are following TWT's lead and lending hands to Pittsburgh groups. Angela Wateska, of South Hills' 412 Resistance, is holding a fundraising event in October for immigrant-rights group Casa San Jose.
In a joint statement with co-founder Lara Huber, Wateska wrote to Pittsburgh City Paper about the importance of evolving past demanding town halls. "Our group recognized early on that we couldn't solely focus on protesting and resisting," wrote Huber and Wateska. "412 Resistance also wants to work toward changing the systematic oppression and biases that have led to the current administration. Supporting established organizations that have been doing great work for years and the communities that are most marginalized in our country is at the forefront of all our activism."