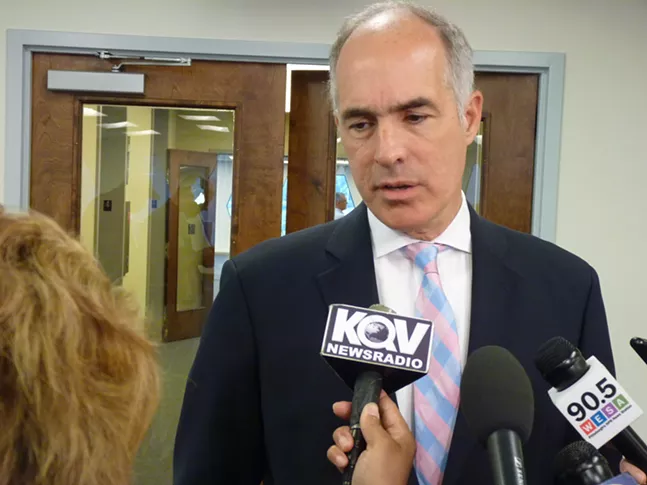 Pennsylvania U.S. Senator
Bob Casey
(D-Scranton) joined other Democratic lawmakers Monday in calling for an investigation the U.S. Customs and Border Protection (CBP) following a bombshell report into a private
Facebook
group comprised of current and former CBP agents.
According to screenshots shared in a
story
published Monday from nonprofit investigative journalism outlet ProPublica, members of the group made jokes about migrant deaths and shared derogatory memes about U.S. Rep. Alexandria Ocasio-Cortez (D-N.Y.) ProPublica reports that the group, named "I'm 10-15" after Border Patrol code for "aliens in custody," has about 9,500 members. There are about 20,000 CBP officers currently serving.
ProPublica published the report on the day Ocasio-Cortez and 11 other Democratic lawmakers toured
CBP
facilities in Texas. The Hispanic Congressional Caucus organized the trip following an outcry to reports last month of
conditions in the facilities
.
Democrats, including Casey, swiftly condemned the posts shared by
ProPublica
. Casey tweeted on Monday that "there is no place for intolerance in our government." He also specifically said the "broader culture within CBP would be addressed and investigated."
I support an immediate investigation into these incidences as well as the broader culture within the Agency. I'm also asking Acting Secretary McAleenan to outline what steps @CBP will take to address this behavior.

— Senator Bob Casey (@SenBobCasey) July 1, 2019
In one screenshot posted by
ProPublica
, a member joked about creating a fundraising site for a member of the group to throw burritos at Hispanic members of the group visiting CBP facilities Monday. In another screenshot, a member of the group questioned the legitimacy of widely-shared pictures of the bodies of El Salvadoran migrant Óscar Alberto Martínez Ramírez and his daughter Valeria, who drowned last month trying to cross the Rio Grande into Texas.
"Have y'all ever seen floaters this clean," the member apparently wrote. "Could this be another edited photo. We've all seen the dems and liberal parties do some pretty sick things…"
Another screenshot from the
Facebook
group shows a post of a doctored image of Ocasio-Cortez performing oral sex to President Donald Trump.
Border Patrol Chief Carla Provost said in a statement that the behavior exhibited in the ProPublica screenshots contradicts CBP's expected values.
"These posts are completely inappropriate and contrary to the honor and integrity I see — and expect — from our agents day in and day out," Provost said. "Any employees found to have violated our standards of conduct will be held accountable."
The members of Congress who toured CBP facilities Monday widely condemned the conditions they say there.
Madeleine Dean
, who represents Pennsylvania's 4th district in the U.S. House, called conditions at the facilities a "human rights crisis."