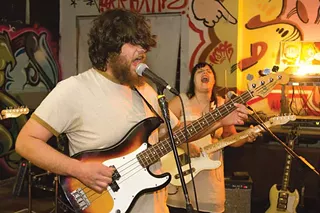 If you want something done right, do it yourself: That's the philosophy behind Pittsburgh music label Seizure Man.
"We kind of have a collective, at this point," says co-owner Molly Spear. "We're all just working together, trying to elevate each other right now." Musicians themselves, Spear and co-owner Jacob Campbell saw a void in the Pittsburgh music scene — it lacked a connection between labels and artists.
The decision to start their own label came from "the need to put out our own music, not have to find somebody else to do it," Campbell explains. "Having a name to do it under was important to me. We got a tape duplicator, and went from there."
That's right: a tape duplicator. With the recent vintage revival, cassette tapes are back on the rise. Campbell realized his label could stand out with this step back into the past. Besides that, cassettes are "more cost-effective than vinyl, less disposable than CDs." Especially when they're handmade and labeled by the bands themselves.
But Seizure Man isn't solely about the kitsch. "Labels need to be more interested in the well-being of their bands," Campbell insists. "[For many labels], it's not about working with and developing an artist, like it was 50 years ago. Taking a real interest in the musician, that's a big part of what we do."
"It's about elevating bands we love to their full potential, and helping them achieve their goals," Spear adds.
The label has a special emphasis on math rock, but Campbell is accepting all genres for a new Cassette Store Day compilation to be released Sept. 27. The compilation, an annual project of the Cassette Culture forum on the Reddit website, will come with a zine that profiles the bands as well as the story of Seizure Man. A different label handles the comp each year, and Seizure Man was chosen for 2014. Submissions, due Aug. 10, should be "dynamic, innovative and emotive."
Fans of the medium should also look into Seizure Man's tape-of-the-month club, which is limited to 10 subscribers in order to give each artist the necessary attention. A subscription, Campbell explains, is not only a way to stay informed on Pittsburgh music, it's also an investment in that music's future.